Kooky, Spooky, All Together Ooky - The Addams Family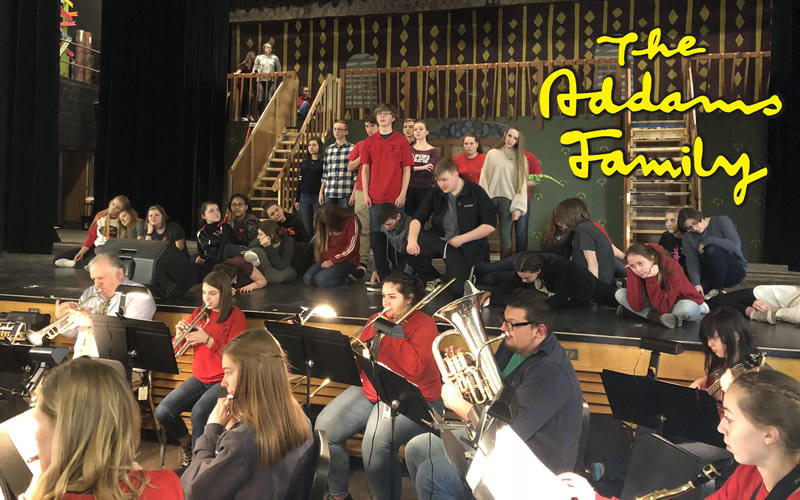 "They're creepy and they're kooky, mysterious and spooky, they're altogether ooky!" The Broadway musical sensation The Addams Family is on stage at the Honesdale High School Performing Arts Center February 16 through 18. Honesdale High School students star in this musical comedy that brings the beloved and bizarre first family of comedy to life, complete with show-stopping musical numbers.Don't miss the show that Bloomberg News declared, "Uproarious! A glitzy-gloomy musical entirely worthy of the macabre drawings by Charles Addams."
From the creators of the Jersey Boys' Marshall Brickman and Rick Elice and Drama Desk Award-winning composer/lyricist Andrew Lippa, the frightfully delightful world, based on the characters created by cartoonist Charles Addams proudly brings us The Addams Family – A New Musical Comedy.
Wednesday Addams, played by Madison Palmer, the ultimate princess of darkness, is all grown up and has a shocking secret that only Gomez, played by Michael Kirk, knows. She's fallen in love with a sweet young man Lucas, played by Andrew Murphy, from a respectable family named the Beinekes' played by Blake Lipsmeyer and Melody Feustel. With his cherished Morticia, played by Mackenzie Tagle, in the dark will Gomez manage to keep his daughter's secret until the two families meet for a fateful dinner with hilarious consequences? Join them, plus Uncle Fester (Nicholas Theobald), Lurch (Kameron Slish), Pugsley (Daniel DeCrotie), Grandma (Kirsten Gager) and more for a heart-warming story of love, family and friendship… with a twist! Featuring a live student orchestra and extraordinary original score The Addams Family is sure to entertain whether you are 7 or 307!
The Addams Family cast includes ancestors Emily Bialecki, Elizabeth Blum, Mika Brauser, Brittania Brown, Morgan Brown, Andrew Buckwalter, Kaitlyn DeFazio, Abigail Fuller, Cassie Griffis, Kaeleb Jones, Brooke Landers, Kallie Lazaro, Shayla Mullican, Margaret Murphy, Adriana Phillips, Nicole Roberts, Miguel Salvador, Jasmin Selimovic, Ella Sherman, Aaliyah Sims, Abby Skelton, Taylor Slish, Kayla Taninies, Matthew Tracy, Katrina Van Houten, Katherine Wilson, and Victoria Wormuth
The student pit orchestra includes Stephanie Matlaga, Rachel Daub, Tessa Vendetti, Kalah Gries, Lindsay Daub, Alexandria Reed, Abigail Robson, Gabriella Bruford, Abigail Ward, Kiersten Nordenhold, Lauren Dyser, Mia Yatwa, Lora Protzman, Emma Messersmith, Lauren Kutch, Alexa Yatwa, Katherine Matlaga, Alyssa Stumpo, Levanowitz, Jillian Penn, Isabella Ramirez, Madisyn Roegner, Kari Stiteler, Hailey Tyler, and Annabelle Wengler.
The production is directed by Scott D. Miller; choreographed by Jesse Perry; music direction by Martha Curtis, Betty Ann Robson, and Geri Spinosa; technical direction by Shawn Garing and Nick Slish; set designs by Jason Smith and Brittany Cardona; costume design by Linda Zimmer; prop master Meredith Galinkski; and hair and makeup design by Linda Forlenza; and publicity by Stacy Stone.The production also includes student production assistants Anna Dunsinger, Maria Kannebecker, and Hannah Merritt; assistant student choreographer Kayleigh Pugh; costumer Emily Roberts; and stage managers Ethan Collins and Dominic Maglione.
"I know audiences both young and old will enjoy this hilarious and heartwarming story with all of their favorite, altogether ooky Addams Family characters," executive director Scott D. Miller said.He continues, "Audience members can expect to laugh a lot at this Addams Family production, and enjoy a grown-up Wednesday Addams, who is engaged to wed a "normal" young man, but wishes her father to keep that secret from her mother. What could go wrong?" With a melodious score and ghoulish special effects, this musical is sure to please.
Performances will take place February 16-18, 2018, at Honesdale High School Performing Arts Center. Shows will take place at 7:00 p.m. on Friday and Saturday, and 2:00 p.m. on Sunday. All tickets are Regular $9, Senior (+62) $8, Student $5, Children (3-5) $4, Red/Black Pass members are welcome to the show complimentary. For information, directions, and to charge tickets by phone call 570-251-9831. Tickets are on sale online at http://www.honesdalepac.com.