High school expands program roster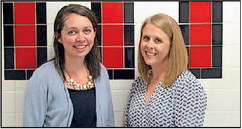 Starting in August, the Wayne Highlands School District (WHSD) bolsters its academic curricula with the addition of two new career oriented programs.
In addition to the already established carpentry, secretary and accounting programs, the 2017-18 school year will unveil Honesdale High School's (HHS) new Health Occupations and Agriculture programs.
"Agriculture in general and health professions are two of the leading … fields in the nation," stated WHSD Director of Career Pathways Diane Scarfalloto.
She explained the district scoured data collected from the Wayne/Pike Workforce Alliance and Wayne Tomorrow to discern how these programs would best benefit the county and shaped the courses accordingly.
WHSD hired instructors Kayla Hack and Rebecca Park to teach the Agriculture and Health Occupations program respectively.
Park holds an RN-BSN and has worked for many years in various medical areas including maternity, ventilator rehab, travel nursing and labor & delivery.
The HHS Health Occupations program is broken into three levels of double length classes.
The program begins for sophomores with an introduction to healthcare careers, complete with studies in medical terminology and ethics.
From there, level two treats juniors to more extensive patient care including CPR, first-aid and home health aid training.
Level three delves even deeper into lab and clinical work, linking students with care practice in local nursing homes.
Bethany Village, Wayne Memorial Hospital and Ellen Memorial Hospital are all partnering with the program to link students with practical learning experiences.
The course's learning space features a classroom area and a lab section.
The latter will contain four beds, a nursing station and other simulated hospital/ nursing facility amenities to help students master the practical aspects of their lessons.
In its entirety, the course prepares seniors to take the Certified Nurses Aid (CNA) exam.
"My goal is to make them good CNAs," said Park. She explained this involves cultivating their attitude, work ethic and communication skills.
WHSD Superintendent Greg Frigoletto stated,"[The students] will leave here ... immediately employable, and in our community they will be employable in a lot of locations with those credentials."
Park stated that working as a CNA is not only a worthy career in and of itself, but it also benefits those looking to further their education in the health care industry.
Working as a CNA helped pay for her degree, said Park.
HOSA
In addition to the new health care courses, WHSD hopes to create a local chapter of Health Occupations Students of America (HOSA).
Similar to clubs like the Future Business Leaders of America, HOSA allows students to compete at a state level in various healthrelated tasks. According to Park, the program is primarily student- run with her acting as the club's advisor.
Park hopes to have the program up and running in the fall.
Mounting anticipation
Interest in the new program has already blossomed in the student body.
According to HHS principal Chris Pietraszewski, there will be two separate level one courses offered this year with over 20 students enrolled in the program.
WHSD hopes are high that the program will only grow as time goes on.
Anticipation is also elevated for the new Agriculture program set to debut alongside Health Occupations.
To give them their due, the details of this second program and its instructor will be discussed in a future edition.