Hornet linksters off to a stellar start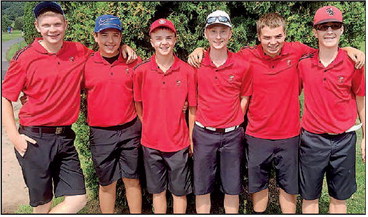 If early season results are any indication, local links fans are in for an exciting season of Lackawanna League action.
Honesdale, which struggled to a 6-8 record and missed the playoffs last fall is already turning heads in Division I.
The Hornets have opened their 2017 campaign with a pair of impressive wins over Scranton and Valley View. Coach Mike Miller's lads celebrated Opening Day with a 6-3 victory over the Knights, then followed that up with a 5-4 decision over the Cougars.
"We're off to a pretty good start," Coach Miller said. "The kids are playing well and already starting to gel as a team. I'm excited. I'm looking forward to the rest of the season."
On the heels of this 2-0-0 start, Honesdale returned to Scranton Municipal Thursday morning to play in the Jackman Tournament. The event was originally scheduled for August 18, but postponed due to inclement weather.
The Hornets turned in yet another stellar performance at Mount Cobb, finishing in a tie for fourth place overall.
"It was a nice showing," Coach Miller said. "I'm happy with the effort. We could have done even better. We're a deep team, but they only count the top four scores at the Jackman.
"If the format was a little different, we would've finished even higher."
Next up for the Hornets is a showdown with archrival Wallenpaupack Area. That highly-anticipated match is slated for Monday afternoon at Honesdale Golf Club at 4 p.m.
Back-to-Back
Honesdale kicked off its season in fine fashion against Scranton on Monday at Muni.
Led individual wins by Luke Flederbach, Aidan Pietraszewski, Ben Williams and Jack Hopkins, the Hornets powered their way to a 6-3 triumph.
Flederbach carded a 39, good for a victory versus the Knights' Eddie Keen (45). Pietraszewski shot 48 en route to his decision over Devin Lynch (56).
Williams posted a ninehole total of 40, resulting in a win over Collin McHugh (46). Hopkins finished with a 41, ensuring a victory against Jarod Floryshzk (55).
The Red & Black sealed the deal on a team triumph by claiming two of the three Better Ball points.
While the win over Scranton was impressive,
the victory against Valley View sent a message to the rest of the league.
"They're a good team," Coach Miller said. "And that's a really good win for us on the road early in the season."
Cole Bannan and Max Land played the heroes in this one.
Land trailed Drew Higgins by two holes with three to go, but staged a furious rally. Max won two of the last three to forge a key split. He finished with a solid 45.
Bannan saved his best for last, draining a clutch birdie putt on the ninth green. Cole's split with Dom Verrastro also resulted in a Better Ball win, the crucial point that wound up deciding the match.
"It doesn't get much more exciting than that," said Coach Miller. "Cole and Max really came through for us in big situations. It was great to see."
Flederbach and Williams also notched wins for Honesdale. Luke carded a 42 en route to a victory over Tom Carmadella (45). Ben fired a 41 on his way to a decision over Connor Kelley (45).
Tourney Time
The 2017 Jackman Memorial Tournament was postponed two weeks thanks to an untimely thunderstorm.
However, when the annual event finally went off, the overall winner came as no surprise.
"Abington Heights is just heads and shoulders above everyone right now," Coach Miller admitted. "They are very good and very deep. The rest of us were pretty much just playing for second place."
The Comets carded a team total of 307, coasting to the crown. Scranton Prep earned runner-up honors, while Paupack finished third.
Honesdale battled its way to a fourth place tie with Valley View. Both teams tallied scores of 334.
The low four golfers for each squad has his score count. Luke Flederbach led the way with an 18-hole total of 79. Ben Williams carded an 80, Cole Bannan an 83 and Jack Hopkins a 92.
Article Courtesy of:
Kevin Edwards
The Wayne Indepedent