District Lauds Apt Pupils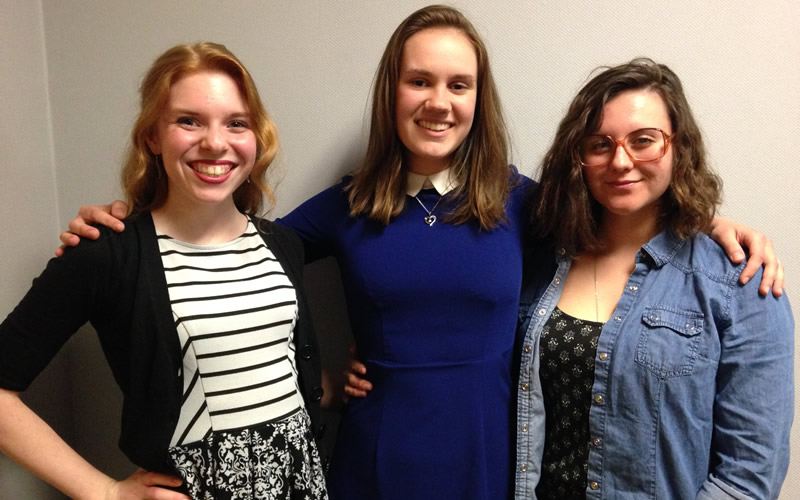 Wayne Highlands school directors and administrators recognized three outstanding students at a board meeting this week.
Seniors Hannah Luben, Rachel Windhorn and Taylor Frisch are each in the top 10 percent of their class and excel in numerous academic and extracurricular activities.
"These young ladies should be very proud of their accomplishments," Principal
Chris Pietraszewski said, noting the students have made significant contributions to the betterment of school.
He added, "They have not arrived at this point in their lives through luck. They have worked diligently and received great support from family and friends. It is encouraging to our community to have such motivated, creative young women who will lead us successfully into the future."
Hannah's activities and achievements include Science Olympiad, Honesdale High School Players 201417, chorus/chamber choir/ dessert theater, band/ marching band, Robotics Club, honor roll and National Honor Society.
Hannah plans to attend Penn State University
to pursue a Bachelor's Degree in science. She is the daughter of Eric and Jerilyn Luben of Honesdale.
Rachel's activities and achievements include Pennsylvania Junior Academy of Science Regionals-third place, reading competition, watershed team member, perfect attendance/freshman- junior, honor roll and National Honor Society.
Rachel plans to attend Wilkes University for a four-year nursing program. She is the daughter of Diana Windhorn of Beach Lake.
Taylor's activities and
achievements include track and field, Envirothon, Chemistry Olympiad Test, American Mathematics Contest, Math Madness Online Competition, band, Student Council member-at-large, honor roll, National Honor Society, peer tutor, Red Cross blood donor, horseback riding and Therapeutic Riding Program volunteer.
Taylor plans to study biochemistry at Clarks Honors College at the University of Oregon and then pursue a career in gynecology. She is the daughter of Kristen Gillow of Honesdale.