WHMS to Stage School House Rock Live!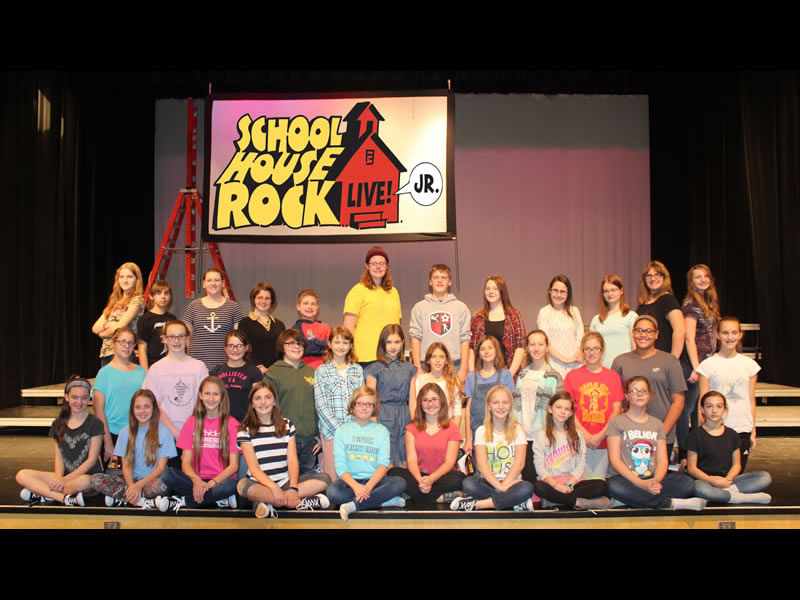 Wayne Highlands Middle School will present "School House Rock Live!" one weekend only: Friday, November 18, at 7:00 p.m. and Saturday, November 19, 7:00 p.m. Tickets are on sale now for the production which will premiere in Honesdale High School Performing Arts Center.
Children and adults alike will thoroughly enjoy the production, based on the Emmy Award-winning 1970s Saturday morning cartoon series that taught history, grammar, math, science and politics through clever, tuneful songs. "School House Rock" not only is making a small-screen comeback, the live version is lighting up stages everywhere, from universities to regional theatres all around the country. Tamsin (Tom), a nerve-wracked school teacher who is stressed about her first day of teaching tries to relax by watching TV. Various characters representing facets of her personality emerge from the set and show her how to win her students over with imagination and music, through such beloved School House Rock songs as "Just A Bill," "Circulation" and "Conjunction Junction."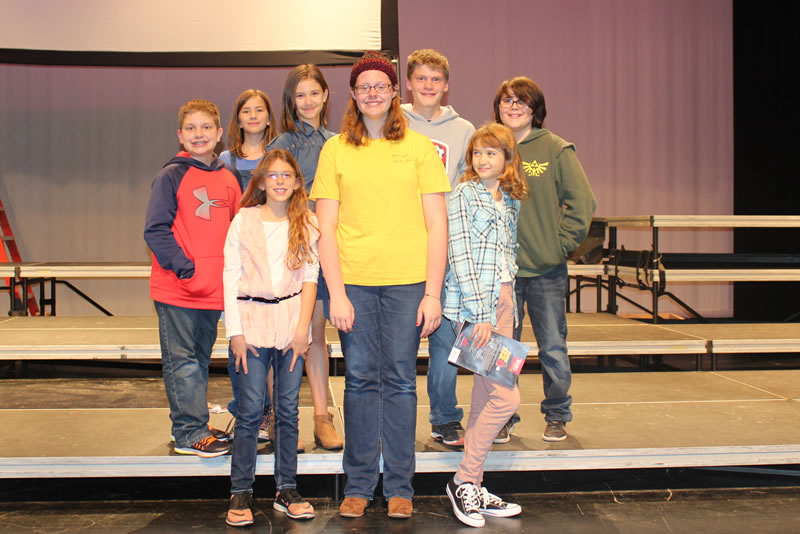 The Wayne Highlands cast of "School House Rock Live!" includes Tamsin (Tom), played by Brooke Landers; Georgette played by Lexi Pinto; Joe, played by Kaeleb Jones; Dori, played by Brianna Taninies; Shulie, played by Rochelle Keast; Elvis, played by Zack Wilken; and Dina played by Maria Kannebecker. The company ensemble also includes Kayla Ammann, Lea Bloxham, Madison Breidenstein, Makayla Breidenstein, Kaitlyn DeFazio, Angela DeHaven, Bella DeNardo-Yost, Anna Dunsinger, Calvin Feustel, Kira Fox, Lindsey Gannon, Alison Green, Amaya Hall, Mariah Hannel, Shannon Hayden, Savannah Hocking, Caroline Klinkiewicz, Veara Lynn Kolhagen, Kallie Lazaro, Shae Levanowitz, Delilah Lohmann, James Manoy, Hannah Merritt, Andrea Meyer, Sandi Reager, Emily Roberts, Abby Skelton, Ava Slish, Alyssa Stumpo, Olivia Tagle, Anabelle Wengler, and Chloe Wolfe.
The production is directed by Scott D. Miller; choreographed by Jesse Florance; music direction by Martha Curtis and Geri Spinosa; technical direction by Shawn Garing and Nick Slish; set designs by Jason Smith and Brittany Cardona; costume design by Linda Zimmer; prop master Meredith Galinkski; and hair and makeup design by Linda Forlenza. The production also includes upper classmen student assistant director Melody Feustel; assistant student choreographer Mika Brauser; costumer Christina Compton; and stage managers Stephen Miller and Nick Pizzo.
The original "School House Rock" television series was the brainchild of an advertising executive who noticed his son could remember all the words to popular songs on the radio, but could not remember the multiplication tables. He reasoned that if important educational information was coupled with exciting animation and catchy music, children would be able to learn and remember it.
From this simple idea, "School House Rock" was born and quickly adopted by ABC-TV which broadcasted the series on Saturday mornings from 1973 to 1985. Twenty years, 41 songs, and four Emmy Awards later, a nation which grew up with Multiplication Rock, America Rock, Science Rock and Grammar Rock can still sing the Preamble to the U.S. Constitution and know that "and," "but," and "or" all belong in Conjunction Junction.
On August 26, 1993, the musical hit "School House Rock Live!" opened at Chicago's Cabaret Voltaire, an eclectic vegetarian restaurant. "School House Rock Live!" played for eight months to sold-out houses in a record-breaking run in the Cabaret Voltaire.
Performances will take place November 18-19, 2016, at Honesdale High School Performing Arts Center. Shows will take place at 7:00 p.m. on Friday and Saturday. All tickets are
Regular $8, Senior (+62) $7, Student $5, Children (3-5) $4, Red/Black Pass members are welcome to the show complimentary. For information, directions, and to charge tickets by phone call 570-251-9831. Tickets are also on sale online at http://www.honesdalepac.com

Length and Intermission
1 hours and 15 minutes, with a 15-minute intermission

Audience Information
Performances are recommended for a general audience. As an advisory to adults who might bring children, this production is recommended for ages 4 and up. All guests entering the theatre, regardless of age, must have a ticket.
Rated G
General Audiences

Venue
Honesdale High School Performing Arts Center, 459 Terrace Street, Honesdale PA 18431
Get Directions
Ticket Price
Regular $8, Senior (+62) $7, Student $5, Children (3-5) $4, Red/Black Pass (Complimentary)
* For your convenience all service charges are placed within the ticket price.