Wrestling Headed for Hershey!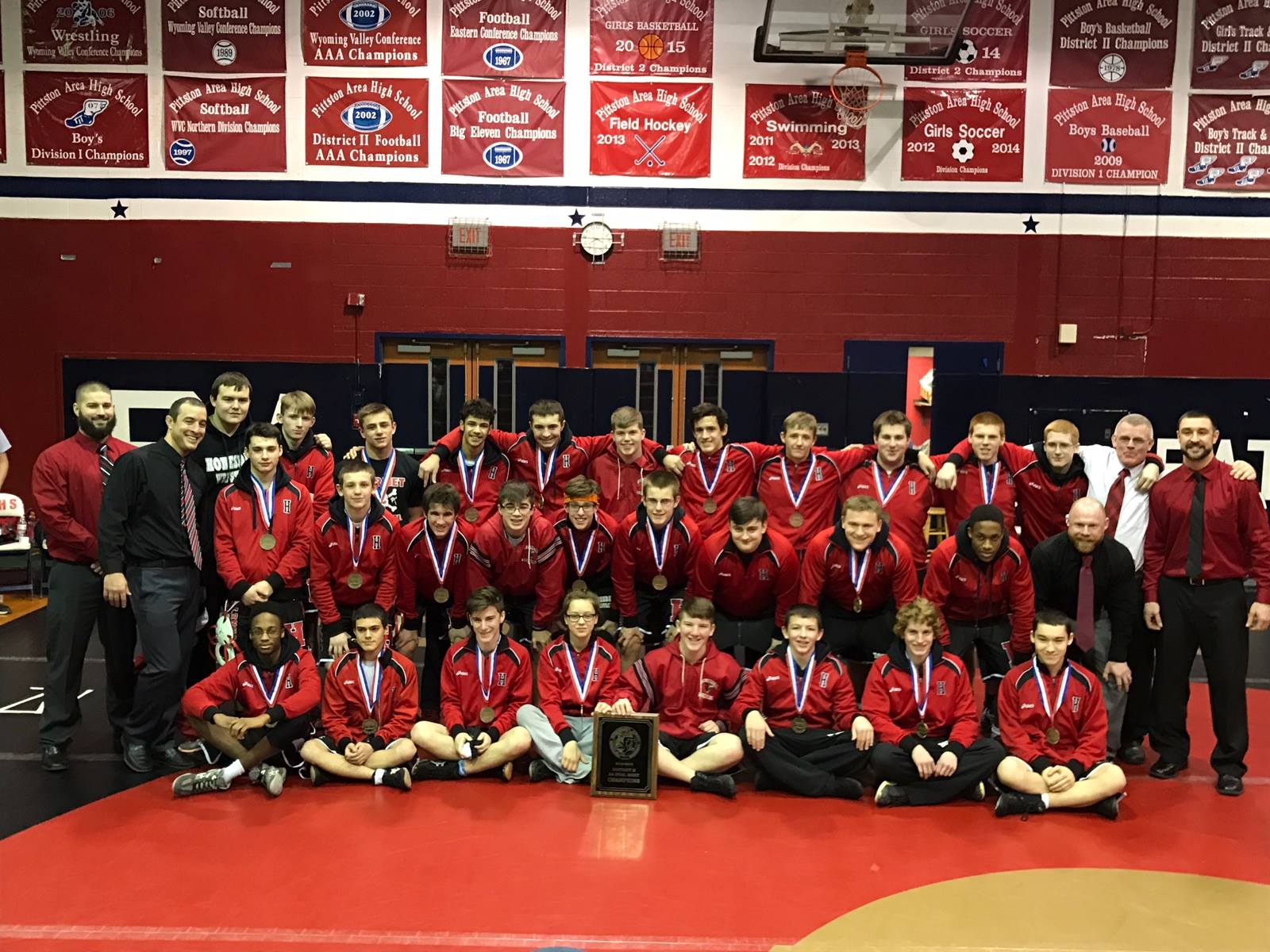 All hail the champions! Honesdale's varsity wrestling team captured the 2016-17 District Two Class AA team duals title this past weekend. The Hornets traveled to Pittston Area on Saturday for the finals and rallied for an electrifying 34-28 win over archrival Western Wayne. Next up for the Red & Black is a trip to Hershey for the PIAA State Championships. Coach Ryan Chulada's squad takes on District 10 champion Reynolds on Thursday at 2 p.m.

Article Courtesy of: Kevin Edwards, The Wayne Independent

The crowd was so loud that no one near the mat could hear.
Not the referees.
Not the scorekeepers.
Not the clock operators.
Not the coaches.
Not even the wrestlers themselves.
Hundreds of Honesdale fans were on their feet chanting. The bleachers shook and the rafters rattled as the clock ticked inexorably toward zero.
Incredibly, once again it had all come down to one bout … one bout to determine the 2016-17 District Two Class AA team duals championship.
Grand Finale
Honesdale and Western Wayne had already treated local fans to a classic match during the Lackawanna League season.
And now, the Hornets and Wildcats were engaged in another epic with a trip to Hershey hanging in the balance.
Just two points separated the teams after 13 bouts. So, a win by either Nick Lizza of Honesdale or Western Wayne's Mike Tomasetti would decide the match.
The two grapplers battled back and forth through an ugly first period, but Lizza began to take control in the second. He led 7-3 heading into the third and seemed to feed off the raucous crowd.
Honesdale's freshman phenom tallied another takedown to start the frame, then added three back points. Less than 30 seconds later, Lizza put Tomasetti on his back.
Pandemonium ensued as the referee slapped the mat with 37 seconds remaining.
Lizza leapt to his feet. He pumped his fists as the crowd went wild and confetti rained down from the stands.
Honesdale coaches exploded off the bench, dancing and hugging one another beneath a scoreboard that read: 34-28, Hornets.
"I'm speechless," said an emotionally drained Coach Ryan Chulada. "I have no words. I'm just so proud of these kids.
"They've worked so hard and bought into what we're teaching. They're a phenomenal group and I couldn't be happier."
Western Wayne Coach Dante Terenzio was also spent following yet another grueling match. However, he was gracious in defeat.
"You have to give them credit," he said. "Honesdale won just about every toss-up bout. We wrestled pretty well, but the bottom line is that their kids just wanted it a little bit more."
With this electrifying win, Honesdale advances to the PIAA state tournament, which is once again being held in Hershey.
Mat action gets underway Thursday afternoon when the Hornets take on District 10 champion Reynolds.
Wrestling begins at 2 p.m. at the Giant Center.
On the Mat
Honesdale rocketed out to a 13-0 lead Saturday at Pittston Area.
The Hornets notched three straight wins to open the match, thanks to Troy Russell, Joey Rutledge and Matt Davis.
Russell posted a second period pin over Western Wayne's Mitchell Herzog at 126 to get things going.
Rutledge followed with a 12-3 major decision over Brad Carey at 132.
And, when Davis gutted out a brutally physical 5-3 win over Mike Maguire at 138, Honesdale had itself an early double-digit lead.
"We definitely got off to a strong start," said Coach Chulada. "I'll take having Troy Russell out there for the first bout any day
SEE WRESTLING, A9
Honesdale wrestlers capture duals championship
At a Glance...
■ Honesdale's varsity wrestling team captured its first-ever District Two AA Duals title this weekend.
■ The Hornets traveled to Pittston Area on Saturday and rallied for a wild 34-28 win over Western Wayne in the finals.
■ Coach Ryan Chulada's squad is now 21-3 on the season and advances to the PIAA state tournament.
■ The Red & Black open their gold medal quest on Thursday against District 10 champion Reynolds at the Giant Center in Hershey