Farm Bureau presents scholarships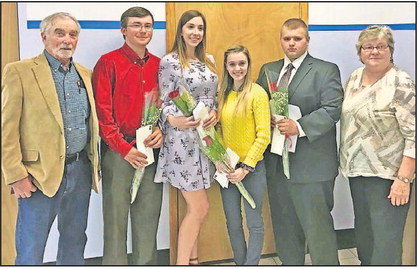 The Heart of Wayne/Pike County Agricultural Scholarships were presented to four area students by the Wayne/Pike Farm Bureau, including Honesdale High School seniors Emma Olver and Timothy Brown.
Each recipient received a check for $1000 to assist them in furthering their education in agriculture-related fields.
Andrew Gadomski plans to attend Penn State University to study Agricultural Science. Along with his church and Boy Scout activities, Andrew helps his father to produce hay for sale and has his own business selling maple syrup and vegetables to the public.
Emma Olver will be studying Biology/Pre-Vet at either the University of Delaware or Indiana University of PA. Through 4H, Emma exhibits market lambs and hogs. She is a member of the National Honor Society, captain of the wrestling cheerleading squad, and a member of the Envirothon Team.
Taylor Burdick plans to attend Penn State University to study Biology/Pre-Vet. She participates in track and field and is a volunteer at the Open Door Cafe' in Waymart and the Dessin Animal Shelter. During the Wayne County Fair, Taylor feeds and waters the chickens and rabbits in the poultry barns.
Timothy Brown will be attending Johnson College for Diesel Truck Technology. As an eight year member of the Tri-Gal 4H Club, Tim has completed dairy, beef, swine, and woodworking projects. In past fairs, he has been recognized as Reserve and Grand Champion 4H Dairy Showman. Tim volunteers for the Equinunk Fire Company and works at RTS Truck Center after school.
Farm Bureau President Karl Eisenhauer stated, "We are very pleased to help these young people strive toward their goals. We congratulate them and wish them well in their future endeavors."
Wayne/Pike Farm Bureau would like to thank the following businesses for their sponsorship of this important program: Mike Peifer, State Representative; Dirlam Bros. Lumber Co., Inc.; Brian T. Kelly, CPA & Associates, LLC.; Wallenpaupack Self Storage; Olsommer-Clarke Insurance Group, Inc.; Pioneer Construction Co., Inc.; Residents of Lackawaxen Township; Pike County Cherry Ridge Excavation; Patrick L. Robinson, District Attorney; Quality Printing & Design; James Wilson Funeral Home, Inc.; Joe Peters, Candidate for Congress; Hemlock Gun Shop, Inc.; Dunkin' Donuts of Honesdale; George W. Kinsman, Inc.; The Dime Bank; Krupa Wealth Management; Endodontic Specialists, Dr. Robert E. Lesniak; Wayne Bank; Woodloch Resort; Edward Howell, Wayne County Coroner; The Alpine Wurst & Meat House Restaurant; Dave's Foodtown; Two Guys From Italy Restaurant; Jerry Birmelin, Former State Representative; Dyberry Sand & Gravel Co.; Lake Region IGA; Doodles & Such Vintiques; Central House Family Resort; Fun 'n Game Farm; Waymart Milling Co.; The Red Schoolhouse Restaurant; Senator Lisa Baker; Paulie's Hot Dogs; Hamlin Auto Parts; Tick Tock's Restaurant; Town & Country Veterinary Services, PC; Bud's Auto Body; Wallenpaupack Veterinary Clinic; Mesko Glass; Case Tire Service, Inc.; Gries' Runway Farm; Matt's Farm Market; Commissioners Smith, Kay & Adams; Lukan's Farm Resort; Fritz Bros., Inc.; Suburban Propane; Jonathan Fritz, State Representative; Honesdale National Bank; M & J Tire; Rutledge Excavating Inc.; Marshall Machinery, Inc.; Creamworks; Wayne County Ready Mix Concrete; Bethany Village; Arthur Ave. Italian Deli; The Wayne Independent; NEPA Pet Cremation Services, Inc.; Pocono Chiropractic Clinic;; Knecht's General Contracting, Inc.; The Waymart Hotel; Honesdale F & G; Waymart Building Center, Inc.; Elegante' Family Restaurant; BGM Fastener Co., Inc.; Honesdale Orthopaedic Surgery, PC; Boogertman Builders & Excavating; Platform Industries; Stone Valley Farm; Steep Hill Dairy, LLC; Town & Country Energy Corp.; CNeer RV Inc.; Joseph Kelly Fencing; Martin Caufield Memorial Works; Paul M. Meagher Jr., Nationwide Insurance; Henderson Trucking; Teeters' Furniture; Koberlein Environmental Services; Forest Care LLC; Jo Rob's Naturals; Brian D. Chapman, Nationwide Insurance; Watson Bros., Inc.; Comprehensive Physical Therapy; Ghiggeri's Olive Oils & Balsamics; Tractor Supply Co.; Rusty Palmer's; Bold Gold Media Group; Highhouse Energy; Bill Case Polaris; Wayne Body Shop; Joe & Lorenzo's Italian Restaurant; North of the Border Fireworks; Mike's Walk-In Carpet; R & E Auto Service; Kay's Italian Restaurant; Downtown Hawley Partnership; Lakewood Motor Company; A & B Homes, Inc.; Wayne Memorial Hospital; Meagher Law; Jerry Land Jewelers; Howell's Towing & Recovery; Elite Pet Grooming & Supplies; Carson Excavating; Komar-LaTourette Grass Fed Beef; Hotel Wayne; Sterling Upholstery Co., Inc.; John Bonham Road Equipment & Supply; Matt's Repair Service; Dr. Edward Murray, Podiatrist; John H. Wetmore, Auctioneer; Dr. Donald Broughton, Chiropractor; Charles Newell; United Metal Products Corp.; Mountain Meats & More; Krempasky Equipment; Gloria's Beauty Shop; Hawley Garage; Gross Family Dairy; Nature's Grace; Stephens Pharmacy, Northeast Med-Equip; Sharkey's Fuel Sales; Lindsey Equipment; Outside Matters Services; Dave Williams, Farm Country Radio; Trackside Grill; B & B Dodge; Palmer & Sons Truck Service Inc.; Vannie Williams, CPA, P.C.; Lyme Disease Task Force; Wayne County Ford; Firmstone Fuels – Tire & Auto Service; Baer Sport Center; Groson Inc.; Sweet Sensation Cakes; Windy View Farm Custom Harvesting; Sterling Custom Picture Framing; Robert J.Tugend, EA, Tax Service; Countryside Floral Greenhouse; Robert & Dorothy Kieff; Law Offices of Bugaj/Fischer; Locklin's Bottled Gas, Inc.; Honesdale Chiropractic; Calkins Creamery; Clark's Sunrise Market; Mander Fire & Safety, Inc.; Edward J. Schwarz, Inc.; Honesdale Spreading; Jennz Cafe; Kmetz Nursery & Landscaping; Wallflower; Art's For Him & Her Too; The Waymart Deli; Honesdale Greenhouse; Scarfalloto's Towne House Diner.
Article by The Wayne Independent Writers