Board lauds student achievements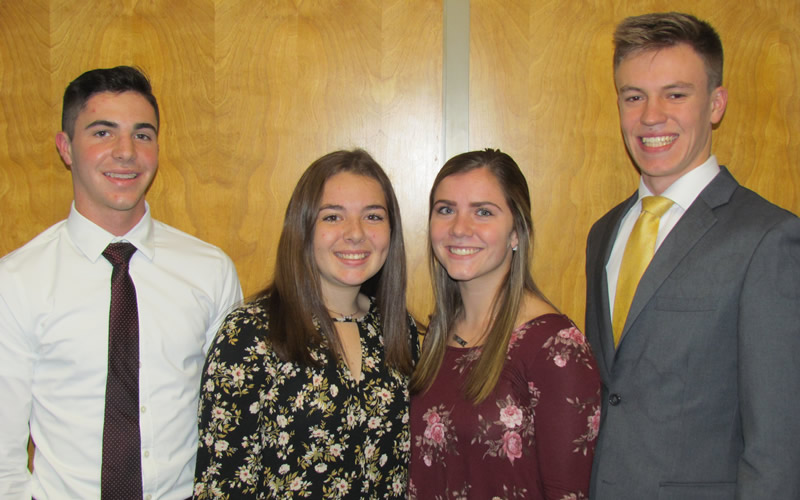 Congratulations to Liam Carmody, Mackenzie Meagher, Brooke Gardas, and Colin Rickard (left to right) for their outstanding scholastic achievement.

The Wayne Highlands School District (WHSD) Board of Directors commended a quartet of highly qualified seniors last Tuesday, November 20, at the Board's monthly business meeting.
All four seniors rank in the top five percent of their class academically, have made repeat appearances on the Honor Roll and are members of the National Honor Society (NHS).
First recognized alphabetically, Liam Carmody is the son of John and Tonia Carmody of Texas Township.
In his time at Honesdale High School (HHS), Carmody has competed in the American Mathematics Contest, the Marywood Math Contest and the King's College Math Contest.
He was also a regional and state medal winner of the Science Olympiad, a third-place winner of the Scholastic Bowl, and a Commended Student as denoted by the National Merit Scholarship Qualifying Test (NMSQT).
His other merits include taking second place at both the Regional and State Driving Competitions, and receiving state and regional placement at the Future Business Leaders of America (FBLA) competition.
While at HHS, Carmody has also participated in the Envirothon, on the Mock Trial Team, and serves his classmates as Student Council President.
Athletically, Carmody has lettered in both soccer and track, earning the Coaches Dedication Award in the latter and the Varsity Team Offensive Award, MVP Award and rank of Captain in the former.
Amid all these activities, Carmody found time to volunteer at the Wayne County Children's Christmas Bureau.
Post graduation, he plans to attend a 4-year university.
Though he is yet unsure where he will enroll, Carmody's top school choices include the University of Pennsylvania and Georgetown University.
Carmody thanked the Board and WHSD "...for a great 13 years of education here at Wayne Highlands, as I'm very thankful for everything that I've learned."
Carmody named and thanked key teachers and coaches, and also drew special attention to the district's composting initiative.
"It's really been a big part of my education here," he said, "something outside of the classroom that's taught me a lot about how the business works, how the Board works, and it has shown me how the community can come together."
Second recognized, Brooke Gardas is the daughter of John and Jeanne-Marie Gardas of Honesdale.
She is a Member-at-Large and Homeroom Representative of Student Council, served as Class of 2019 Treasurer in her junior year, and serves as the NHS Blood Drive Committee Chair.
Gardas' other activities include participation in the American Mathematics Contest, the Middle States Accreditation Planning Team, and the HHS Interact Club.
Athletically, Gardas was captain of the Freshman girls basketball team.
She also played varsity and junior varsity softball, wherein she lettered, was named MVP, and made the Lackawanna League All-Star Team her sophomore year.
Gardas also lettered and made team captain in varsity field hockey, where she also earned the Underclassmen Achievement Award for Highest GPA and won the Team Player Award.
Gardas plans to continue her education post graduation by earning a bachelors degree in nursing and then study to be a certified registered nurse anesthetist.
Thanking the Board, her parents and teachers, Gardas stated, "I wouldn't be standing before you if it weren't for the support of those around me who have guided me throughout my entire academic career.
"...It has been such a privilege to be a student here at Honesdale High School, and I'm very thankful that I can take a valuable education with me, and life lessons, as I move forward."
Third recognized, Mackenzie Meagher is the daughter of Maurice and Tricia Meagher of Honesdale.
Beginning her high school career as a Freshman at Fleming Island High School in Florida, Meagher was the Class of 2019 Vice President and a member of the Florida State Premier League (FSPL) Travel Soccer Team and the school track and field team.
As a member of the track and field team, Meagher won a varsity letter, the Outstanding Freshman Award, and set the school record for the Distance Medley Relay.
She also set the Medley Relay Swim record in the First Coast League.
Moving to HHS in her sophomore year, Meagher continued her track and soccer success, lettering in both.
She earned the Most Improved Player award, the MVP award and the Academic Excellence Award in varsity track and field.
She was captain of the soccer team for two years, won the Offensive Player of the Year award for two years and made the Division I First Team All Star.
Similarly, she played on the Travel Soccer Team in the TASS and Fury Club, and on the Eastern Pennsylvania Youth Soccer Olympic Development Program (ODP) Team U16 and U17.
Meagher also volunteers as a U6 coach at the Honesdale Soccer Club and referees for the North Eastern Pennsylvania Soccer Association for Youth (NEPSAY).
Athletics aside, Meagher's scholastic prowess has won her recognition via a Commended Student Scholarship from the PSAT/ NMSQT, and second place in the 2018 Living History Oral Expression Contest, presented by The Delaware Company.
Meagher serves as a Student Council Memberat- Large, as NHS Blood Drive Committee Chair, and is a member of the Mock Trial Team and Interact Club.
Her other activities include participation in the 2018 Junior Leadership of the Northern Poconos program and in the 2018 Girls All State program at Shippensburg University.
Extracurricularly, Meagher volunteers at the Wayne County Historical Society and is a member of St. John's Youth Group.
After graduation, she plans to further her education at a four-year university.
As a child in a military family, Meagher noted she has attended seven different schools throughout her educational career.
"Despite having been enrolled in many schools, I know I will never forget the education I received at Honesdale High School," she said.
"I am thankful to have been embraced by such a loving atmosphere that the school provided. Not only was all the staff and faculty welcoming, but the students were as well."
Meagher's thanks extended to the board, her teachers, parents and sisters.
Last recognized alphabetically, Colin Rickard is the son of Craig and Kimberly Rickard of Honesdale.
He is a Member-at-Large and Homeroom Representative of Student Council, and a member of the Interact Club.
A gifted athlete, Rickard has played on the varsity and junior varsity basketball team, earning three varsity letters in doing so.
He also earned the Most Improved Player Award, was a Finan Tournament All-Star, a Lackawanna League Division II Honorable Mention All-Star, and won the Defensive Player of the Year Award.
Devout in faith and in athletics, Rickard is a member of the Fellowship of Christian Athletes.
Following graduation, Rickard plans to "pursue a degree in something he is passionate about and do innovative work to improve our world," as read by HHS Principal Christopher Pietraszewski.
Thanking the Board for the honor of recognition, Rickard said, "The Wayne Highlands School District, as well as Honesdale High School, has played a large part in making me the young man I am today."
He thanked all of his teachers for "...instilling in me the value and more importantly the passion for learning."
Additionally, Rickard thanked his coaches and family for their roles in his achievements.
Speaking on behalf of the Board, Vice President George Korb noted words like, "team," "captain," "volunteer," and "president" appear repeatedly in these students' write-ups.
"Up to this point, your grades certainly played a role in getting you here tonight," said Korb. "But those things that I just read are the qualities and the traits that are going to carry you through and have you become the tremendous citizens we want going out into the world representing Honesdale High School."
WHSD Superintendent Gregory Frigoletto noted, "As a Wayne County guy...I was thinking, what are the odds that on one night we would have names like Carmody, Gardas, Meagher and Rickard all here as the next generation of that family come through?"
Noting these are "long-standing, highly contributing families to this community," Frigoletto noted it is exciting to see how the current students fill their parents' shoes.
"It is with great confidence that I know you're going to be successful," said Frigoletto. "You can't not be successful with how far you've come and how many things you've accomplished already."
Article and Photo Courtesy of David Mazzenga of the Wayne Independent