Heading to States One More Time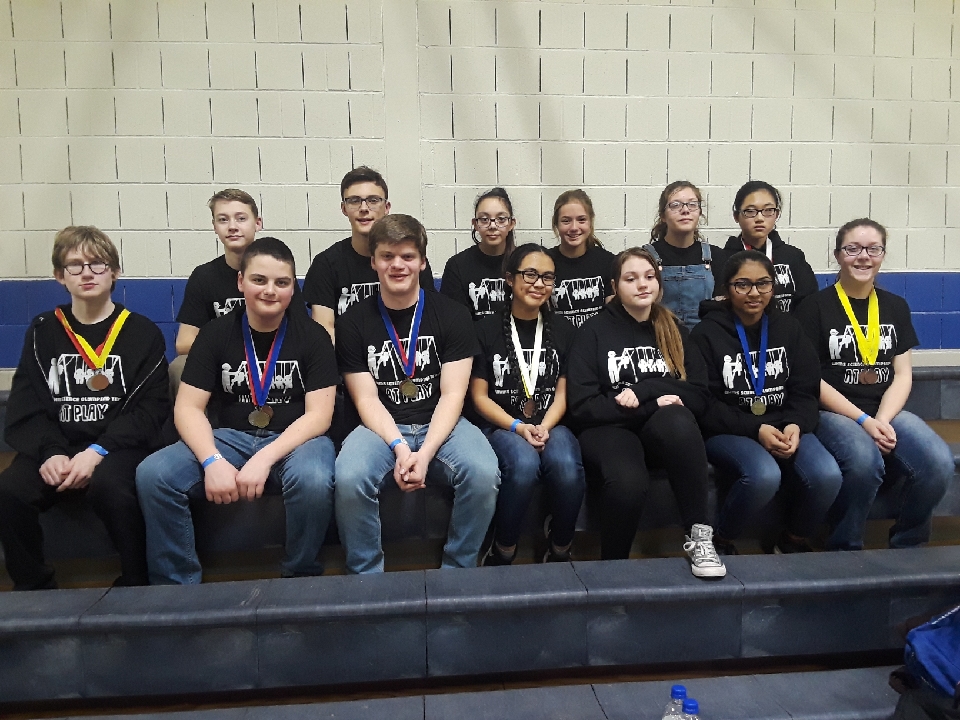 Wayne Highlands Middle School Science Olympiad team has been having a very successful season.A team of thirteen 7th through 9th-grade students competed in 23 different events related to all areas of science.All of the events required a great deal of preparation.Some are very content oriented, whereas others need the student to build a device that will be tested.Others require performance of skills related to a field of science.All events have strict rules as to how the work must be completed. High school teacher, Kelly O'Neill, and middle school teacher, Christopher Roos, coach the team.At the Pennsylvania Northeast Regional competition held on March 6th, the team placed 5th and qualified for the State Competition on April 27th at Juniata College.This is the 8th year in a row that the Wayne Highlands Middle School has qualified for the state event.Seventeen events out of twenty-three placed in the top eight.Each year, the competition for the top positions is getting more challenging.
Tiffany He, a first-year team member who placed, received two medals at regionals this year. She stated, "The competition turned out better than I expected, and Science Olympiad is a lot more fun than I thought it would be."
Soren Schacter stated that "This year I've learned a lot more about chemistry.It has extended what I learned in Honors biology and will help me in chemistry next year."
All team members have put in a tremendous amount of time and energy, practicing two to three times per week after school, plus many hours on their own.Their hard work and dedication are continuing to be rewarded, hopefully at the State level as well.Congratulations to all of the students involved.
The following were medal winners at the regional competition:
1st Place:
Experimental Design-John Rodriguez, Zack Wilken, and Pooja Patel
2nd Place:
Potions and Poisons-Tiffany He & Soren Schachter
Road Scholar-Zack Wilken & John Rodriguez
3rd Place:
Solar System- Jessica Acquasin & Tiffany He
Mystery Architecture-John Rodriguez & Zack Wilken
4th Place:
Anatomy & Physiology-Jessica Acquasin& Makayla Breidenstein
Crime Busters-Soren Schachter & Makayla Breidenstein
Other top placings were as follows:
5th Place:
Elastic Launched Glider
Fossils-Sage Yorn & Emily Smith
Heredity-Madison Breidenstein & Tiffany He
6th Place:
Circuit Lab-Soren Schachter & Avery Ohliger
Meteorology-Makayla Breidenstein & Madison Breidenstein
7th Place:
Herpetology-Pooja Patel & Chloe Wolfe
Roller Coaster-JP Ahern & Makayla Breidenstein
Thermodynamics-Avery Ohliger & Madison Breidenstein
8th Place:
Water Quality-Sage Yorn & Emily Smith
Dynamic Planet-Sage Yorn & Emily Smith
Team photo members are as follows from the left:
Front row: Soren Schacter, John Rodriguez, Zack Wilken, Jessica Acquasin, Emily Smith, Pooja Patel, Makayla Breidenstein
Top row
: JP Ahern, Avery Ohliger, Sage Yorn, Chloe Smith, Madison Breidenstein, Tiffany He