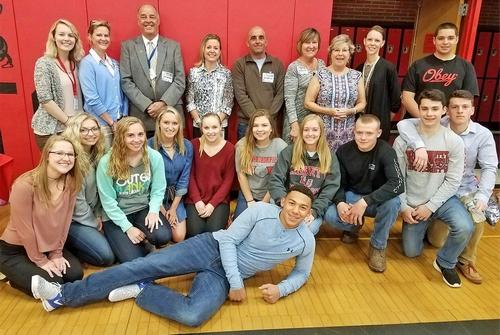 Honesdale High School held its second student career fair Friday.
The fair increased the size of its student attendees by allowing juniors and seniors, both with and without a post-graduation plan, the opportunity to peruse over 30 local vendors in search of either full time or summer employees. The number vendors this year increased substantially over last year, which featured fewer than 10.
The vendors included a mixture of industries including hospitality, construction and healthcare. There were also representatives from technical institutes, higher education facilities and the armed forces.
High school counselors Paige Pinto and Amy Neugebauer said the fair is a creative way to help fulfill state requirements for the 339 plan — an academic assistance program designed to help students create a decisive plan for post-graduation employment and education.
Also part of the 339 plan are new high school programs of study: administrative assisting, accounting, agriculture science, carpentry and health occupations.
Pinto said the goal of the fair is to have the students "immersing themselves and hearing about these careers so they know whether or not they want to pursue them when they graduate."
Even those with career goals in mind benefit from the opportunity to explore options for summer employment and start networking, Pinto said.
Another goal "is to let the kids know there's plenty of jobs right here in our own community," said Neugebauer.
Pinto and Neugebauer explained the fair would be followed up with two surveys – one shortly after it ended to assess what the students thought, and one a few months after to see how they fared as a result.
"We're pretty pleased with the turnout," stated counselor Paul Reiprich.
Grateful to the Wayne Highlands School District administration, Pinto said "the district is supporting what we're doing, which is phenomenal."
Neugebauer expressed gratitude for the district administrative assistant, Jill Wagner, for her hand in organizing the event.
Pinto mentioned intern Natalie Murphey, whose creation of the GoogleDoc surveys is instrumental in helping the counselors assess the quality of the fair.
Honesdale senior Cody Castellano said, "I think this is a great opportunity for people that ... don't know what they're doing after high school." He said he found a conversation he'd had with the representative from Boyce Products particularly useful for his future planning.
Student Rebecca Bunnell said she already had employment but still found the fair useful.
"It's still nice to learn other options that you could do if things might not work out," she said. "It's fun to learn about stuff and see what people do for their careers."
Mika Brauser, another student wandering the fair, said, "Things like these are important to go and find opportunities for jobs in the community." She said she was unaware of how many opportunities there were in the area before entering the fair.
Pinto said the fair is helpful not only for students to figure out their career plans, but also for the local business who need to fill positions.
Himalayan Institute representative Brian Fulp came to the event looking to fill a dozen or so positions. He was elated by the student response he'd gotten at his table.
"This is the greatest event, only because we need so many people to work for the summer and without this we wouldn't be able to find the help that we need," he said.
Fulp added that by the end of the fair's first period, he had many students interested and six who had already filled out applications.
"It's been really helpful for us," he said. "But I think it's really helpful for the students because they have an opportunity to be in the job that their thinking about and it could turn into a career for them."
Pinto said the district will also host a grade seven career fair at the end of May, as well as other career-minded activities for all grade levels.
This year's job fair had representatives from Apple Day Spa, Top Notch Distributors, Foxledge, Educational Opportunity Centers, the Pennsylvania Higher Education Assistance Agency, Wayne County Employment & Training, Wayne Memorial Hospital, Lackawanna College Physical Therapy Program, Ellen Memorial Health Care Center, Bethany Village Senior Living Center, the Himalayan Institute, The Lodge at Woodloch, Cove Haven Resort, Lukan's Family Resort/Restaurant, Indian Head Canoes, Tyler Hill Camp, Dyberry Day Camp, Kriger Construction, Scranton Electricians, Marshall Machinery, Boyce Products, Leeward Construction, US Army National Guard, US Army, US Navy US Marines, Penn State University Worthington, Northampton Community College, Luzerne County Community College Fortis Institute and Lackawanna College.
Article Courtesy of
The Wayne Independent
By David Mazzenga