Hornet matmen dominate tri-meet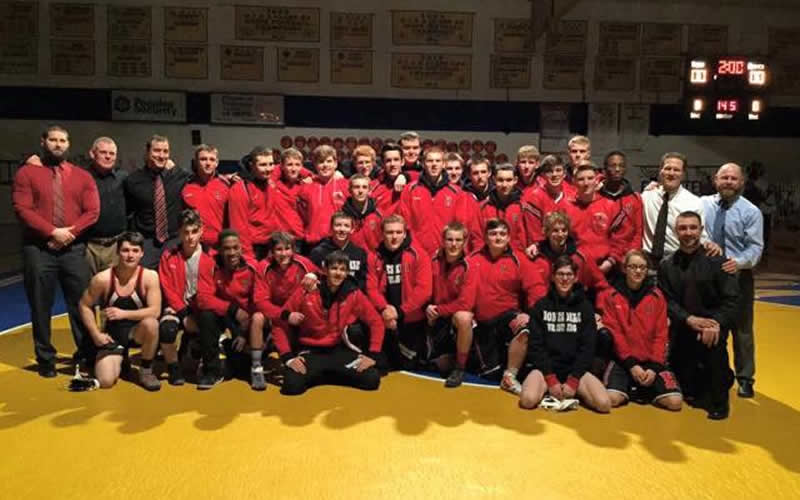 Under the direction of coaches Ryan Chulada and Joe Arnone, Honesdale's varsity wrestling team authored one of the greatest seasons in school history last year.
All those achievements are just a memory now, though, and a brand new group of Hornets has hit the mat in search of its own destiny in 2017-18.
On Thursday night, the Red & Black celebrated 50 years of high school wrestling with a special ceremony prior to the trimeet versus Montrose and Blue Ridge.
Following this emotional tribute, Honesdale got down to the business of defending its Lackawanna League Division II championship.
"Each team has its own personality," said Coach Chulada. "And, sometimes it takes a little while to get everything figured out. So far, I like what I'm seeing in the practice room. Now we have to make sure that it translates onto the mat."
On this particular night, it certainly did.
The Hornets delighted an SRO crowd by powering their way to decisive wins over both the Meteors (4721) and Raiders (66-18).
Weather permitting, the local lads will be back in action Wednesday for a tri-meet at Scranton Prep.
There, Honesdale will face off against the host Cavaliers and Valley View.
Big Wins
Honesdale wasted no time in taking control of the match versus Montrose.
Anthony Steffens got things going with a first period pin at 160 pounds. The tough-as-nails junior clamped Ethan Canfield in a time of 1:46.
Steffens enjoyed a stellar night, also posting a pin in the match against Blue Ridge. Anthony put Tom Gudykunst on his back :32 into the second period.
Michael O'Day kept the momentum rolling in the opener with a 12-3 major decision at 182. This set the stage for back-to-back pins from Jake Kabonick (195) and John Kuhns-Miller (220).
Kabonick clamped the Meteors' Marc Avila in a time of 3:41, while
Kuhns-Miller put away Justin Kelly in 1:32.
Peter West (120) and Jordan Young (126) were the next two Hornets to notch on-mat victories.
West brought the crowd to its feet with a wild 12-9 win in sudden death, while Young dominated en route to a 13-2 major decision.
Joe Rutledge and Brandon Lawson closed out the Montrose match with two more wins.
Rutledge muscled his way to a hard-fought 7-4 decision at 145. Lawson also earned high marks for perseverance, coming away with an 8-7 victory at 152.
The nightcap was riddled with forfeits as Blue Ridge arrived on the scene with just six varsity wrestlers.
Ken Huber led the way with a pin at 285, clamping the Raiders' Eli Aldrich in a time of 1:13.
Matt Davis (138) closed things out in style, notching a fall at the expense of Alec Martin (:56).
Article Courtesy of:
Kevin Edwards
The Wayne Independent