Honesdale's girls varsity 4x800M relay team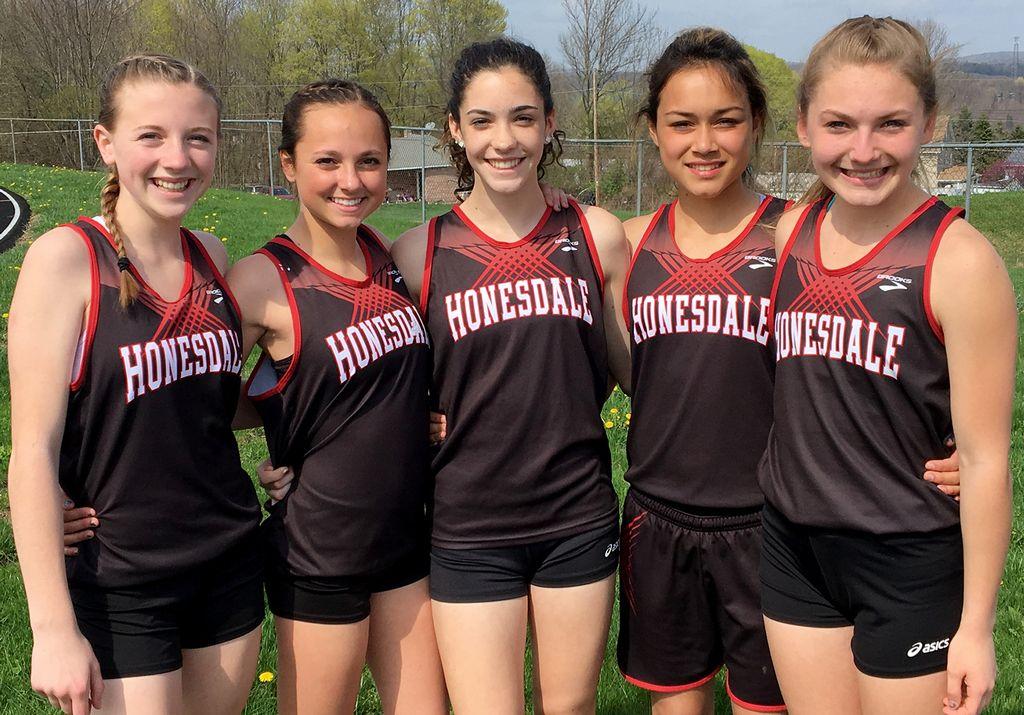 There is a long and storied history of distance running success at Honesdale High School.
The earliest chapters in this book were written by Hall of Fame coach Joe Macey and star athlete Renee Robbins.
The most recent chapters have been penned by current cross country coach Lindsey Pender. Her scrappy girls cross country squad just recently returned the Red & Black to glory by capturing the 2016 District Two championship.
Now, seven months after that electrifying triumph at Chapman Lake, several of these same runners have brought their talents to the track & field arena.
Gold Medal Quest
Under the direction of coaches Jurkowski and Pender, the Lady Hornets are setting their sights on another D2 medal ... this time in the relays.
Dana Pratt, Isabella Frigoletto, Lilah Carmody, Tedra Harrison and Mackenzie LaMorte comprise one of the area's top 4x800M teams.
They're a young, energetic bunch that loves to compete and never backs down from a challenge.
"There's so much training that goes into an event like this," Coach Jurkowski said. "First you have to build up a solid base with distance work. But you also need to do a lot of speed work because each kid is basically sprinting 800M.
"It's a grueling event."
Heading into this week's Lackawanna League action, the local lasses own the top 4x8 time in Division II.
Pratt, Frigoletto, Carmody, Harrison and LaMorte rotate in and out of the line-up. They're best time thus far is 10:28.44.
In Honesdale's most recent meet, a 98-52 loss to Wallenpaupack Area, the girls ran unopposed and cruised to victory in a time of 12:41.3.
Coach Pender believes they have the potential to cut their time drastically.
"I think they're capable of getting down into the very low 10s," she said. "This is a very talented group. These girls work hard every day in practice and they're really coachable."
They are also extremely competitive.
The Lady Hornets lost a head-to-head battle with North Pocono in the 4x8, but then avenged that defeat with a convincing win at the Trojan Invitational just three days later.
"That was nice to see," Coach Pender said with a sly smile. "They definitely weren't happy after that loss. They went right back out there and got the job done."
Strategy
While every relay team hopes to build an early lead en route to victory, this particular group of runners doesn't seem to mind coming from behind.
"Psychologically, I think it's important to get out front," Coach Pender said.
"And, we try to do that whenever we can. But, these girls are extremely competitive. They've chased other teams down from behind a couple of times this year. And, to be honest, sometimes it's better to be challenged than to get too comfortable as a runner."
Coach Jurkowski was quick to agree.
"There really is some strategy in figuring out who should run where and in what event," he said. "You have to look at the big picture and take into consideration what other events each kid might be doing and where they fall."
Additionally, relays are an "all or nothing" proposition in high school track. The team that wins earns five points and the team that loses gets none.
And, since there are three relay events at each meet, a total of 15 crucial points hang in the balance.
"Hey, that can be the difference in winning and losing a match," said Coach Jurkowski. "Winning relays is very important in the grand scheme of things."
Breaking it Down
Honesdale's 4x8 relay team is extremely young, but very talented.
Each runner brings an unique personality and skill set to the table.
LaMorte is a sophomore and the de facto team leader. Mackenzie boasts a wealth of experience despite her relative youth. She finished second at the District Two Cross Country Championships last fall.
Harrison was every bit as impressive during the most recent cross country season. Another member of that talented freshman class, Tedra was fourth at the AA championships in 2016.
Frigoletto is a versatile freshman who competes in three different events at every league meet. Isabella runs the 1600M and 3200M in addition to the relay.
Pratt has embraced her role on the relay team and the 800M as an event. Dana is a freshman who seems to relish the challenge of chasing enemy runners down from behind
Carmody is a frosh and in her first year of competitive track. Lilah has fit in well with her new teammates and appears to have a very bright future in the sport.
Looking Ahead
Weather permitting, Honesdale was scheduled for an away meet at Western Wayne Monday.
This year's Jordan Relays are set for Thursday, May 4, followed by the Robert Spagna Lackawanna League Championships on Tuesday, May 9.
The 2017 District Two Meet is slated for Monday, May 15 at Scranton Memorial Stadium.
Article Courtesy of
The Wayne Independent
By Kevin Edwards