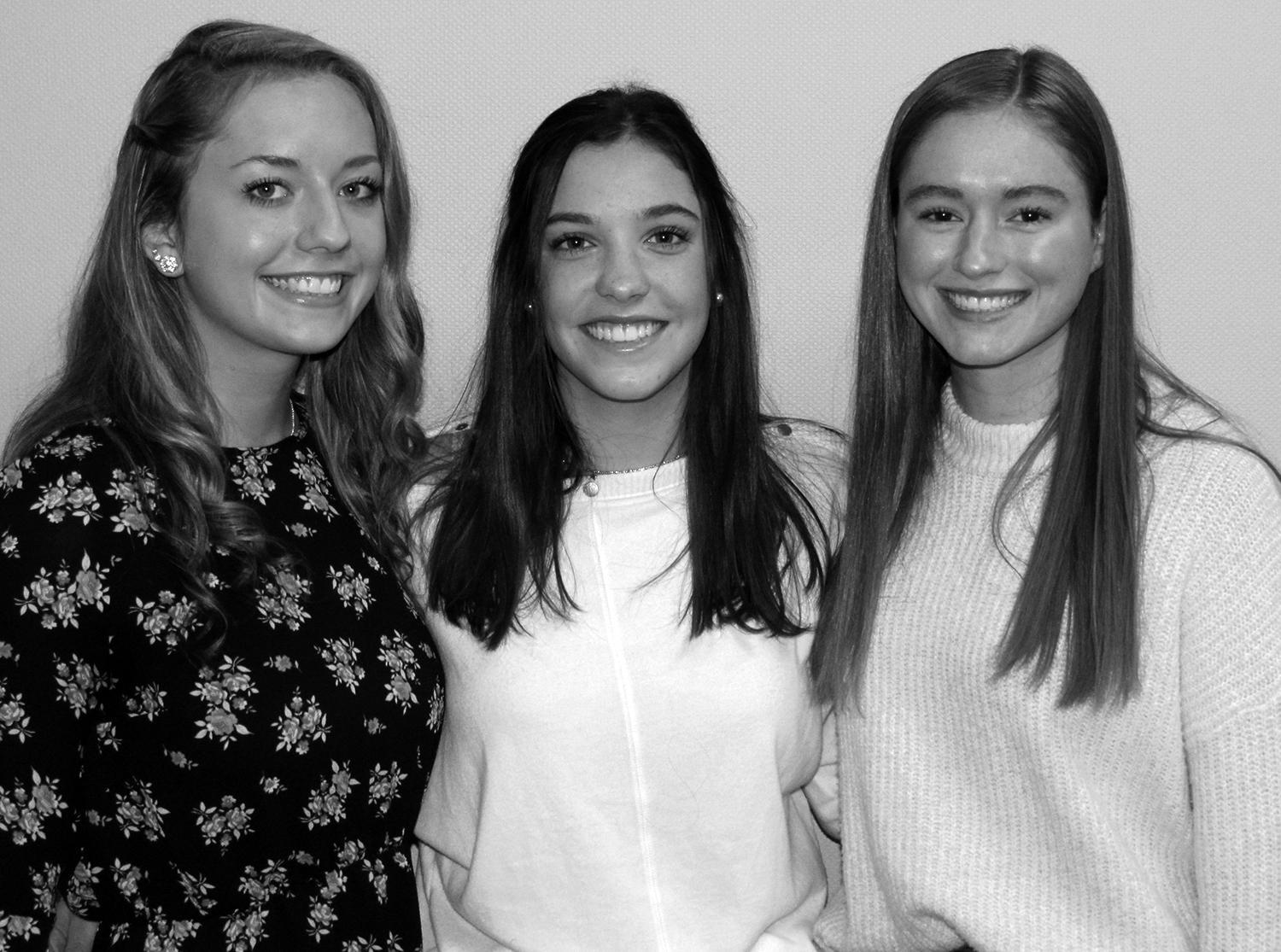 The Wayne Highlands School District (WHSD) honored three outstanding seniors at their meeting on December 3.
Lilah Carmody, Miranda Fritz and Margaret Murphy each received accolades from the WHSD Board of Directors for their outstanding academic achievements which include being among the top five percent of their class, consistently making the Honor Roll and all being members of the National Honor Society (NHS).
First recognized alphabetically, Lilah Carmody is the daughter of John and Tonia Carmody of Texas Township.
Flexing her academic acumen, Carmody participated in the American Mathematics Contest, the Envirothon and was a qualifying exam participant of the United National Chemistry Olympiad.
In helping her reach this level of achievement, Carmody thanked teacher Kari Kromko "...for creating a deep love for science. The passion she has for the field is so amazing. And the way she teaches has made me want to be surrounded by science for my whole life."
Carmody likewise thanked history teacher Joseph Arnone "...for showing me that learning is so much fun and that Ke$ha is the most amazing singer out there. Not only has he taught me about history, but he has taught me about life and how, even when mistakes are made and things are really hard, there's always someone in your corner helping you out."
She also extended her gratitude toward teacher Kevin Lockwood "...for giving me confidence in English even when I didn't have any. This confidence then radiated in other aspects of my life. He has shown me that as long as I believe in myself and give everything my best attempt, the results don't matter. It's the feeling of confidence that will get you through."
A budding leader, Carmody is a member of the Middle States Planning Team, a Student Representative of Communities That Care, the Class of 2020 Secretary and the Secretary/Homeroom Representative of Student Council.
She is also a member of the Interact Club.
Athletically, Carmody has excelled in three sports.
She lettered in both varsity track and soccer, rising to the rank of captain in the latter, and was manager of the freshman girls basketball team.
After graduation, Carmody, plans to attend the University of Pittsburg to study medical science.
Addressing those assembled at the meeting, Carmody thanked the Board and her parents for their part in helping her develop as a young woman.
"Honesdale has provided me with an excellent education and opportunity to pursue my interests," she said. "Honesdale High School will forever be the reason for who I am and who I have to thank for my excellent work ethic. I'm excited to see where my education will take me."
Second recognized, Miranda Fritz is the daughter of Matthew and Diana Fritz of Berlin Center.
A math maestro, Fritz has participated in the American Mathematics Competition, the Marywood Math Contest, the Math Madness Online Competition, and the King's College Math Contest.
She is also a math tutor.
Utilizing her math mastery in the sciences, Fritz has also participated in the Envirothon, the American Chemical Society Challenge Exam B, and was a Pathways in Ecological Research Participant.
She is also a regional/state medal winner in the Science Olympiad and a multi-award winner in the Pennsylvania Junior Academy of Science (PJAS), earning both a second award and first award at the regional level and a second award at states.
At the meeting, Fritz thanked myriad teachers for their roles in helping her achieve such success, "Specifically Mrs. Kretschmer, Mrs. Tonkin and Mrs. Kromko for fostering my passion for science and providing me with extracurricular opportunities to expand my scientific knowledge."
Fritz likewise thanked, "Mrs. Weigand for helping me along my math journey and for encouraging me to find the fun in math both in and outside of the classroom."
A lauded leader, Fritz served as the Community Service Project Ambassador for Future Business Leaders of America (FBLA) and is a Hugh O'Brien Youth Leadership (HOBY) student ambassador.
She also serves as the Treasurer of the Interact club and is President of the Buddy Club.
She also serves as Treasurer of both Student Council and the Class of 2020.
Fritz sings with the Honesdale High School (HHS) Chamber Choir and is a member of the St. John's Youth Group where she is an altar server and received the Youth Bishop Award from the Diocese of Scranton.
"I would like to thank Mrs. Curtis in the choir program for giving me an amazing extra-curricular experience outside of my academics," said Fritz, "and for giving me the opportunity to learn new things and meet new people."
Athletically, Fritz was a member of the varsity track and field team, was a junior high and varsity track statistician and volunteered for the Special Olympics Track and Field event.
After graduation, Fritz plans to attend a four-year university studying biology in a pre-medical track. She hopes to then continue her studies on her way to becoming a pediatric oncologist.
Addressing the Board, Fritz thanked the directors "...for providing me with an outstanding high school environment. I feel incredibly blessed to have spent the last four years at a school that I believe has truly prepared me for my future endeavors."
Fritz added, "During my time spent at Honesdale High School I have learned many valuable lessons that have helped me become who I am and will help me achieve my future goals."
She likewise thanked her parents, "...for always supporting me and for pushing me to be my best in all aspects of life."
Third recognized, Margaret Murphy is the daughter of Andrew and Kristina Murphy of Cherry Ridge Township.
Likewise a scholastic competitor, Murphy has participated in the Marywood Math Contest, the King's College Math Contest, the Math Madness Online Competition, the Envirothon and the Science Olympiad.
"I would like to thank Mrs. Weigand and Mrs. Lockwood for encouraging my love for mathematics," said Murphy. "Not only have these intelligent women taught me how to solve a problem, but rather how to dig deeper into a problem and truly understand it."
She likewias thanked science educators, "...Mrs. Kretschmer and Mrs. Tonkin for broadening my scientific knowledge and inspiring me to include science within my future studies."
A penchant for performance, Murphy sings in the Chamber Choir and has been a member of both the Pennsylvania Music Educators Association (PMEA) District and Regional Choruses.
She has also played in the Marywood Junior and Senior Wind Band Celebrations and the HHS Wind Ensemble.
She is also an inaugural member of the Harmony Bridge Project.
No stranger to the stage, Murphy has participated in Dessert Theater and was part of the HHS all-school musicals, Beauty and the Beast, The Little Mermaid and The Addams Family.
"As I'm sure many of you know, the music department acts as almost a second home for those involved," said Murphy. "And sometimes, due to practices, we almost live there. But the time I've dedicated to the music program has led me to my closest friends. It has taught me how to manage my time very wisely and, most importantly, it have given me the opportunities to express my creativity and musical capabilities."
Murphy is also a member of the HHS interact club.
Athletically, Murphy was named the Most Outstanding Runner on the junior high cross country team and is a member of the varsity track team.
Said Murphy at the meeting, "Reflecting on the past three and soon to be four years of my high school career, I have learned so many things which will guide me towards a promising and successful future...Thank you for providing me with so many opportunities to explore my interests, capabilities and talents from Kindergarten all the way through my senior year."
Thanking her family for all their support, Murphy noted she is especially thankful to her brother for his future Navy service and how he "...has taught me how to view things optimistically, and he can brighten my mood any day."
Of her parents, Murphy said, "They have raised me to be humble, yet confident and their hard work and dedication has inspired me to follow in their footsteps."
On behalf of the Board, President George Korb stated after reading the students' achievements and hearing them speak, "The first word I think is 'wow'."
Commenting on the variety of experiences each student participated in, Korb added, "Everything you've been involved in certainly validates everything we do as a board. We're trying to provide every opportunity that we can for the students to explore, to learn, to interact with people...We're not just trying to create graduates, we're trying to develop young adults that are going to go out in the world and be successful."
Noting the trio set high standards for themselves and present good role models for their peers, Korb concluded, "Certainly as a board, we're proud of your accomplishments and we wish you well in all your future endeavors."
On behalf of the administration, district Superintendent Gregory Frigoletto likewise commended the students.
He noted teachers and administration are often asked to write letters of recommendation as students go to college and, sometimes are left digging for things to say.
"Tonight, however," said Frigoletto, "as I was looking through your bios and hearing what your sentiments were, I realized if I were to be here writing letters of recommendation tonight, I wouldn't know where I would end."
Calling attention to the communal effort from parents and teachers to raise and educate students, Frigoletto added, "It's not an accident that you're here. I think there's a lot of hard work that you put into it. But equally so there's a lot of hard work that your parents put into it.
"And if you're like any normal household... the good, the bad and the ugly is happening just about daily and they guided you through that and got you here."
What is most important, the superintendent stated, "...is your work ethic and your decision to do the best you can that got you here. So as we review everything you've done...it truly is with great confidence that we know wherever you go, you're going to be successful."
Article and Photo Courtesy of David Mazzenga of The Tri-County Independent