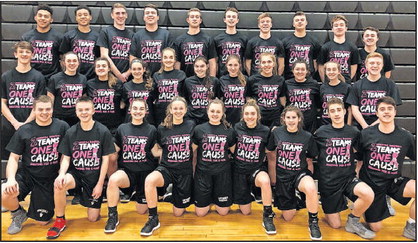 Before his team embarked on what was undoubtedly the most challenging portion of its 2017-18 schedule,
Tim Wood took a deep breath and offered an observation that proved prophetic.
Honesdale's veteran boys basketball coach was seated in his office and looking over the stat sheet from that night's game.
His Hornets were on a roll, having won three straight and nine of their last 10. However, he was also staring down the barrel of a two-week stretch chock full of 6A schools and state-ranked opponents.
"It's definitely going to be a challenge, but we like challenges," Coach Wood said with a wry smile. "I think if we can stay healthy and the weather cooperates, we'll be okay.
"No matter what happens, though, we're going to find out an awful lot about ourselves individually and as a team."
In perspective
Unfortunately for local fans, the Red & Black didn't stay healthy and Mother Nature definitely didn't cooperate.
Honesdale lost one of its top players to injury and saw multiple practices wiped out due to school cancellations.
As a result, the Hornets went into a tailspin and suffered five straight losses (Scranton, East Stroudsburg South, Delaware Valley, Abington, Paupack).
Honesdale finally righted the ship on Friday, though, notching a wild win over North Pocono in OT.
When asked what his boys had learned from the experience, Coach Wood was philosophical.
"I think maybe the most important thing we learned is that we just have to keep working hard," he said.
"We have to keep our nose to the grindstone and stay true to who we are and what we do. I'm certainly not happy that we lost those games, but the experience of playing against such good competition can only help us down the road."
Weather permitting the Hornets will be back on the hardwood Tuesday night at West Scranton. Opening tip is slated for 7 p.m.
Tough losses
Honesdale's five game slide began with a hard-fought loss to Scranton.Anthony DeGori, Joey Scarfalloto and Colin Rickard each cracked double figures in this one, but it wasn't enough as the Knights prevailed 58-52.
The Hornets then hosted a re-match with nonleague foe ESS, a team that had beaten them soundly in the Jaycees Holiday Tournament finals.
Sadly, the result was the same the second time around as the Cavaliers rolled to a 56-37 victory.
Rickard led a balanced Red & Black attack in this one with 12 points.
Next up was Delaware Valley, the defending Division II champion and current league leader.
Once again, Honesdale played well but came out on the short end of a 46-42 decision. DeGori and Scarfalloto paced the offense with 12 and 11 points, respectively.
The only legitimately lopsided loss during the streak came at the hands of Abington, a team ranked in the top five among Class 5A PIAA qualifiers.
The Comets dominated this one, opening on a 15-2 run en route to an eventual 59-33 triumph.
Rickard was Top Gun for Honesdale with 14.
Perhaps the most devastating loss during the stretch occurred Tuesday at Paupack.
In addition to suffering a 10-point setback, the Hornets lost Scarfalloto to injury.
"We're hoping to have him back for Friday night's game," Coach Wood said of a road trip to the Varden Garden.
"We'll have to see, though. The last thing in the world we want is for Joey to come back too soon."
Back on track
Honesdale broke out its slump this past weekend with an electrifying win over North Pocono.
The two teams battled to a 55-55 stalemate at the end of regulation, but the Hornets dominated the extra session on their way to a 69-58 decision.
"Every game we play from here on out is really important," Coach Wood said.
"But, for obvious reasons this was a very big win for us. I'm hoping that we can generate a little bit of momentum going forward."
DeGori erupted for one of his best efforts of the season to date. The senior guard rattled the rims for a game-high 26 points. Anthony knocked down five treys and went 3-for-4 at the free throw line.
He also found the time to grab five boards, hand out three assists and snag four steals.
Rickard contributed 15 points to the cause, while Will Howell dialed up three treys of his own en route to a dozen markers.
Chris Cespedes chimed in with 11 points and eight rebounds, while Garyn Barnes cleaned the glass for a team-best 11 boards. Brady Birmelin calmly drained three key free throws late in the game. Justin LoBasso added seven rebounds, four assists and four steals.
"This was a total team effort," Coach Wood said. "Every single kid we put in contributed something. It was great to see."
Article Courtesy of:
Kevin Edwards
The Wayne Independent