Preston presents 'Willy Wonka Jr.'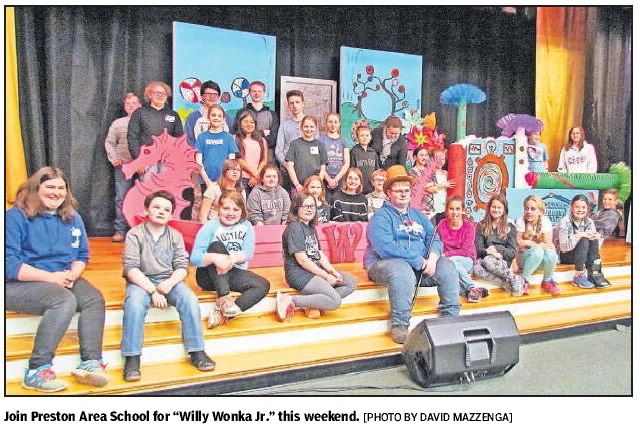 By David Mazzenga
LAKEWOOD — The halls of Preston Area School will be transported to a whimsical wonderland of sweets, songs and serendipity as students present "Willy Wonka, Jr.," premiering May 4 and 5 at 7 p.m.
Adapted for the stage by Leslie Bricusse and Timothy A. McDonald, with music and words by Leslie Bricusse and Anthony Newley, "Willy Wonka Jr." is based on the Roald Dahl classic "Charlie and the Chocolate Factory."
It follows the eponymous candy maker as he concocts a contest whereby five lucky souls are granted a full tour of his factory and a lifetime supply of candy.
To claim their prize, however, the children must follow their benefactor's rules, a daunting task when four of the five are prone to misbehaving.
Co-directed by Erin Canedy and Jason Smith, the show features a prominent cast of fourth- through eighth-graders at Preston School.
Wonka himself, portrayed by eighth-grader Jimmy Orthouse, stated he's excited to perform in his first lead role.
"I feel like I fit him," said Orthouse of Wonka, noting he channels the character's high spirited energy when performing.
Encouraging attendance, Orthouse said, "It's gonna be fun...there will be lots of laughs, and for good reasons."
Adding to this sentiment, fifth-grader Trysten Evanitsky stated "A lot of the jokes a lot adults will get but not may kids will get, and that's pretty funny."
Portraying Charlie Bucket, Evanitsky said, "I think I'm a lot like my character," noting the acting experience allows him to express himself.
Charlie's Grandpa Joe, played by fourth-grader Liam Kelly, encourages audience members to come because, "It's just fun to watch people like us perform. It's good."
Kelly said his favorite part is a really funny line of his that comes at the end of the play.
He is also especially fond of the ensemble experience that comes with acting.
Similarly, fifth-grader Ana Flynn, portraying Mrs. Gloop, noted the group experience allowed her to meet lots of new people and make many new friends.
"It's really fun," she said.
One of the best parts about her character is that she speaks in German, said Flynn.
"We've worked really hard on it," said Flynn of the play, "I think it'd be fun just for everyone to see it."
Other cast members include Dakota Skidmore as Veruca Salt, Stevie Woodmansee as Mrs. Salt and the Candy Man, Sophia Scahffer as Violet Beauregarde, Natalie Woodmansee as Mrs. Beauregarde, Katie Croissette as Matilda, Emma McKeon as Julie, Allison Lewis as Charlotte/ Aunt Sophie, Mackenzie Telesky as Grandma Josephina, Wynter Stanton as Mrs. Bucket, Emma Thomson as Augusta Gloop, Amaria Hubbs as Blair Teavee, Autumn Dohanic as Ms. Teavee and Grandma Georgina and Keeghan Carson as Phineous Trout.
The ensemble of Oompa Loompas and Candy Kids is comprised of Unique Andersen, Gwyneth Nebzydoski, Grace Evanitsky, Olivia DuBois, Emma McKeon, Katie Croissette, Allison Lewis, Autumn Dohanic and Mackenzie Telesky.
Having worked since January to get the production in order, the cast is excited to start, said both directors.
"We have a lot of young kids, a lot of fourth-graders, in this production this year," said Canedy, "which is really exciting because we'll have them for many years to come."
Despite the cast's overall youth, Canedy noted, "A lot of the kids have really immersed themselves in everything from sets … to a lot of the creative aspect to their character, which isn't something you see until high school or college."
Likewise, Smith stated, "The kids are doing well," and they "...seem to be ready, so it's really good."
The co-director noted "The Candy Man" song is like "a trip down memory lane."
A prominent scene lauded by several members of the cast and crew is the one wherein Wonka boats his winners around in a bright pink candy ship, singing "There's no knowing, so they don't know where they're going."
"The expressions on their faces are priceless," said co-director Smith.
Canedy likewise noted the look and feel of the light effects make for a surreal scene.
Assisting the onstage personalities from the wings are the hardworking members of the Preston Stage Crew: Jakob Biedermann, Waylon Thomson, Zachary Middleton, Ashton Isby, Jesse Burrows, Madison Drumm, Audree Harris, September Andersen, Lindsey Delamarter, James Kellam, Shawn Rake, Kyle Deron, Cassidy Bruford, and Ariel Harris.
Jason Smith lauded the students' efforts assisting with the assembly the set pieces, noting the fantasy aspect of the show made the sets "a joy to work on."
Smith noted an interesting integration between set and actor performance unlike anything seen in other performances of this production.
The actors "...imitate the everlasting gobstopper machine … so they make the beep and the boop and the shrills and the noises and they seem to really be enjoying that," said Smith.
He and the set crew made and painted a backdrop for the machine.
Speaking of the play as a whole, Smith said, "It'll be nice to see it all together, one big fruition...I think people are really going be excited about it."
In keeping with the production's theme, Wonka bars will be available for sale, some containing golden tickets some lucky winners can redeem for prizes.
Tickets for the show are available at the door or online at www.honesdalepac. com.
Tickets are $5 for adults, $3 for seniors (over 62), students and children (3-5). Red/Black Pass holders may attend for free.