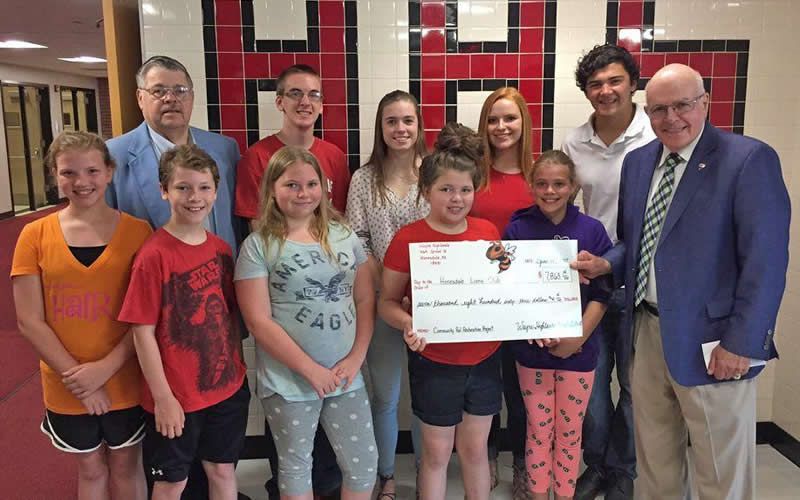 Proactive and community-driven students of Lakeside Elementary led a district-wide donation drive which raised nearly $8,000 to put towards the Lions Club pool renovation account.
The students gathered at Honesdale High School on June 14, along with a group of soon to be high school student council officers to deliver their check to lions Paul Meagher and Tony Herzog.
Known as the Lakeside All Stars, the group of fifth graders was originally tasked with mentoring Kindergarteners as a result of a grant the wrote to the Wayne County Community Foundation, explained Lakeside Principal Sandy Rickard.
But, when they'd learned of the pool's plight, students Alexis Batzel, Ashley Hnatko, Brielle Mosher and Jillian Penn leapt at the chance to lend a hand.
The All Stars put together their donation program wherein they created and sold paper life preservers emblazoned with their catchphrase "S. O. S.- Save Our Summer" at local businesses to generate funding for the pool repair.
As part of this, the incepting students as well as fellow student mentor Calghen Down walked along Main Street businesses to ask if they would be willing to participate in selling the preservers.
The two largest benefits from having the students take charge is that they learned how to interact with both community members and school administrators, as well as seeing how much could be raised simply by asking for pocket change and other small donations said Rickard.
In addition to the life preservers, the students also approached administrative staff throughout the district to organize Penny Wars events at each school in the district.
Penny Wars is a week-long donation drive wherein grade levels in a school compete with each other to raise the most money by donating pennies. Students in some buildings were also allowed to donate bills and non-penny changeinto other grades' collection buckets which count against their penny total.
Rickard said they tabulated winners based both on net points collected as well as total dollar amount raised.