Hornets Spotlighted at LFC Media Day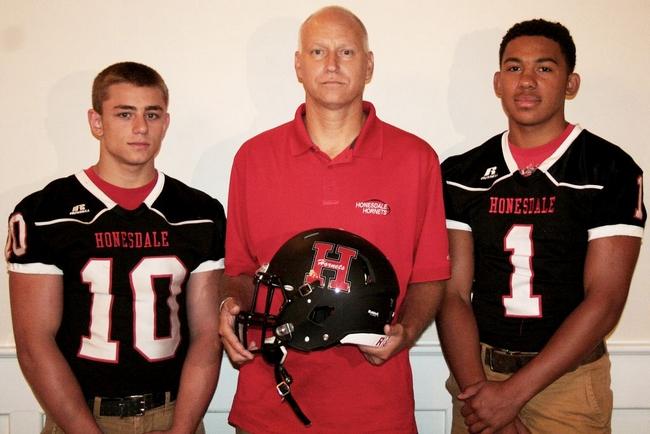 Honesdale players Beau Freiermuth (#10) and Garyn Barnes (#1) attended the Sixth Annual Lackawanna Football Conference Media Day luncheon. The event was held Wednesday at the Regal Room in Olyphant. Also pictured is Hornets head coach Mike Jurkowski.

By Kevin Edwards
Posted Aug. 3, 2016 at 4:28 PM
OLYPHANT
While we've undeniably entered the "dog days" of summer, high school football has been the hot topic of conversation this week in northeastern PA.
On Wednesday, member schools of the Lackawanna Football Conference traveled to the Regal Room in Olyphant for the Sixth Annual LFC Media Day Luncheon.
Former Wallenpaupack Area coach Stan Kucharski once again organized the event and acted as emcee.
"It's great to see everyone here again," Stan told the coaches, players and media members on hand. "I think this is going to be an exciting season and I can't wait to see it unfold."
Two players and one coach from each team was present for the event, which serves as the unofficial kick-off for the local high school grid season.
Looking forward
Honesdale is embarking upon Year Two of the Mike Jurkowski Era in 2016.
The Hornets struggled to find an identity last fall, managing just two wins overall and finishing 0-5 in the LFC's Division II.
"My main goal is to build on some of the positive things we accomplished last year," Coach Jurkowski said. "Obviously, we want to improve on the wins and losses. More importantly, I'd like to see the kids rewarded for all the hard work they've done."
While there have been a slew of changes courtesy of the PIAA and LFC, the Hornets will once again compete in Division II of the LFC this fall.
They'll go up against the likes of North Pocono, West Scranton, Scranton Prep, Western Wayne and Valley View.
Division I consists of just four teams: Wallenpaupack Area, Abington Heights, Delaware Valley and Scranton High School.
Members of Division I include: Lackawanna Trail, Old Forge, Riverside, Mid Valley, Carbondale Area, Holy Cross, Dunmore, Lakeland, Montrose, Lakeland and Susquehanna.
Honesdale will kick-off its 2016 campaign with heat acclimation workouts this week, followed by double sessions next week.
The Hornets will then hit the field for the first time Saturday, August 20 at home versus Hanover Area in an exhibition game.
Regular season action begins Friday night, August 26 at on the road against Wilkes Barre GAR.
In the spotlight
Honesdale was well-represented at this year's edition of the LFC Media Day luncheon.
Coach Jurkowski brought two exciting underclassmen in Beau Freiermuth and Garyn Barnes. Both are juniors and each brings an unique skill set with him to the varsity gridiron.
Freiermuth will be asked to shoulder a huge amount of leadership responsibility this fall. Beau will start at fullback and anchor the defense at middle backer.
"I think the things I like best about Beau are his attitude and work ethic," said Coach Jurkowski. "He is a very tough kid who leads by example.
"I'm really looking forward to seeing what Beau can do this season."
Barnes is working his way back after missing a huge chunk of the 2015 campaign with a broken collarbone. Garyn will line up at tailback on offense and safety defensively.
"The thing about Garyn is that he doesn't know just how good he can be," said Coach Jurkowski. "He's a very gifted natural athlete. With his speed and vision, I think you'll see Garyn make some really exciting plays."
In the trenches
Ethan Dunn start at quarterback this fall for the Red & Black.
A sophomore who carries himself with the assurance of a seasoned veteran, Dunn has been handed the reins of an offense that looks to be more balanced.
"Ethan has been working very hard every day during the off-season," said Coach Jurkowski. "I have a lot of confidence in him. We're probably going to be more of a run-first team this year, but Ethan is definitely capable of making some big plays with his arm."
Several other Hornets are expected to make key contributions.
Honesdale returns 22 varsity letter winners, nearly all of whom gained invaluable on-field experience last year.
Leading the way in the trenches will be Jake Kabonick and Barry Davis.
Kabonick is a multi-sport standout who brings a tough-as-nails wrestling mat mentality to the grid. Still just a sophomore, he will line up at defensive end this fall.
"Jake got a boatload of experience last season," Coach Jurkowski said. "He likes to attack at the line of scrimmage, but he's also pretty disciplined for a youngster."
Davis is a junior who started every varsity game last year at center.
"Barry is a quiet kid who works hard and does his job," Coach Jurkowski said. "He's very consistent."
Tyler Taninies and Tyler McConnell are expected to stand out as well.
Taninies is a senior who bounced back strong from a broken arm suffered in last year's second scrimmage. He will line up at guard.
McConnell is also a senior who's shown flashes of brilliance at both tight end and wide receiver.
Over & out
"I think my biggest goal personally as a coach is to be better prepared for each game this year," said Coach Jurkowski.
"Everything was brand new last season, so I basically had to just feel my way through it. I'm excited about this year and taking that next step together as a team."