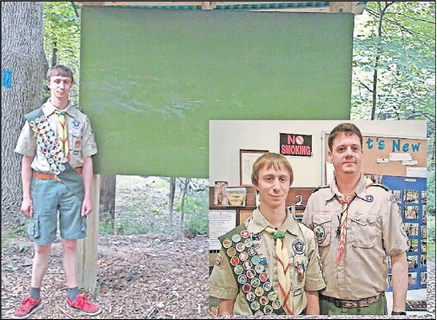 Boy Scouts Troop 1, Honesdale, welcomed Andrew LaTourette into the Eagle Scout ranks earlier this month at the Court of Honor on November 4.
Latourette received his Eagle Scout award after completion of his project over the summer.
Working alongside the Downtown Hawley Partnership Trail Committee, LaTourette designed an information kiosk to stand in Hawley.
"We designed an information kiosk to display the history of the Hawley area on the canal," he said, explaining the committee is "getting ready to start putting the information on it," in the near future.
The kiosk will ultimately present an historic map of the Delaware & Hudson Canal in the Hawley area, complete with notes to structures no longer standing.
"It took about half a year to go through all the planning, making sure that we have the exact design that we want, and effectively putting it up," said LaTourette. "It was definitely an ambitious project," he added. "I didn't want to just do some simple project, I wanted to do something that I could say, 'Oh yea, I did that.'" LaTourette also noted he enjoyed working on the project due to its historical quality, and that the trail committee was "...pretty great as far as working with them went. They always made sure they answered emails with any questions I had for them..."
The kiosk stands between seven and eight feet, said the scout, noting one can see it from Route 6 with all the leaves fallen off the trees.
Much of the design involved contemplating "how are we going to build this?" and "How are we going to put it in Pennsylvania ground which is full of rocks?" said Latourette.
A hopeful engineer planning to begin studies at Penn State Worthington Scranton this fall, LaTourette said he was up to the challenge.
"I was working with an engineer who was part of their committee and I got to see all of the stuff that go into designing a project like that," said Latourette.
The largest challenge in construction the kiosk proved to be Pennsylvania's rocky soil.
"We did a ground test first," said LaTourette, "and the ground test was wrong, because it was like 'Oh, there's no rocks here.' "No, there's rocks here."
Another challenge proved to be gathering the necessary materials and bringing them into the site, "But, it wasn't as bad as it could have been," said Latourette.
Looking back at the project's completion, LaTourette said "It's definitely great. It's a really cool project."
Of scouting in general, LaTourette stated, "Boy scouts, it's definitely been a big part of my life to say the least. And I just hope that people continue to enjoy the program like I have."
About Andrew Andrew travelled to Northern Tier High Adventure Base in Bissett, Manitoba, during the summer of 2015, with other members of Troop 1. Unofficially regarded as the "Most Extreme High Adventure in Scouting," the Northern Expeditions ("Bissett") Canoe Base is the most rugged and remote region paddled by Northern Tier crews. All crews enter the wilderness via a twenty-minute float plane to a canoe cache located at the heart of the combined 2.5 million acres of Atikaki Provincial Park and Woodland Caribou Provincial Park, an area paddled by only a handful of canoeists each year. This was the first time that Troop 1 sent a crew to this base.
He also attended the National Boy Scout Jamboree in West Virginia in July 2017, and will be taking part in a trip to Philmont Scout Ranch in New Mexico for a high adventure trip in July of 2019.
Andrew is also a member of the Order of the Arrow, which is the National Honor Society of Boy Scouts and has served as patrol leader for several years.
He also served as Senior Patrol Leader for the 16-17 scouting year, and has attained more than 100 days and nights of camping.
Andrew has earned 29 merit badges while a Boy Scout, and has served as a staff member for Great Expectations and Great Medicine National Youth Leadership Trainings for the past three years.
He is in his second year of serving as a Junior Assistant Scoutmaster for Troop 1.
Article Courtesy of David Mazzenga, The Wayne Independent