Hornet thinclads off and running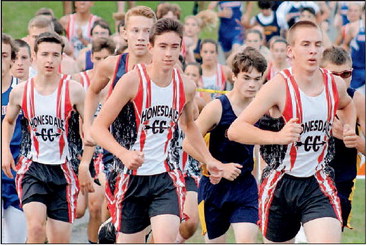 Lindsey
Pender warned her team during the off-season that winning a championship is sometimes easier than defending one … and it didn't take very long for them to find out the truth of that assertion.
Honesdale's girls varsity cross country team came out of nowhere to win the District Two Class AA title last fall, advancing to states and turning in a solid effort there as well.
This fall, with the nucleus of that team returning, the Lady Hornets have set out to defend that crown. And, they're very much aware of the targets on their backs.
"Everyone wants a piece of us," Coach Pender said. "But, that's pretty much true of any team that wins a championship. We just have to stay focused and work that much harder."
Honesdale opened up its regular season with a cluster meet against a pair of perennial powerhouses and suffered two losses. The Lady Hornets fell to Holy Cross (24-31) and Scranton Prep (18-38).
"That was definitely a little bit of a wake-up
call for the girls," Coach Pender said. "Those are two very good teams and we know we have to hold our own against them if we want to be in the hunt at districts.
"Those were tough losses, but we learned from them and I think the girls will use it as motivation as we move forward."
Apparently, that's exactly what is happening because the Red & Black waste no time bouncing back.
Invitational Time
Honesdale traveled to DeSales University last Saturday to compete in the Centaur Invitational.
There, the Lady Hornets turned in a solid effort effort with a ninth place finish in an elite field.
Mackenzie Lamorte led the way, rocketing to an 11th place finish overall. The battle-tested junior covered the challenging 5K course in a time of 21:13.
She was followed in by teammates Dana Pratt (22:28), Bella Frigoletto (23:11), Rachel Olver (23:19), Alexandra Skidmore (23:22), Keturah Mayers (24:00), Kassie Diehl (26:31).
"Looking at times and comparing them to last year, I think we're okay," Coach Pender.
"We were a little bit down after those losses to Holy Cross and Prep, but I think it may just turn out to be a blessing in the long run. And, if you're going to go through something like that, it's much better to do it now than in October."
Honesdale's boys team also did well at DeSales.
Led by sophomore Dustin Edsall (19:17), the Hornets earned a 17th place finish in the overall team standings.
Chasing Edsall home were teammates David Mead (19:23), Drew Murphy (19:36), Thor Crozakian (20:16), Nick Lizza (20:25), Josef Holbert (20:43), Kameron Slish (21:53).
"I'm very pleased with how the boys did," Coach Pender said. "We're young and in a little bit of a re-build mode, but I'm encouraged by what I see."
Back at Home
The Hornets returned home for Lackawanna League cluster meet this Tuesday and were nothing short of dominant.
Honesdale's girls team went 3-0 on the day with lopsided wins over Old Forge (15-47), Dunmore (15-49) and Riverside (1515-50). The boys registered a sweep as well, defeating the Devils (15-50), Bucks (18-45) and Vikes (18-45).
Western Wayne's Annie Skirpan was the overall girls varsity race winner, stopping the clock at 22:39. Meanwhile, all five of Honesdale's runners ended up in the Top Ten: Dana Pratt (2nd, 22:51); Bella Frigoletto (3rd, 22:57); Mackenzie Lamorte (5th, 23:32); Rachel Olver (8th, 23:56); Alexandra Skidmore (9th, 24:02).
On the boys side of the ledger, Western Wayne's Jake Pasake finished first with a time of 18:23.
Once again, Honesdale runners glutted the Top Ten en route to three team wins: Dustin Edsall (2nd, 19:46); David Mead (3rd, 20:03); Drew Murphy (7th,
20:39); Nick Lizza (8th, 20:56); Josef Holbert (9th, 21:09).
Tyler Olver (21:19) and Thor Crozakian (21:22), ended up 10th and 11th, respectively.
Looking Ahead
Honesdale will host one more cluster meet this fall, which takes place Tuesday, Sept. 19 at the Daniel J. O'Neill Sports Complex.
The Hornets will entertain the likes of North Pocono, Valley View, Western Wayne, Forest City and Carbondale.
"It's pretty exciting having three home meets in one season," Coach Pender said. "It gives our fans another chance to see the kids in action. I hope we have a big crowd cheering the boys and girls on."
Junior high action gets underway at 4:45 p.m. The varsity race follows at about 5:30 p.m.
Article Courtesy of:
Kevin Edwards
The Wayne Independent