Board lauds student achievement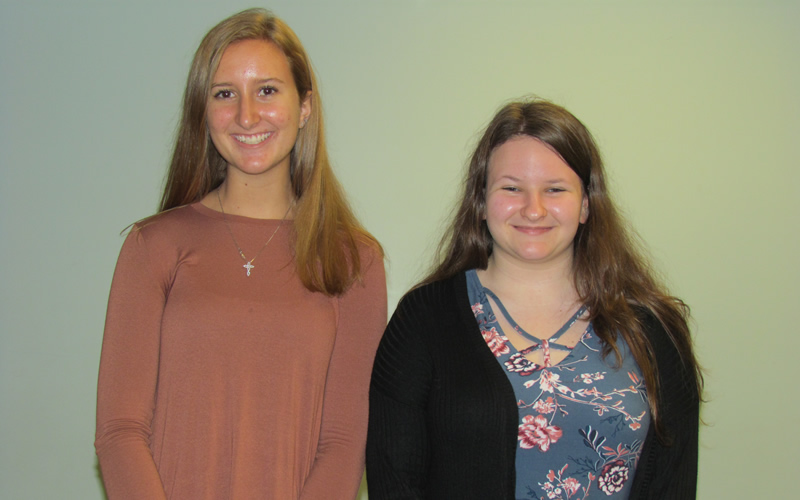 Relocated for an evening in the northmost region of the district, the Wayne Highlands School District (WHSD) Board of Directors lauded the efforts of two exemplary seniors from the LGI stage at Preston Area School last Monday night.
First alphabetically, Jacqueline Burke is the daughter of Kevin Burke and Pamela Burke of Hoadleys in Cherry Ridge Township.
Burke is among the top five percent of her class.
She has been recognized for her academic achievement with appearance on the Honor Roll and membership in the National Honor Society, of which she is the Blood Drive Committee Chair.
Demonstrating her academic precision, Burke has competed in the American Mathematics Contest, the Marywood Math Contest and, during her sophomore and junior years, the American Chemical Society Challenge Exam.
Also during her junior and senior years, Burke participated in the Future Business Leaders of America (FBLA) regional contest, placing second while doing so.
She is also a two-year member of the Interact Club.
Extracurricularly, Burke has worked in the Wilkes University Biology Lab and volunteered at Wayne Memorial Hospital and Wayne Woodlands Manor Nursing Home.
Burke also completed the University of Pittsburgh Health Career Scholars Academy, an intensive four-week summer program designed to educate students on the medical field and facilitate observations of various aspects in it.
Athletically, Burke is a member of junior varsity basketball, varsity track and cross country, in which she lettered and was named "Rookie of the Year."
After graduation, Burke aims to attend a four-year university to earn a degree in pre-med or biological science before moving on to medical school on her quest to become a physician.
Looking to the Board, Burke thanked the directors for "providing a wonderful education and a chance for a bright future."
She further thanked myriad teachers and administrators including "Mrs. Tonkin, Mrs. Daniels, Mr. Jurkowski and Mrs. Kromko" whose guidance and support helped her through her time at Honesdale High School.
"Finally, I want to thank my parents," she added. "I want to thank them teaching me that, even if I don't get an A+ every single class, as long as I do my best, everything will be okay."
Looking toward the future, Burke concluded, "I feel as though most of high school has prepared me very well for not only my future education, but also my future career."
Also stationed in the top five percent of her class academically, Natalie Zeglen is the daughter of Barry and Brenda Zeglen of Beach Lake.
For her scholastic successes, Zeglen has likewise earned a spot on the Honor Roll and National Honor Society.
Aside from her coursework, Zeglen participated in the Science Olympiad at both the regional and state levels her freshman year.
She also conquered the American Chemical Society Challenge Exams A and B, and participated in the United Chemistry Olympiad.
A bibliophile, Zeglen was also a participant in the annual Reading Competition.
Dedicated to health and wellbeing, she is also a member of the Wellness Committee.
Looking ahead, Zeglen plans to attend college and focus her studies on a science- based major.
"I want to thank my parents and my grandmother for all their support throughout the years," said Zeglen. "And I've also had many teachers that have supported me and encouraged me along the way."
Addressing the Board, Zeglen added, "And I also want to thank all of you for all your support for the Reading Competition."
Noting she's been a Reading Contest participant for many years, Zeglan stated the contest has "... really meant a lot to me. It has helped me form friendships and learn to be a leader."
After thunderous applause commending the pair of academics, Board President Lothar Holbert stated the board is "...thrilled at what you've done."
Noting that reaching the top five percent of the class is a "very substantial achievement," Holbert added "you guys have been a great role model...for the other young men and young women in the school."
Holbert congratulated Burke's and Zeglen's parents and commended the students for realizing how crucial their extended support network is in developing as a student and a productive member of society.
Holbert concluded, "Your achievements, your character, all speak volumes and there's absolutely no doubt...that you're going to continue your success."
Following the Board President WHSD Assistant Superintendent Timothy Morgan said "These two young ladies have really taken the bull by the horns and they've gotten things done."
Commending Burke and Zeglen for their abilities to seize the initiative, be selfstarters and work as part of a group, Morgan noted that employers "... want a team player. They want someone reliable. They want someone who takes initiative. They want someone who takes the bull by the horns and is a self-starter and gets things done. And you two have exemplified that very well."
The assistant superintendent concluded, "You've done a fantastic job. We're very, very proud to have you represent Honesdale High School...It's a tremendous honor to you, but believe it or not it's a tremendous honor to us to have you here representing us. So thank you very much!"