Hornets prepping for playoff run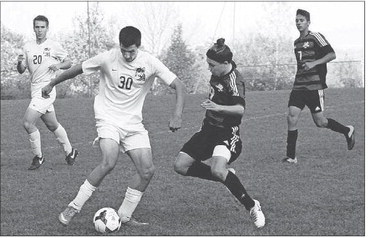 Honesdale's Brett Fritz (#30) wins possession of the ball while two North Pocono defenders close in and teammate Eli Harvey (#20) looks to help out. The Hornets played well in the first half of this Lackawanna League match, but eventually ran out of gas and absorbed a 5-0 loss. Next up for the Red & Black is a spot in the District Two tournament, which gets underway on Monday, October 24 for Class AAA.
Local high school soccer fans recently received a glimpse of what promises to be an exciting future here in the Maple City.
Four talented freshmen took the field for Honesdale on Monday afternoon in its Lackawanna League match with North Pocono.
Players like Dayle Kulikowski, Dominic Amato, Robbie Campen and Jack Firmstone are making their presence felt at the varsity level.
Making progress
The Hornets used this "frosh infusion" to give the Trojans all they could handle in the first half of this year's regular season home finale.
After holding an explosive North Pocono offense to just one goal in the opening 40 minutes, though, the tide turned.
The Trojans peppered Honesdale's net with a barrage of shots and pulled away for a 5-0 win.
"We've had a whole rash of injuries this season, so each day we've asked another youngster to step in and contribute," Coach Geoff Fowler said.
"And, every single one of them has come through. It really does speak to what I believe is a bright future."
With this loss, Honesdale closes out its campaign with a disappointing 2-12-0 mark. However, the veteran skipper thinks his Hornets could surprise some folks during the upcoming District Two playoffs.
"We played a very difficult schedule against a lot of bigger schools," he said. "And, while we don't have many wins to show for it, I think all that experience is really going to help us in districts."
By virtue of their record, the local lads will hit the road for their Class AAA opener. Weather permitting, this year's D-2 tourney is slated to begin on Monday, October 24.
While seeds have yet to be determined, it appears Honesdale's most likely opponent would be either Wallenpaupack Area or Tunkhannock.
Solid start Honesdale got off to a solid start Monday working hard to dictate pace and keep North Pocono from pressing its attack.
The Trojans came into this match with seven wins and positioned for a high seed in the upcoming district playoffs. They defeated Honesdale by a score of 4-1 the first time the two teams met.
"We saw some things the first time we played that I thought we might exploit," Coach Fowler said. "And, for the most part I think the boys executed well."
Drew Williams tallied the lone goal of the first half, finding the back of the Red & Black net with 4:13 left before intermission.
One of Honesdale's four featured freshmen, Dayle Kulikowski, looked good between the posts.
The Hornet keeper was forced to step in for injured starter Clay Martin and he performed admirably.
"I'm very pleased with what I saw from Dayle back there," Coach Fowler said. "He made some mistakes, but that's just inexperience. He's an athletic, aggressive kid and we're expecting big things from Dayle down the road."
Kulikowski would finish the night with a dozen saves and he also turned away three of the four corners he faced.
Rough finish
Unfortunately for a gig enthusiastic crowd which had gathered at the Daniel J. O'Neill Sports Complex, North Pocono dominated the second half.
The Trojans ratcheted up their offensive attack and put the match away with a barrage of shots.
Williams tallied his second goal, while Derrick Kenyon notched two of his own. Christian Quirico rounded out the North Pocono assault.
The visitors outshot Honesdale by an overall margin of 17-6.
Bright spots
In addition to Kulikowski, three other freshmen earned high marks from their mentor.
Robbie Campen, Jack Rickard and Dominic Amato have all carved out spots in the starting line-up and each is contributing key plays on a daily basis.
Campen plays defensive mid and has improved by leaps and bounds this fall.
"I think Robbie has stepped up beautifully," said Coach Fowler. "He's an all-round athlete and a very smart soccer player."
Rickard has become a fixture up front, using his natural speed to wreak havoc on the wing.
"Jack is very quick and he sees the field very well," Coach Fowler said. "Jack has an excellent understanding of the game and he rarely makes an ill-advised decision."
Amato is already turning heads with his size, strength and quickness. He has a knack for getting open and possesses a powerful shot.
"Dom is one of those kids who just loves soccer," said Coach Fowler. "He plays year-round and has very good foot skills. Dom is already a pretty polished player."
Score by Half...
HN (2-12-0) 0 0 - 0 NP (8-4-2) 1 4 - 5
Article Courtesy of The Wayne Independent
By Kevin Edwards