Rocket Club Blastoff in Bethany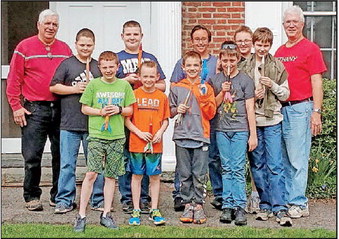 Newly formed Bethany Rocketry Club concluded its first successful year with launches on April 26 and May 3.
This year's club was comprised of 10 Wayne Highlands School District students in grades 4-8: John Rodriguez, Andrew Carrick, Amit Fulp, Dominic Miller, Caleb Dodson, Brett Hoey, Conlan Keast, Charles Maas, Russell Schemitz and Avery Ohliger "I'm glad I got to be a part of this great club," stated Rodriguez. "I've never built model rockets before, so it was a good experience."
Each participant was ecstatic to watch their assembled kits take to the sky. Every rocket successfully took off on the first launch day and was salvageable for the following week, though some had to be retrieved from trees.
One even dropped neatly upon the roof of a neighboring house.
Despite heavy winds on the second launch day, club supervisor Warren Heinly said the rockets avoided the obstacles on the first launch.
Most of the rockets easily cleared 50 meters – nearly 165 feet – with Miller's rocket breaking 70 meters, or just shy of 230 feet. Keast and Hoey also reached lofty heights of 68 meters, or 223 feet.
"And that was the smallest engine we could put in those," stated Heinly. Heinly explained there were two larger engines which would fit the kits the children built, but he wanted to keep it simple and scaled-down for the club's first build.
Each of the rockets' heights were recorded from one of the kids in the club, Heinly explained. They switched off every few launches so that multiple participants could learn how to use the altimeter.
After the launches were finished, the students got to take their rockets home.
Each rocket came in a kit which the children built in pairs by cutting
out all the appropriate pieces and attaching them in the correct sequence, explained Heinly and his co-supervisor Roeb Gravel.
"They pretty much did them all themselves," Gravel stated.
Heinly added, "We tried not to tell them how to do it step by step. We tried to stay out of that part of it as much as possible."
The kits were provided thanks to a donation by the Rotary Club.
Heinly said the club is not yet set for next year, but they have had several parents and students show interest in continuing with the program.
Parents at the April 26 launch showed a great enthusiasm for the club.
"I think its a great thing that the kids are getting into some science," stated the elder Charles Maas. "If this is an ongoing thing, I think it would be a great thing for the kids to do." Other parents agreed.
"It's great for the kids to try some different activities, not always a sport but something else that expands their minds a little bit," said Kristen Dux. "It gets them to meet new kids too."
Francine Schemitz was thankful to supervisors and sponsors that made the events possible.
"I think it's a wonderful class," she said.
Brian Fulp credited Heinly and Gravel, saying, "My kids never would have this experience if it wouldn't have been for them."
Bethany Public Library Executive Director Kate Baxter shared the parents' zeal. "This is one of the more exciting things we've had going on," she said. "This program has developed so much enthusiasm with the kids."
Baxter also gave a "tremendous thanks" to the Rotary Club for its donation to the program.
The library hopes to host another rocketry club in the future. They encourage any interested children, especially young women, to get involved. It's not just a club for boys, they said.
The library hosts STEM/ STEAM activities Saturdays from 1 to 3 p.m. designed to encourage creativity and ingenuity. The library is also planning to run an RC airplane club over the summer.
Those interested can find more information by calling the library at (570) 253-4349 or visiting www.waynelibraries.org/bethany.
Article Courtesy of
The Wayne Independent
By David Mazzenga