Hornets dazzle at home cluster meet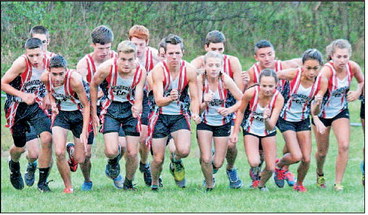 Each Lackawanna League varsity cross country team gets to host only one cluster meet per season, sowhen that day arrives it's important to make a good showing.
On Tuesday afternoon at the Daniel J. O'Neill Sports Complex, Honesdale did just that.
Hundreds of fans packed the facility on a cool fall day to cheer on the Red & Black as they battled Wallenpaupack Area and Delaware Valley.
Hopes alive
In addition to the circus atmosphere of a big home meet, there was a also great deal riding on the outcome of these encounters.
At the top of that list would be the Lady Hornets' continuing quest for a Class AA Lackawanna League team championship.
To keep those hopes alive, Coach Lindsey Pender's squad needed to post a pair of wins and maintain momentum heading into next week's crucial meet at Elk Lake.
"That's probably going to be for all the marbles," she said. "Going up there and running against those teams is a huge challenge, but I think we'll be ready for it."
As it turned out, the local lasses held up their end of the bargain. Honesdale defeated both Paupack (18-37) and Delaware Valley (23-32) to improve its mark to 15-1 on the season.
The boys also turned in a solid effort, losing to the Buckhorns (24-33), but downing DV (21-39). The Hornets are now 11-5.
Honesdale's travels to Dimock next Tuesday for that all-important cluster meet at Elk Lake.
Junior high action starts at 4:45 p.m., followed by the varsity race at about 5:15 p.m.
Girls race
While Honesdale swept its encounters from a team standpoint, Jennifer Korty continued her dominance at the individual level.
A homeschooler from Pleasant Mount who runs for Forest City, Korty added yet another race win to her already impressive resume.
Jennifer covered a hilly 3.1-mile layout in 20:15. That time was good enough for a 38-second cushion over her closest pursuer.
Honesdale's Tedra Harrison earned runner-up honors, crossing the finish line in a time of 20:53.
Annie Skirpan and Paige Barillo of Western Wayne were right on her heels. Skirpan stopped the clock at 20:55, while Barillo came home in 20:59.
Dana Pratt was next in for Honesdale, posting a time of 21:35. Rounding out the Lady Hornet front five were Isabella Frigoletto (22:08), Mackenize LaMorte (22:40) and Kiara Mayers (22:58).
"I'm very pleased with the effort I saw from our girls," Coach Pender said.
"We had a half-day at school today, so that threw them all off a little bit. But, they got it together and refocused. They did a really nice job."
Taylor Kryzan was first in for Paupack (22:26), followed by Hanna Smith (22:55).
Trina Barcarola cracked the top 30 for Western Wayne, jetting home in a time of 21:23.
Boys race
Ben Wilken continued a stellar year for Honesdale with yet another solid run Tuesday evening.
The battle-tested senior powered his way to a third place overall finish, posting a time of 18:46.
Wilken was joined in the top 20 by teammates Andrew Murphy (19:23), Dustin Edsall (19:24), Josef Holbert (19:51) and Derek Bortree (20:45).
"There are some very cool things happening with this boys team," said Coach Pender. "They're really starting to come together.
"If we can find a way to manage our injuries and stick together, there's no telling what might happen in the final three weeks of the season."
For Western Wayne, Jacob Pasake appears to be peaking at the perfect time.
The Wildcat junior jetted out to a fast start and rolled to victory. Pasake stopped the clock at 17:34, good for a 15-second margin of victory over Paupack's Thomas Johnson (17:49).
Over & out
At the end of an incredibly busy evening, Coach Pender was emotionally drained, but also ecstatic about the level of support her kids received.
"I just have to say that we live in a fabulous district," she said. "The school and the community always come out to support us and it's exciting to see the kids' reaction. They just love running at home."
At a Glance...
■ Honesdale hosted its lone cluster meet of the 2016 Lackawanna League cross country schedule on Tuesday evening.
■ The Hornets battled Wallenpaupack Area and Delaware Valley before a big crowd at the Daniel J. O'Neill Sports Compex.
■ Western Wayne's Jake Pasake was the overall race winner, covering the 3.1-mile layout in a blistering time of 17:34.
■ Honesdale's girls varsity team improved its record to 15-1 overall with wins over both the Buckhorns and Warriors.
Article Courtesy of The Wayne Independent
By Kevin Edwards