Hornet Cagers Pumped for 2016-17 Season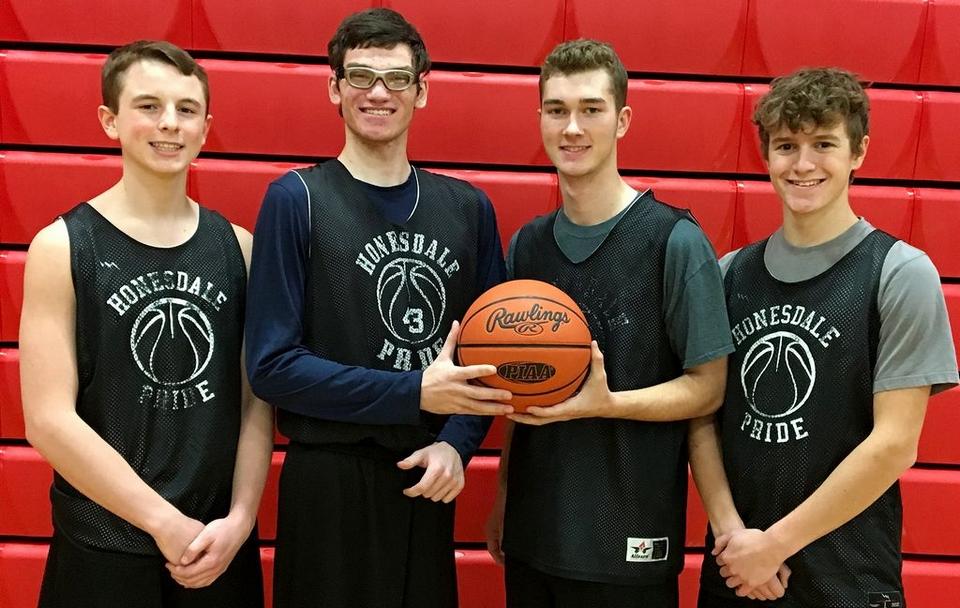 Red & Black prepping for a run at another Division II title
If veteran head coach Tim Wood is to be believed, it won't take very long for local basketball fans to get a good idea what to expect from this year's Honesdale boys varsity squad.
"This is without a doubt the most challenging pre-season schedule we've had in the last 15 years," he said Thursday evening at the start of practice.
"We're playing some really good teams right out of the gate, so I think we're going to learn a lot about ourselves in the next two or three weeks."
The Hornets will tip-off their 2016-17 slate with a home game versus Pocono Mountain East on Friday, December 9.
Less than 48 hours later, they'll be back on the court for the opening round of this year's Finan Memorial Tournament, which is held at Carbondale Area.
The Hornets face a tough West Scranton squad in Sunday's semifinals. They then return to the Pioneer City Monday night to face either the host Chargers or Forest City Regional.
"I'm very excited to see what we can do," Coach Wood said. "I'm blessed with a terrific group of players this year. We have great chemistry and every single kid is working hard."
Opening tip for Friday's home game against PME is slated for 7 p.m. at the Red Palace.
Looking Back
Honesdale battled its way to a solid 14-11 overall record last winter.
The Hornets wound up tied with North Pocono atop the Division II regular season standings. However, they then lost a heartbreaker to the Trojans in a special playoff game to determine an overall champion.
Honesdale earned a seven seed in the District Two tournament, but saw its Class AAA title hopes dashed via a 57-45 loss to Wilkes Barre GAR in the quarterfinals.
The Red & Black were led by All-Region standout Ian Langendoerfer, who was lost to graduation. Ian is now playing on the Division I level at Loyola of Maryland.
"We're obviously going to miss Ian a great deal," Coach Wood said. "He was probably the greatest player in the history of Honesdale basketball, so we need to have kids step up and fill a pretty big void."
In his absence, the Hornets will look to spread the ball around … share the wealth, as it were, at the offensive end.
Coach Wood believes that this year's team has more depth than just about any he's had in the past. In fact, when practice began back on November 18, as many as 14 players vying for five starting spots.
"Depth is definitely going to be one of our strengths," he said. "Right now, we're looking at a nine-man rotation with a few other kids getting in there as well.
"We want to get out and run. So, having kids give us three or four minutes at 100 percent will definitely be an advantage because we can pull them when they're tired and get fresh legs in there."
Leadership
This year's edition of the boys varsity basketball team will be paced by four veteran players.
Jack Rickard (Sr), Anthony DeGori (Jr), Mark Ambrose (Sr) and Konnor Burke (Sr) have been chosen to serve as captains.
All are battle-tested veterans of the Honesdale program in general and Coach Wood's system in particular.
Rickard is the team's vocal leader.
A returning starter who earned Honorable Mention All-Star status last year, Jack is a 6-3 wing who can function well on the perimeter or in the paint.
"Jack has really matured as a player and as a person," Coach Wood said. "He's developed into a very good leader. Jack is an excellent outside shooter, but he can also take you off the dribble."
Ambrose is a 6-5 post player who saw action as a starter and coming off the bench last winter. He's an efficient rebounder who's talent for kicking the ball back outside opens up the Hornets' perimeter assault.
"I just can't say enough about Mark," Coach Wood said. "He's truly a 'team-first' guy. Mark will do anything you ask him to."
Burke also started and came off the bench for Honesdale last season. He's known for his grit, determination and hustle.
"Konnor always give us a lot of energy whenever he's in the game," Coach Wood said. "One of his strengths is slashing to the basket."
DeGori is the lone junior in this group who can play either guard position. His role as a player and a leader has grown exponentially in the last year.
"Anthony has really stepped up," Coach Wood said. "His game grew a great deal over the summer. Anthony brings a lot to the table and I'm expecting big things from him."
Over & Out
Several other talented players will be making key contributions for Honesdale this winter.
Garyn Barnes is a strong, athletic junior who's coming off a successful football season. Barnes is battling for a starting role as the Hornets' power forward.
Joey Scarfalloto may be the wild card in this entire group. Just a freshman, Scarfalloto is already 6-3, 215 pounds and making a case for starting time at one of the forward spots.
Colin Rickard is coming off major knee surgery, but will be cleared to play by the middle of next week.
A sophomore point guard, Rickard has bulked up during a prolonged rehab and Coach Wood praises his "excellent court vision."
Nick Sheerer (Jr) and Grady Birmelin (Jr) are in the mix as well. Sheerer is lauded for his coachability, while Birmelin receives high marks for his hard work and basketball IQ.
Article Courtesy of The Wayne Independent
By Kevin Edwards