WHMS Awarded as Broadway School of Excellence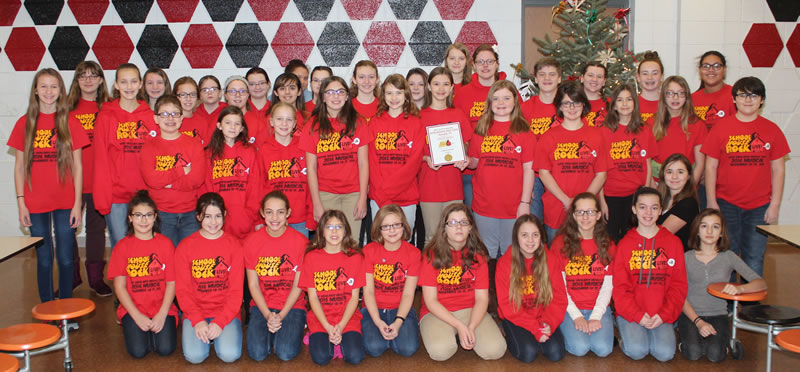 The Wayne Highlands Middle School proudly presented the musical production "School House Rock Live, Jr" with music and lyrics by Lynn Ahrens, Bob Dorough, Dave Frishberg, Kathy Mandry, George Newall, and Tom Yohe, and book by Scott Ferguson, Kyle Hall and George Keating with license through Music Theatre International, taking the classic concept of "let's put on a show" and reaching new academic heights through a program titled, "The Broadway Collection®," it was announced today by Tim McDonald, project director of Broadway Junior.
To celebrate the accomplishments of over 55 students involved in the production, students from Wayne Highland's Middle School received a certificate signed by representatives from the original producers of School House Rock, and author Tom Yohe to congratulate the cast and crew on their successful production of SCHOOL HOUSE ROCK LIVE JUNIOR and encourage them to continue to "unpack your adjectives" in the arts and make more music in the future.
"Wayne Highlands Middle School is hereby honored as a BROADWAY JUNIOR SCHOOL OF EXCELLENCE for their production of School House Rock Live Junior," stated Tom Yhoe (Original Composer of School House Rock Live); he continues, "Music Theatre International applauds your outstanding production and celebrates your commitment to educational theatre. Your vision has enabled young people to share in the greatest art of all: the art of living.Congratulations!"
"From the first rehearsal the students have really collaborated to create a realistic depiction of the iconic Emmy Award winning Saturday morning cartoon series bringing the show to life on stage – and we think the cast and crew deserve a standing ovation!" says Scott D. Miller, Executive Director.
"I am so proud at the level of professionalism the student actors produced on our stage," stated Peter Jordan, Wayne Highlands Middle School Principal, he continues "The arts can help students become tenacious, team-oriented problem solvers who are confident and able to think creatively!'
Brook Landers, whom played the lead role of Tamsin (Tom) in the production states "The musical production has grown all of us as young actors and actresses.We couldn't have done the show without the support of our parents, teachers, directors, and community who came to our highest attended musical performance in a very long time."
"Broadway Junior would like to join the creators of School House Rock Live in applauding the unique ways that each student has contributed to the show, from performing to designing props, lights and scenery to assistant directing and working backstage," says Tim McDonald, project director of Broadway Junior. Bravo!
The cast of "School House Rock Live!" included Tamsin (Tom), played by Brooke Landers; Georgette played by Lexi Pinto; Joe, played by Kaeleb Jones; Dori, played by Brianna Taninies; Shulie, played by Rochelle Keast; Elvis, played by Zack Wilken; and Dina played by Maria Kannebecker. The company ensemble also includes Kayla Ammann, Lea Bloxham, Madison Breidenstein, Makayla Breidenstein, Kaitlyn DeFazio, Angela DeHaven, Bella DeNardo-Yost, Anna Dunsinger, Calvin Feustel, Kira Fox, Lindsey Gannon, Alison Green, Amaya Hall, Mariah Hannel, Shannon Hayden, Savannah Hocking, Caroline Klinkiewicz, Veara Lynn Kolhagen, Kallie Lazaro, Shae Levanowitz, Delilah Lohmann, James Manoy, Hannah Merritt, Andrea Meyer, Sandi Reager, Emily Roberts, Abby Skelton, Ava Slish, Alyssa Stumpo, Olivia Tagle, Anabelle Wengler, and Chloe Wolfe.
The production was directed by Scott D. Miller; choreographed by Jesse Florance; music direction by Martha Curtis and Geri Spinosa; technical direction by Shawn Garing and Nick Slish; set designs by Jason Smith and Brittany Cardona; costume design by Linda Zimmer; prop master Meredith Galinkski; and hair and makeup design by Linda Forlenza. The production also included upper classmen student assistant director Melody Feustel; assistant student choreographer Mika Brauser; costumer Christina Compton; and stage managers Stephen Miller and Nick Pizzo.
The cast was applauded through Social Media for their performance by the current Broadway production of School of Rock—The Musical — Nominee for Best Musical.
Live Musical Performances took place at the Honesdale High School Performing Arts Center on November 18-19, 2016. For performance pictures and upcoming show information please visit our website at www.honesdalepac.com.
Music Theatre International (MTI) is one of the world's leading theatrical licensing agencies, granting schools as well as amateur and professional theatres from around the world the rights to perform the largest selection of great musicals from Broadway and beyond. MTI works directly with the composers, lyricists and book writers of these shows to provide official scripts, musical and dynamic theatrical resources to over 70,000 theatrical organizations in the US and in over 60 countries worldwide. MTI's Broadway Junior™ collection of musicals, are developmentally appropriate for elementary and middle school-aged performers. Since 1996, over 100,000 Broadway Junior™ productions have taken place around the world involving over 500,000 educators and over 5 million student performers. For more information, visit www.mtishows.com.