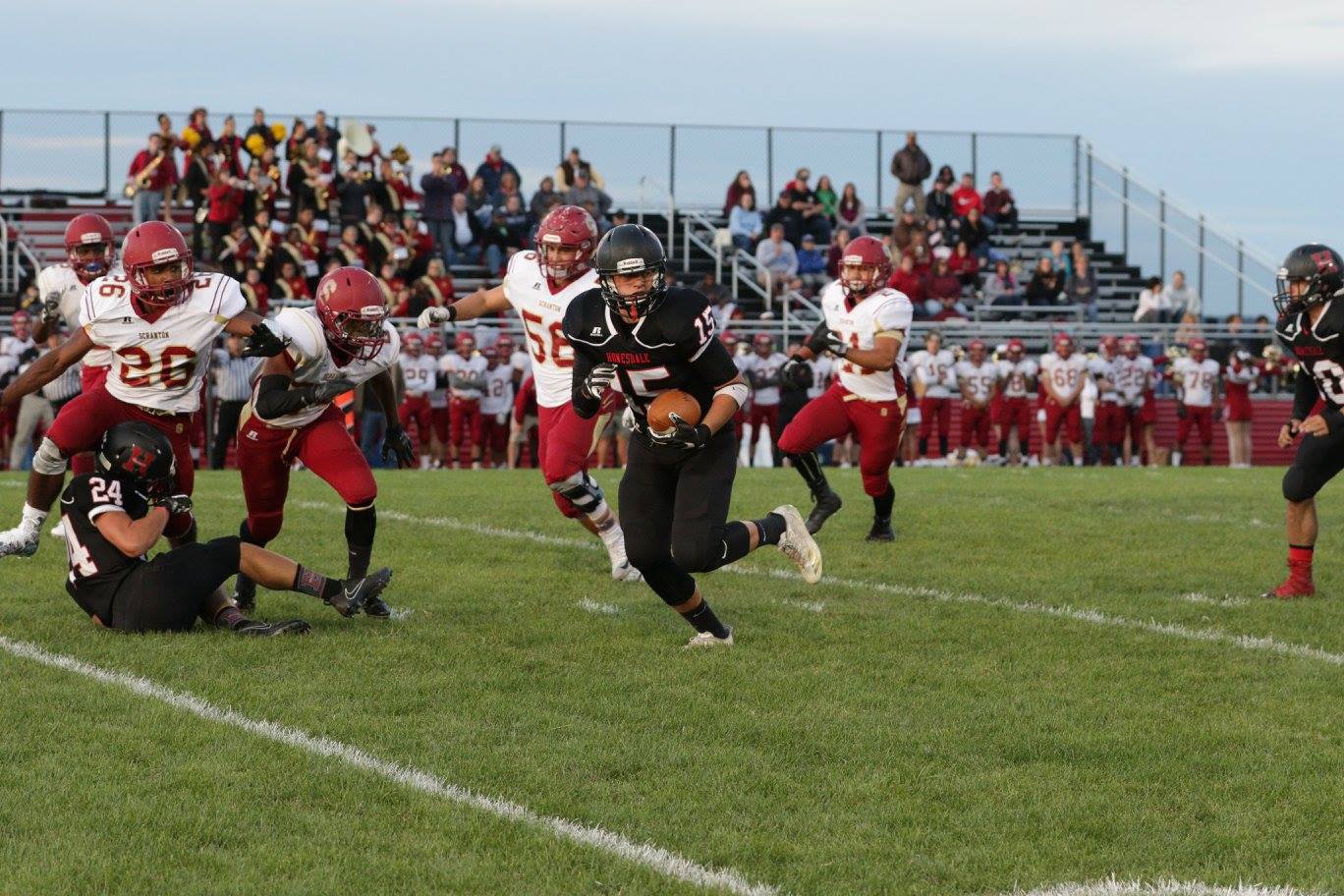 It didn't take Honesdale very long to rebound from a disappointing loss.
The Hornets were their own worst enemy during last week's Lackawanna Football Conference game against Scranton High.
According to offensive coordinator Allen "Butch" Keller, the Red & Black left three touchdowns on the field in Week Two … a distressing observation when one considers that the Knights won by 21 points.
However, when Keller addressed the troops in their traditional post-game huddle, he made it clear that they were looking ahead and not dwelling on the past "God help Tunkhannock!" he exclaimed to cheers from players and coaches alike.
Bouncing Back
In years past, such a loss might have been traumatic. This fall, though, the Hornets have already proven to be a hard-nosed and resilient bunch.
Honesdale erased all memories of the Scranton loss by going out and posting a dominant road win. The Red & Black piled up 43 points en route to a double-digit victory at Tunkhannock.
Andy Carroll and Garyn Barnes led the way. This devastating 1-2 punch accounted for more than 300 yards as the Hornets piled up an eye-popping total of 512.
"They're just a great bunch of kids," Head Coach Mike Jurkowski said. "They work incredibly hard every day and it shows. I'm very proud of them."
Next up for the local lads, who are now 2-1 on the season, is a home game against archrival Paupack This contest represents the 25th anniversary of the Wayne-Pike Shrine Bowl Classic.
"It's a big game, there's no question about it," said Coach Jurkowski. "I don't think we have to worry about getting the kids excited for it. Paupack is a big, physical team and we're going to have our hands full with them."
The Buckhorns are coming off a hard-fought loss to one of the area's top teams: North Pocono.
"We shot ourselves in the foot too many times," said head coach Dr. Mark Watson. "We played pretty well defensively, but we really have to cut down on the mental mistakes."
Opening kick-off for Shrine Bowl XXV is slated for 7 p.m. Friday night here in the Maple City.
Dynamic Duo
Right from the opening possession, it was clear that Tunkhannock's front seven would have trouble with Honesdale's ground game.
Barnes got things going in a hurry. Garyn erupted for a 53-yard touchdown run midway through the first period and the flood gates opened wide.
Carroll made it 14-0 less than two minutes later, hauling in a short pass from quarterback Ethan Dunn and turning it into a 56-yard scoring strike.
Tunkhannock's offense did its level best to keep the team in this one. The Tigers answered with a pair of TDs, but then the Hornets struck back with lightning quickness and devastating effect.
Carroll delivered what may be remembered as the most electrifying play of the entire season.
Andy took a simple handoff in the shadow of his own goal posts and turned
it into a record-setting 99-yard touchdown gallup.
"Our line is really blocking well," said Coach Jurkowski. "And Andy's starting to see the holes and hit them at full speed. His confidence is growing every day. Andy is really starting to come into his own."
Carroll would close out the night with 256 yards rushing and three TDs. He accounted for four plays of over 50 yards.
Barnes, meanwhile, enjoyed a solid game as well. Garyn needed just 10 carries to accumulate 108 yards and two scores.
His second touchdown came from 27 yards out with time winding down in the third quarter.
On Their Way
Honesdale didn't need to throw the ball much against Tunkhannock. But, when he had a chance, Dunn made the most of it.
Ethan completed 4-for-9 passes for 139 yards and a pair of touchdowns. His second TD toss came with 1:35 remaining in the first half and went to tight end Justin LoBasso.
Defensively, Coach Jurkowski was especially pleased with the play of his two young corners.
Ethan Parker and Luke Bancroft are both sophomores and each snagged an interception Friday night.
He also lauded the play of senior inside linebacker Dylan Canfield, who also contributed a pick.
"Dylan is a pretty intense young man," said Coach Jurkowski with a smile. "He flies all over the field and makes plays. Dylan is really coming along."
Score by Quarters...
HON (2-1) 14 15 7 7 - 43 TUN (0-3) 7 7 3 14 - 31
Article Courtesy of:
Kevin Edwards
The Wayne Indepedent