Preston to Stage Disney's Aladdin Jr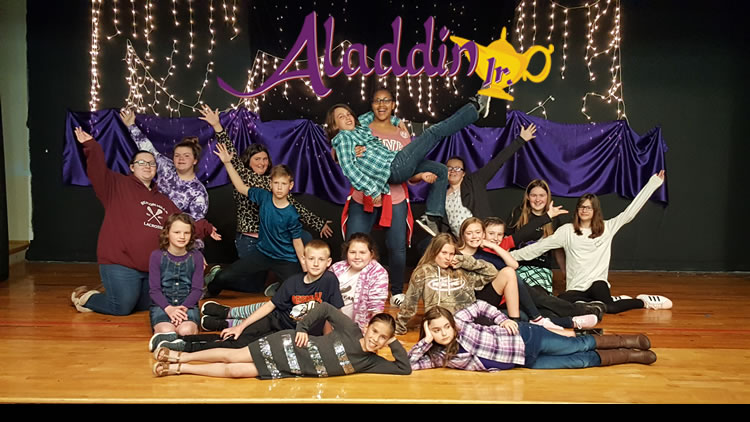 Welcome to Agrabah, City of Enchantment and the fantastic tale of the street rat who became a prince! Preston School presents its spring musical production of Disney's Aladdin Jr!
Join Aladdin, Jasmine, the irrepressible Genie and 20 more of the Preston Area's singing and dancing youth as they retell the story of a street rat who finds a magic lamp, triumphs over evil and discovers true love all to the enchanting Disney music we know and love! Waylon Madugno plays the title role of Aladdin and is joined by Lindsey Delamarter as Jasmine, Brittania Brown as Genie, Triniti Sullivan as the evil Jafar, Trysten Evanitsky as Iago and Randi Thomson as the Sultan.
"I couldn't have asked for a more talented cast!" raves director, Melanie Hansen. "These kids have worked so very hard and are so excited to present this magical show that is so full of music and spectacle that it will have audiences singing along to their favorite show tune!"
Also starring Natasha Hendrickson and Makenzye Telesky (Narrators), Stasia Todd (Magic Carpet), Nick Porosky and Landen Estus (Guards), Wynter Stanton (Razoul), Landen Estus (Prince Baba of Ganoush), Nick Porosky (Prince Dahdú Rahn-rahn), and Unique Anderson, Allison Lewis, Makenzie Telesky, and Emma Thomson (Townspeople).
The production is directed by Melanie Hansen; music direction by Erin Canedy; technical direction – lighting and sound by Fred Smith; and set designs by Jason Smith.

Performances will take place on Saturday, May 12 at 7:00 p.m, and Saturday, May 13 at 7:00 p.m. at Preston School, 1493 Crosstown Highway, Lakewood, PA 18439. All seating is general admission for Adults $5, Student $3, and Red/Black Pass (Complimentary).
For information, directions, and to charge tickets by phone, please call 570-251-9831. Tickets are also on sale online at http://www.honesdalepac.com.