Not just a job, a way of life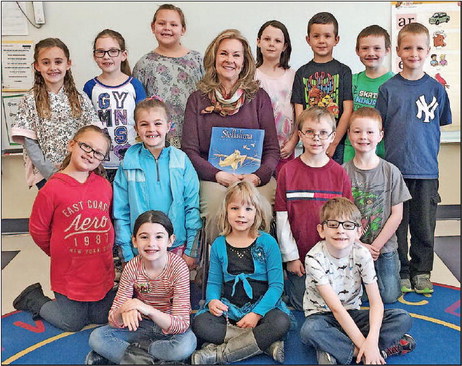 May 8 through 12 is National Teacher Appreciation week. To honor those in the community who shape the lives of the next generation.
Long-time Wayne Highland's elementary teacher Kathleen Costa.
Costa said she's been with the Wayne Highlands School district for 37 years, teaching first graders for 35 years.
"I knew from fourth grade that I wanted to be a teacher," she said. Costa explained that the curriculum resonated with her in a way that made her want to explore it as a career.
She began teaching at Preston Area School in 1980 and moved to the old Stourbridge Elementary – then located on Park Street – five years later.
Costa remained at the head of a first grade classroom for 30 years, migrating with the school when it moved up the hill to its current location and became Stourbridge Primary Center. "I was lucky that I found my niche early on," said Costa.
In all her time spent teaching first grade, Costa said it's never gotten old.
"The children are what keep me fresh," she said, noting how the different personalities each year keep the job exciting.
Costa said she loves working with first graders because they are "so open to learning."
"There's a great deal of satisfaction that comes with teaching first grade," said Costa. She explained that much of this satisfaction comes from helping her students hone their reading skills. For Costa, reading is the most important academic skill for a student to have.
"The world is yours when you can read and when you can't, so many opportunities are closed," she said.
Recounting Costa's time at Preston, Paula Brennan – the Stourbridge Primary Center Principal – stated "She was just someone that everyone looked up to." Brennan elaborated, stating Costa is an "outstanding professional" and "a great resource to her colleagues and peers."
Brennan went on to explain that Costa is highly dedicated to the district, giving copious amounts of time to students and their families.
Outside the classroom, Costa has provided service as a Grade Level Leader – a liaison between administration and teachers designed to keep everyone on the same page, Brennan explained.
She also organized and ran a parent volunteer workshop assembled from grant funding. The workshop dealt with developmental differences in children, the school's curriculum, how to help a child at home and how to come into the school as a skilled and helpful parent volunteer.
Costa also used grant funding to develop teaching strategies and a reader's theater program wherein the children performed "The Little Red Hen."
"Equally as important to [Costa's] academics is just building the character of the child," Brennan stated. "Everything she expects of her children, she models herself, and that ... is one of the most important elements at this age level."
Costa said the model of shaping the whole child is core to her teaching philosophy. "You have to model what you expect to see," said Costa.
After a long and happy career spent enriching students' lives, Costa announced she will be retiring when the school year ends in June. "A large part of my life has been with children," she said, "and I'll miss that."
Looking forward to the new generation of teachers, Costa wanted to tell them they are blessed for working with children and how vital they as teachers are for producing not just quality students, but quality people.
Helping to ease the transition, Costa said she's still teaching first graders in Faith Formation classes at her church and spending time with her two granddaughters.
"Really great teachers are born," said Brennan. She explained the drive to educate is less something that is taught and more an innate drive to share one's passion with others.
"It's not just a job, its a way of life," said Brennan.
For Brennan, Costa is a paragon of this sentiment whose shoes will be difficult to fill.
"We are deeply gonna miss Mrs. Costa."
Article Courtesy of
The Wayne Independent
By David Mazzenga