Holiday Lights Show this weekend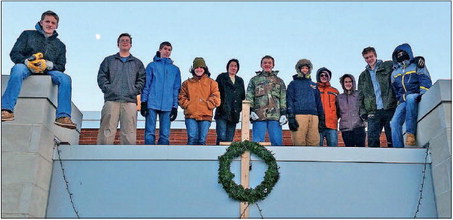 From December 16th through the 21st, Honesdale High School (HHS) will present its eighth annual light show timed to holiday tunes playing on the radio. The show runs from 6 p.m. to 9 p.m. each night.
Attendees are invited to park in the High School parking lot, tune in to FM station 107.7, and enjoy the spectacle presented by the members of the HHS Department of Lights and Sounds, the students responsible for producing staging and lighting effects for plays and musical concerts.
HHS teacher and project supervisor Shawn Garing and the students in the Department of Lights and Sounds it represents an "opportunity to show our talents." The work going into this project builds skills in computer programming, electrical engineering and civil engineering. The goal is to showcase these talents and bring the community together for entertainment and solidarity.
The HHS Light Show began in 2009 as a senior project for Kyle Diehl. The impetus for it was a desire to give members of the local community the magic and spectacle of light shows like the drive-through at Nay Aug Park without needing to drive all the way to Scranton to witness it.
According to Garing, "we saw the idea on TV of these spectacular light shows... and realized we could do that here."
More than simply presenting a show, Garing explained at the time it was even more significant since, "We'd be the first school in the nation to do this."
To gather the equipment for that first show, Garing and Diehl applied for and were awarded numerous grants. Support came from Wayne County Community Foundation and Workforce Wayne. With that money they were able to afford a single controller and few strings of icicle lights to hang on the front windows and bushes outside the school.
The show was so successful that by the following year they were able to double their production, buying a second controller and more strings of lights and decorations. Since then, the show has only continued to gain support and popularity.
This year, the show features over 25,000 lights of various colors, arranged in patterns such as bells, trees, wreaths and candy canes. To get all these lights set up, the students began construction for this year's show on December 1st. Preparations, song selections and programming, however, began as long ago as last year. "It's a yearlong effort," said Garing.
Admission to the show is free, but there is a donations table set up in the parking lot for generous patrons. These collections serve a dual purpose.
First, they are used to replace and repair broken equipment to keep the show running year after year. Second, as part of the projects vision to give back to the community, any money left over after repairs are made is donated to a local not for profit charity.
In the past, the HHS Light Show has been able to give at least one hundred dollars to four charities each year. Some lucky recipients have been the YMCA, The Wayne County Children's Christmas Bureau and Dessin Animal Shelter. This year's recipients are yet to be determined.
Each night of the show is broken into six half hour segments of ten to twelve songs which repeat the whole night, allowing late-comers and early departers a chance to catch the whole run. The list of songs changes each night, however, so people are encouraged to make multiple visits if they are able.
Popular selections for this year's tracks include songs from Manheim Steamroller, Paul McCartney, and The Trans-Siberian Orchestra's "Christmas Canon."
Garing hopes that people will come out and support the show this year: "We hope they [the community] enjoy it and come back every year and that it becomes a family tradition."