Science Olympiad team fares well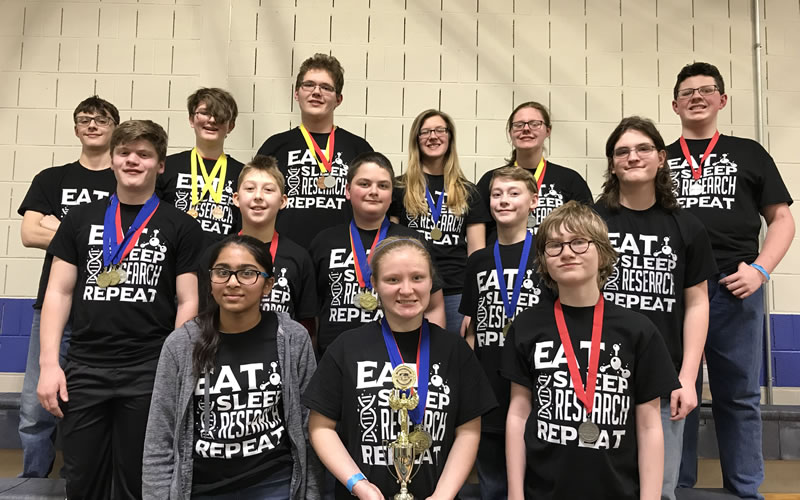 Wayne Highlands Middle School Science Olympiad team has been having a very successful season.
A team of 15 sixth through ninth- graders competed in 23 events related to all areas of science.
All events required a great deal of preparation.
Some are very content oriented whereas others require the student to build a device that will be tested, and others require performance of skills related to a field of science.
All events have strict rules as to how the work must be completed. High school teacher, Kelly O'Neill, and middle school teachers, Chris Piasecki and Ernie Griffis, coach the team.
At the Pennsylvania Northeast Regional competition held on March 9th, the team placed fourth and qualified for the state competition on April 28 at Juniata College. This is the seventh year in a row that Wayne Highlands Middle School has qualified for the state event, and this was the best overall score that they have ever earned.
Twenty-two events out of twenty-three placed in the top 10. The competition for the top positions is getting more challenging every year.
Samantha Howey, a returning ninth-grader, took the lead in medal winning this year with three first-place medals and one second-place medal. When asked how it felt to take home top medals in all of her events she said, "It felt great! I was in disbelief. I worked really hard. My biggest motivation was being one place away from earning a medal at the state competition last year."
Other top medal winners were eighth-graders John Rodriguez and Zack Wilken. They each earned medals in four events.
All of the team members have put in a tremendous amount of time and energy, practicing two-three times per week after school, plus many hours on their own. Their hard work and dedication are continuing to be rewarded, hopefully at the State level as well.
Congratulations to all of the students involved.
The following were our top placements at the regional competition:
• 1st Place:
Microbe mission— Zack Wilken and Samantha Howey Experimental Design— Zack Wilken, John Rodriguez, and Samantha Howey Ecology—Elizabeth Kowalczyk and Samantha Howey Wright Stuff— JP Ahern and John Rodriguez
• 2nd Place:
Herpetology—Seth Gunuskey and Samantha Howey Mystery Architecture— Joshua Clark and John Rodriguez Road Scholar—Zack Wilken and Brooke Landers Hovercraft—Soren Schachter and Jackson Landers
• 4th Place:
Write It, Do It—Bryce Klinger and Brooke Landers Fast Facts—Zack Wilken and Bryce Klinger Roller Coaster—Joshua Clark and John Rodriguez
• 5th Place:
Battery Buggy—Avery Ohliger and JP Ahern Disease Detectives— Andrew Rhyne and Jackson Landers Dynamic Planet—Joshua Clark and Andrew Rhyne Rocks and Minerals— Elizabeth Kowalczyk and Brooke Landers
• 6th Place:
Crime Busters—Bryce Klinger and Joshua Clark
• 7th Place:
Potions and Poisons— Soren Schachter and Jackson Landers
• 8th Place:
Towers—JP Ahern and John Rodriguez Solar System—Elizabeth Kowalczyk and Pooja Patel Optics—Soren Schachter and Avery Ohliger
• 9th Place:
Anatomy and Physiology—Seth Gunuskey and Pooja Patel Thermodynamics—Avery Ohliger and Seth Gunuskey