Peek inside the 'Midnight Fridge'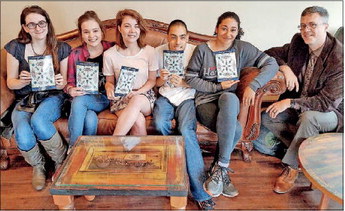 On Thursday the artistically inclined crafters and contributors to Honesdale High School's literary arts journal, Midnight Fridge, unveiled their newest edition with a release party held at Black & Brass Coffee Roasting Company.
Hosted and organized by Whitley Carnes, a junior and one of the current Fridge student editors, the release party featured readings from contributors John Bencid, Darian Velazquez, John Lukan, Emily Cox, Ezekiel Conley, Shawna Gordienko, student editor Korah Martin and Carnes.
At the start of the event, Carnes stated the current issue —"The World in a Drop of Dew"— was her favorite so far.
It features 23 pieces of work from 15 different writers, poets, artists and photographers.
Complimenting her fellow students on their achievement, Carnes said "You guys have worked so hard and I'm really proud of you."
In an interview, Carnes said she's been involved with the journal since its inception her freshman year.
Carnes said the experience of becoming an editor was both educational and humbling.
"You learn so much more whenever you're with other people than when you're just working on your own, because you get so many other viewpoints and pieces of writing and art," she said.
Carnes said she enjoys watching the growth of her fellow student contributors throughout the year.
"It's awesome," she said, "I love it so much."
As a writer, Carnes is especially fond of poetry "because you can't be a good poet if you're not truthful."
She added, "I love it because I think it's the most genuine form of writing, and the most raw."
Carnes hopes to further herself as a writer in the future.
Korah Martin also found the shift from contributor to editor to be positive.
"Being an editor is much more satisfying than just submitting," she said. She added when the journal finally comes into existence, it "is one of the best feelings I've ever experienced."
That being said, Martin also explained how it could be stressful, particularly when contributors would resist suggested alterations to their material and not work on it when instructed. Martin is quite a decorated writer.
This year, she received two silver medal awards and the American Voices Medal from the national level of the Scholastic Art and Writing Competition.
Martin said while she's received awards from the competition's regional events the past two years, this is the first time she's received one at the national level.
She encourages any students interested in submitting to do so because "how rewarding it is definitely outweighs how difficult it is." Like Carnes, Martin also hopes to continue writing in a professional setting.
Longtime Fridge contributor Emily Cox also shares Martin's encouragement for students to submit work to the journal.
"Any high schoolers thinking about putting something in the Fridge should go for it," said Cox. "It's an amazing experience and you become a family."
Cox has been a part of the journal since its inception, putting forth an assortment of poetry and short fiction.
Recalling how she felt after her first submission to the journal, Cox said, "That was just a really cool thing."
She has plans to become a teacher and continue writing in her spare time.
According to contributor Darian Velazquez, having a theme for each issue makes the writing easier as it lends a focal point to the creative process.
Velazquez has submitted to the last five issues. He said he enjoys the camaraderie of the Fridge and the release parties, and is often impressed by the work that other students submit.
"Some of these things that these artists come up with is just crazy, its mindboggling," he said.
More than just a place to share work, the release party is an important place to get community support and feedback, said Velazquez.
"It's rewarding to get that feedback from the people who are here," he said, "because you put so much hard work into this."
Velazquez plans to continue honing his craft both on and off the page.
"I think for future generations, definitely this is something you'll want to take up," he said, "It's definitely a rewarding experience."
Produced quarterly, the journal has been around for three years.
According to Fridge supervisor and English teacher Jason Macey, the journal is a culmination of the short stories, poetry, art, photography and other submissions of creative writing classes, club submissions and other student submissions.
The journal provides a "real, authentic audience" to help contextualize the work produced by students in the creative writing class which was formed a few years ago, Macey said.
"It's really a great thing," Macey said, emphasizing that Honesdale is the only school in the area to produce a student writing journal.
The teacher also emphasized how the project is now run primarily by students in the advanced creative writing class, a new addition this year.
These students become the journal's editors and are responsible for assembling the issues, as well as planning and then hosting the release parties.
Additionally, Macey would like to eventually extend more responsibility to the students in the advanced class to get them involved in setting up community partnerships where the journal may be sold.
For now, issues of "Midnight Fridge" are available at the high school for $5 each.
"The fact that we got to do this is kind of incredible," he said. "[The students] do a great job day after day, week after week, month after month and now year after year."
"Midnight Fridge" has one more issue set to come out this year, complete with what is expected to be the largest release party of the year.
More information can be found on the "Midnight Fridge" Facebook page and website: http:// maceyjason.wixsite.com/midnight-fridge.
Article Courtesy of
The Wayne Independent
By David Mazzenga