Hannah Burlein and Karina Armetta Swimming for Honesdale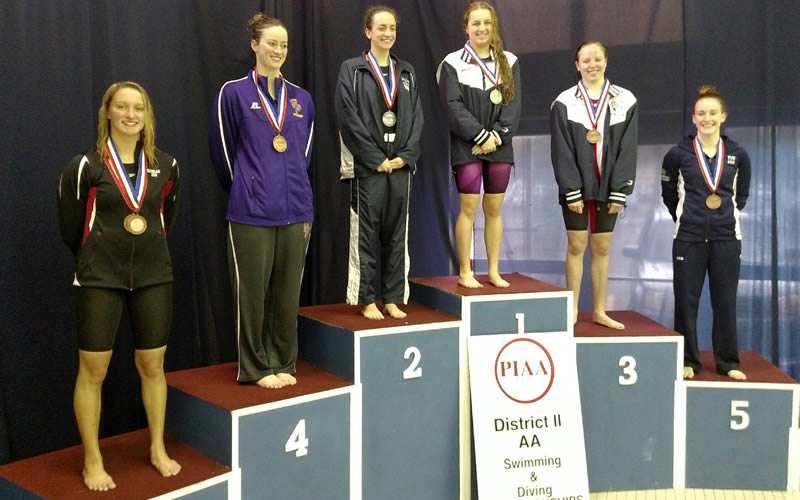 The picture of Hannah Burlein in her 6th place in the 100 fly at HS DISTRICTS.

Congratulations to Hannah Burlein and Karina Armetta on their Swimming Season for Honesdale High School this past winter. They placed in many major PIAA District II AA Swimming and Diving Events.

Several athletes making waves in the Lackawanna League this season are ones who might go unnoticed. That's because when they compete in dual meets, they do so as nonscoring competitors because their home schools do not have swim teams.
It doesn't prevent them from turning heads for stealing a first place or posting a fast time. Two swimmers from Honesdale compete when Holy Cross is in action.
Hannah participated in the following Swim meets with great success.

2017 LES RICHARDS CHAMPIONSHIPS

At Les Richards High School Champs: Karina Armetta swam the 200IM and took 8th overall 100 free and took 13th overall Hannah Burlein swam the 100 butterfly taking a 2nd place medal 500 free placing 4th place medal.
100 Fly: Cat Donlon (SP) 59.63 (ties meet and pool record; old mark, Mia Nonnenberg, 2010 and 2013); Hannah Burlein (HON) 1:02.24; Anna Moffit (TUN) 1:04.32; Shannon Deignan (DV) 1:04.66; Emma Boyle (VV) 1:06.55; Gabrielle Cholish (SP) 1:11.20.

500 Free: Cat Donlon (SP) 5:22.09; Cailin Campbell (WAL) 5:28.60; Denali Hutzelmann (DV) 5:36.15; Hannah Burlein (HON) 5:38.07; Megan Hayward (TUN) 5:39.79; Abigail Bowen (SP) 5:39.96.
D2 Class 2A Results

At districts, Karina Armetta swam: 200IM. 8th place finish 100 free - 13 the place finish. Hannah Burlein swam: 200 free. Taking the 6th place meda 100 fly taking the 6th place medal.
Team standings: Dallas 163; Wyoming Seminary 146; Scranton Prep 135; Holy Redeemer 117; Berwick 74; Holy Cross 44; Tunkhannock 41; Elk Lake 31; Coughlin 21; Honesdale 18; Lake-Lehman 12; Valley View 10; Nanticoke 8; Lakeland 5; Western Wayne 4; Meyers 2; Wyoming Area 2; Dunmore 1.

200 Free: Cat Donlon (SP) 1:57.44; Sydney Lloyd (BER) 1″57.88; Melissa Leonard (DAL) 1:58.03; Ava Baur (SEM) 1:59.80; Emily Easton (HR) 2:03.21; Hannah Burlein (HON) 2:03.73. ;

100 Fly: Tara Kupsky (SEM) 57.96; Abby Zolner (DAL) 59.15; Haley Thier (SEM) 59.33; Cat Donlon (SP) 1:00.78; Sydney Lloyd (BER) 1:01.17; Hannah Burlein (HON) 1:02.76.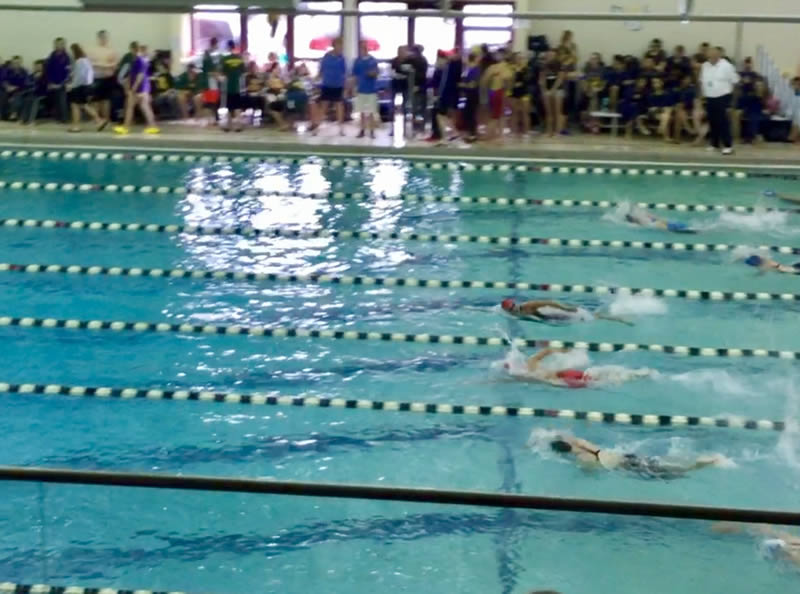 This picture is of Hannah in the red cap at the beginning of the 200 free.