Students honored by board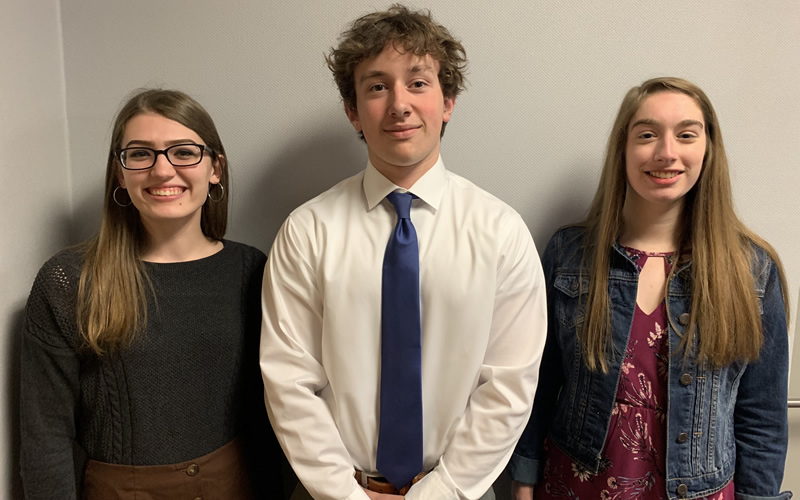 Congratulations to Kelsey Martin, Tanner Mundy and Lindsay Daub (left to right), for their outstanding academic achievements at Honesdale High School.
[PHOTO BY DAVID MAZZENGA].
The Wayne Highlands School District (WHSD) Board of Directors honored a trio of seniors for their academic achievement, Tuesday night.
Lindsay Daub, Kelsey Martin and Tanner Mundy were all recognized for the scholastic merit which garnered each of them a seat on the National Honor Society (NHS), the Honor Roll and a ranking in the top 15 percent of their class.
Recognized first alphabetically, Lindsay Daub is the daughter of David and Beth Daub of Beach Lake.
A music enthusiast, Daub has participated in the Wayne/Pike County Band, the Marywood Wind Band Celebration as both a junior and a senior, District Band, and played in the Honesdale High School (HHS) Pit Band for the musical productions of The Addams Family and Beauty and the Beast.
She is also a member of the HHS Interact Club.
Looking ahead to post graduation, Daub aims to attend The University of Pittsburgh at Bradford, concentrating in English.
"I am honored to be recognized at this board meeting,"
the administration, Board of Directors alongside, "...my family for their unconditional support, and my teachers for being a positive influence in helping me to achieve my goals."
Noting that "music has been a big part of my high school career," Daub explained, "Being a part of the high school band has given me the opportunity to meet new people and improve my leadership skills." Looking on her last four years and towards her future, Daub concluded, "I have very fond memories of Honesdale High School that I will carry with me as I head off to college."
Next recognized, Kelsey Martin is the daughter of Summer Tighe of Honesdale.
More than just a member of the NHS, Martin serves the organization as its Secretary.
She is also a member of the Student SAFE Team.
Athletically, Martin plays on the HHS Girls Varsity Soccer Team and has achieved a letter for her efforts.
After graduating, Martin plans to attend Marywood University to study secondary education.
Martin likewise thanked the Board for their recognition, as well as her English teachers, Amy Lesek, Marianne Daniels, and Jennifer Burleigh, "...for helping
strengthen my love for English and helping me show I would like to pursue a career as an English teacher."
She also thanked History teacher, Joseph Arnone, because " He's made school very fun, which is kind of hard to do when you're a senior."
Gratitude was likewise extended to SAFE Team advisor Debra Paciotti, who "helped me show that there's a lot of people in the school who are going to help you," and soccer coach, Jamie Brown, who "...helped me stay motivated throughout this whole year and throughout the season."
Martin concluded with thanks to her class advisors, her friends, and especially her mother, "...because not only is she my mother, but she's my only parent and she had to do the role of two parents and she did a really good job."
Last recognized alphabetically, Tanner Mundy is the son of John and Noelle Mundy of Cherry Ridge.
Looking to share his scholastic prowess with his fellow students, Mundy is a peer tutor in math and chemistry.
He has also aided his community, volunteering with the Wayne County Historical Society.
A mind for business, Mundy is a member of the Future Business Leaders of America (FBLA) club, wherein he has participated at local, regional and state levels of competition.
Athletically, Mundy can be found on the baseball diamond as a member of the junior varsity team.
Looking to further develop his business knowledge, Mundy plans to attend Villanova University to study the subject.
Thanking the Board for their recognition, Mundy noted "It's truly an honor."
"I'd also like to say that these last four years at Honesdale High School have been an amazing experience and have helped shape the person I am today," he added.
Reflecting on his high school experience, Mundy noted, "I could not have done it without my parents or any of my teachers, in particular, Mrs. Daniels, Mr. Miller, and Mr. Macey.
"They have taught me many wonderful life lessons as well as many wonderful academic lessons."
Speaking on behalf of the School Board, Thomas Dirlam stated, "Each year, I'm amazed at the seniors we honor each month. After hearing each of you speak, you continue to impress me."
Drawing attention to the trio's shared status as NHS members, Dirlam noted the requirements for such merit include maintaining a 3.33 grade-point average, 12 hours of community service and demonstrating character, leadership and service.
"These traits alone tell me as a board member that you have the skills and the drive to make a difference and be successful."
"We're all very proud of you," said Dirlam, "We wish you continued success as you embark on the next chapter in your lives and become successful in your future endeavors."
Speaking for the administration, Superintendent Gregory Frigoletto added to Dirlam's discussion of NHS qualifications, stating, "Everything he said is important to be a part of the National Honor Society, but more importantly to be a part of society."
Stating the students' achievements and interests at HHS are, "... going to transcend way beyond High School...," Frigoletto added, "whether your love was in music, or in sports, or FBLA ... or anything that you did, these are things that you're going to take with you wherever you go and we're happy and hopeful that the different things you learned through those experiences will assist you as you move on to other things."
Frigoletto concluded, "We're very proud of you and we're looking forward to the end of a school year...We wish you nothing but the best and we have great confidence in your success."
Article and Photo Courtesy of David Mazzenga of the Wayne Independent