Future Scientists STEMing from Honesdale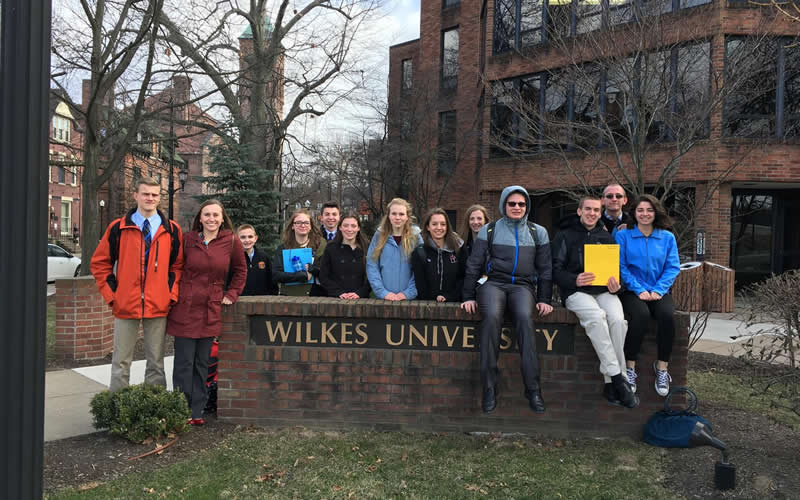 Students pictured left to right: Josef Holbert, Emma Lawson, Robert Kretschmer, Emily Ritter, John Christiansen, Cindy Perricone, Hannah Holbert, Miranda Fritz, Dana Pratt, Jacob Adams, William Bekanich, Damien Simpson, Olivia D'Amore.
Wilkes-Barre, PA - Thirteen students from Wayne Highlands Middle School and Honesdale High School competed Saturday, March 4th at the 82nd Annual Region 2 Meeting for the Pennsylvania Junior Academy of Science or PJAS. This year's meeting was once again hosted by Wilkes University for 750 students from 7th-12th grades from seven counties in northeastern Pennsylvania.
Students can compete in any one of 13 reporting categories focused on Science, Technology, Engineering or Mathematics (STEM).
Each student prepares a research project and conducts an experiment to make a conclusion. Eleventh and twelfth graders should include statistical analysis as part of their final remarks. Students then present their research using an electronic format to a panel of professionals who serve as judges at the Regional Meeting. Students receive a first, second or third award certificate during a formal awards presentation at the end of the meeting.
Awards were as follows:
John Christiansen, 8th Grade, Botany, 3rd Award
Olivia D'Amore, 12th Grade, Behavioral Psychology, 3rd Award
Dana Pratt, 9th Grade, Behavioral Psychology, 2nd Award
Miranda Fritz, 9th Grade, Behavioral Psychology, 2nd Award
Hannah Holbert, 9th Grade, Microbiology, 2nd Award
Cindy Perricone, 9th Grade, Biology, 2nd Award
Jacob Adams, 10th Grade, Behavioral Psychology, 2nd Award
Emily Ritter, 12th Grade, Behavioral Psychology, 2nd Award
Damien Simpson, 12th Grade, Zoology, 2nd Award
Emma Lawson, 12th Grade, Zoology, 2nd Award
Robert Kretschmer, 8th Grade, Behavioral Psychology, 1st Award
William Bekanich, 11th Grade, Physics, 1st Award
Josef Holbert, 11th Grade, Botany, 1st Award and a Perfect Score of 5.0
All first award winners are invited to compete at the State Meeting in May. Around 3,000 students from across the state will meet at Pennsylvania State University, Main Campus, for this competition.
Josef Holbert was also selected as the top presenter in his research category. Holbert was awarded the Excellence in Botany Award for the high school level (grades 10-12) by the PJAS judges and officials. Holbert conducted research on the Effect of Copper (II) Nitrate on Aquatic Algae.
Mrs. Rebecca Kretschmer, Honesdale High School Science Teacher, advised and sponsored these students.