Meagher's Mound Masterpiece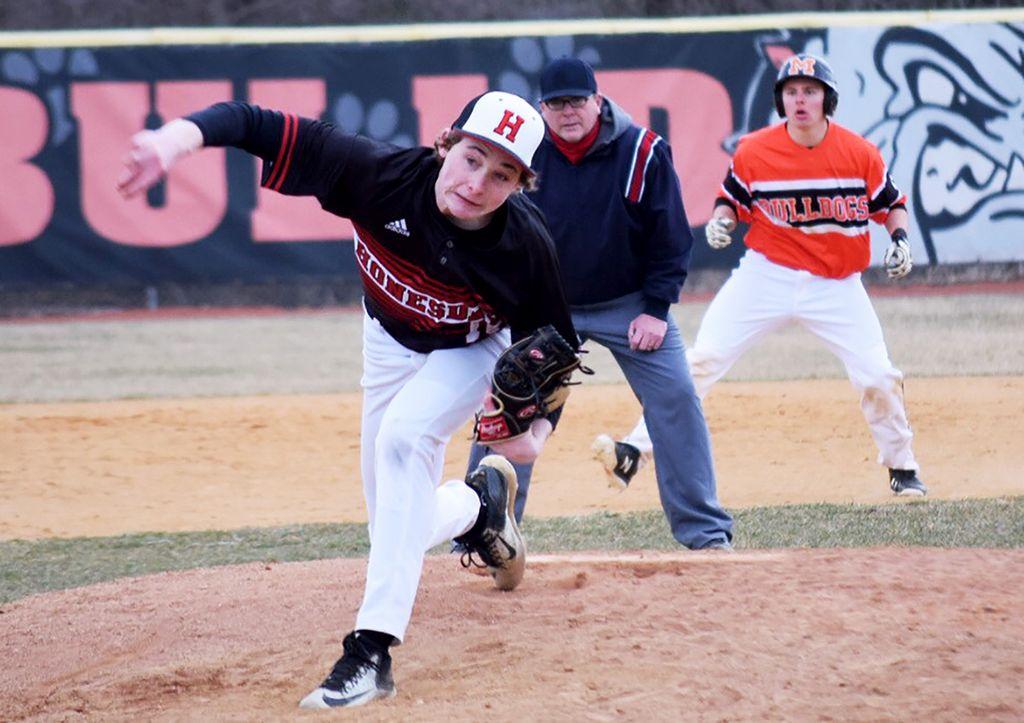 Hornet junior varsity hurler authors a five inning no-hitter
Thanks in large part to Old Man Winter, there haven't been many highlights on the scholastic baseball scene so far this spring.
Unseasonably cold weather has gripped NEPA since the middle of March, forcing postponements and cancellations galore.
This past weekend, though, conditions finally eased up and the sun actually appeared ... a fact that produced a flurry of activity on local diamonds.
At Long Last
Honesdale made the most of its opportunity Saturday afternoon, playing a varsity game at home and a JV contest on the road.
While Head Coach Ernie Griffis' lads were busy hammering out a 14-1 Mercy Rule win at Keith Sutton Memorial Field, longtime assistant Mike Modrovsky took his boys down to East Stroudsburg South for a non-league game with the Cavaliers.
"Coach Mo" sent Paul Meagher, his top twirler, to the hill for this one ... a decision that proved to be more than memorable.
The hard-throwing freshman righty responded by authoring a bona fide mound masterpiece.
Meagher took the ball and threw the season's first no-hitter, dominating ESS in leading his Honesdale squad to a 10-0 victory.
"As a staff, we're excited at what Paul brings to the team," Coach Griffis said. "I'm looking forward to seeing those kinds of skills on display for years to come here at Honesdale."
This was the first win of the 2018 season for a junior varsity team that's had a hard time just getting outside to practice, much less playing any games.
Weather permitting, the Red & Black will be back in action Friday at home versus West Scranton.
First pitch is scheduled for 4:30 p.m. at Keith Sutton Memorial Field.
Dominance
Meagher wasted no time in taking control of Saturday's ballgame at East Stroudsburg South.
A talented all-round athlete who also excels on the basketball court, Paul opened the game with a strikeout and just kept on rolling from there.
By the time the day was out, Meagher had piled up 12 Ks and thrown the first no-no of his Hornet career,
"Paul is a hard-working young man who shows great potential in many areas," Coach Griffis said. "He starts at shortstop for the JV team, but he's also their number one pitcher."
The Hornets ignited the offense early, giving their ace all the offensive support he'd need. Honesdale tallied two runs in the top of the second, then added three more in the third.
After pushing across a single tally in the fourth, the Red & Black sealed the deal on a Mercy Rule win with four runs in the fifth.
Timmy Jackson paced the offensive onslaught, going 2-for-4 with a run scored. He also stole three bases.
Coulby Gregory and Garrett Tonkin each chipped in with a pair of RBIs, while Jimmy Rodda and Zach Doherty tallied two runs apiece.
Jack Firmstone did some damage from the lead-off spot, going 1-for-3 with a run scored, while Peter West contributed an RBI single as well.
Meagher helped his own cause, clubbing a two-run double, working a walk and scoring a run.
"Along with his pitching and defensive skills, Paul shows a smooth swing at the place and the ability to hit the ball to all fields," Coach Griffis said.
Looking Ahead
Meagher was in complete control against the Cavs.
He needed just 82 pitches (56 strikes) to record 15 outs. Only three batters reached base, two via walk and one on an error.
"Paul works hard in the off-season," said Coach Modrovsky. "I let him call his own pitches several times, so he was confident out there. Paul was really pitching as opposed to just throwing."
Meagher and Tonkin were on the same page all game long, forming a highly effective battery.
"Paul located his pitches very well," said Coach Modrovsky. "Garrett caught a great game and Paul just kept hitting his spots."
Article Courtesy of:
Kevin Edwards
The Wayne Independent