Keeping students safe from house fires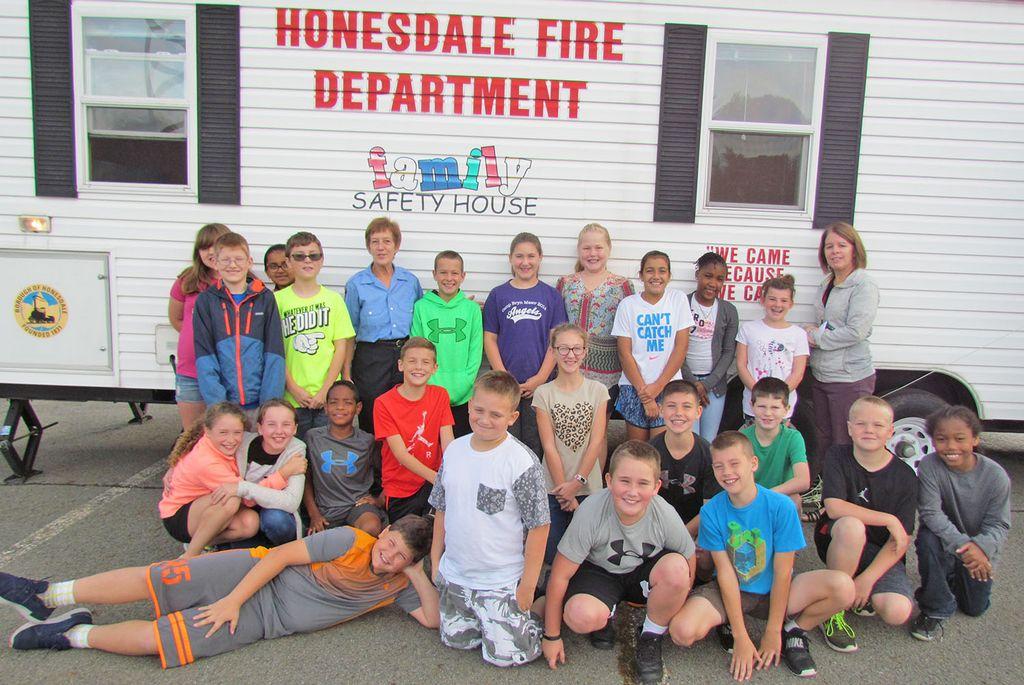 Firefighter and Fire Police Officer Deby Gumpper visited Lakeside Elementary School on Tuesday with the Honesdale Volunteer Fire Department Safety House trailer to discuss the importance of fire safety with the students as part of Fire Prevention Week.
According to Gumpper, the trailer – designed to mimic the interior of a small room in a house – has been used for instructional purposes for the last 12 years.
The trailer was acquired as a result of a grant written in 2005 by Gumpper and Chris Seitz.
Over the last decade, the Safety House has visited various schools in the Wayne Highlands and Western Wayne school districts, as well as Mountain View in Susquehanna, Mayfield, and even several Boy Scout troops and church groups in the area.
In that time, Gumpper estimates having sent over 25,000 children through the trailer with help from other members of the fire company, Emergency Medical Services personnel, and even her own family members.
By the end of this year's run, she expects to be close to having lectured 28,000 children.
"My goal is to teach people to be safe enough that no one dies in a fire," said Gumpper.
Key features of her presentation included reminding children to vacate a burning building as quickly as possible and remain outside.
Gumpper explained to the children the importance of having a designated gathering place where the family could meet in the event of a fire so that rescue personnel could easily determine who was missing and may still be in the house.
The students also learned how to safely check for fires behind doors, navigate in smoky rooms, and the safest places to stay and wait for firefighters to save them should they be trapped in the house.
If one can't escape, the best place to be is by a window, said Gumpper.
Failing that, one should remain on their stomachs and near a wall, as that is how firefighters search a house's interior, she explained.
Along with the lessons on staying safe, Gumpper told the children the importance of explaining these to their parents in the event of an emergency.
She reinforced the idea with a newspaper article where children saved their family using information they'd learned going through the fire prevention materials in the trailer.
"I hope I'm doing good for them," said Gumpper, explaining that the best part about presenting the trailer to the children is when they recognize her later and recall all the things she taught them.
"I really hope they learn," she stated, "that's the whole thing with this is that they learn."
Zachary Wentzel and Caitlin Barna from Common Wealth Health Emergency Medical Services joined Gumpper at Lakeside.
They discussed life flights, smoke inhalation and a general introduction on ambulance rides.
The Safety House presented a similar demonstration along with a few fire engines to students at Stourbridge Primary Center.
Those interested are encouraged to attend and learn about the companies in the Honesdale Fire Department, what they do and how one can volunteer their time for the much-needed public service.