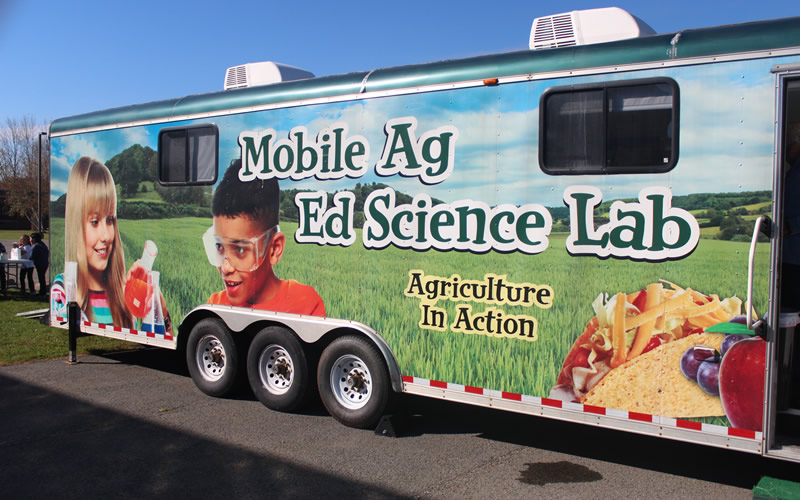 Community members were invited to join students yesterday at Stourbridge Primary Center to experience the new Mobile Ag Ed Science Lab making the rounds through Wayne Highlands School District (WHSD) elementary and middle schools.
Stourbridge principal Paula Brennan described the lab, stationed at the school all this week, as an "educationally eyeopening experience." Featuring 12 internal stations for students to perform agriculturally-themed experiments to bolster their understanding and awareness of the industry's prominent place in modern society.
"Agriculture affects our lives every second of the day," stated Ag Lab operator Jane Wessner.
"Much of our clothing, of course all of our food, medicines, the clean air we breathe, it all comes from agriculture. It's basically our foundation."
Wessner stated agricultural education helps to reconnect children — and through them society — back to that core foundation.
The lab's experiments feature water analysis, food and fiber education, and "Fungi fun" experiments with yeast and other fungus.
Yesterday's experiment was dubbed "Pocket Candy."
Geared toward students in Kindergarten through Second Grade, the experiment has them identify various ingredients in popular candy and trace them back to their agricultural roots.
Since it has plans to travel to all the elementary and middle schools in WHSD this year, the lab's experiments are designed for children of all classes K through 8.
"When we first put our Agriculture Program into place, we were trying to think of ways in which we could promote agriculture education in our elementary schools as well," stated WHSD Director of Career Pathways Diane Scarfalloto.
The cost to bring the Mobile Ag Lab to the district this year was $11,000.
It came about as the result of collaborative efforts of a scholarship donation, grant funding and myriad community donors.
"We think it's just a great way to promote agriculture in our community," said Scarfalloto, attesting to the prevalence of the industry in Wayne County.
"What I'm seeing unfold in the high school with this program is it is such a niche for a group of kids that didn't have a place that they belonged," she added, stating that now, among the band, chorus, drama, athletic and other groups of students, ag kids now have their place as well.
The Honesdale High School (HHS) ag students joined the Mobile Ag Ed Science Lab at Stourbridge on Wednesday to share their knowledge.
The high-schoolers set up eight stations involving wildlife and trapping, forestry, food processing, raising cattle, and various forms of heavy agricultural equipment and safety.
"We decided at the high school that we wanted to come out for a day and show what my students are learning," stated Ag Program instructor Kayla Hack.
Each of the eight stations were topics and presentations designed by the students themselves, showcasing what they were most interested in learning about or having learned about in the agricultural industry.
"The Ag Lab definitely ties into … an intro for what agriculture is in the school district," said Hack.
She explained that a prime feature of the Ag Program is to instill a career-minded focus into students and show them where employment opportunities in the industry lie.
Agriculturalist in training Carmen Rutledge had a table displaying different kinds of animal feed, explaining which was appropriate for what sort of cattle.
When asked why agriculture was important to her, Rutledge answered "I grew up on a farm with my family and I would like to become a veterinarian."
Next to her table was Molly the goat and a trio of teens there to explain how to raise, train and show goats at a fair.
According to Emma Diliberti, one of Molly's handlers, "We will always need [agriculture]. We will always need to eat and a lot of our food comes from farms."
Another high school trio was set up to explain the safe use and maintenance for farm tractors.
One of the group, Jason Hunter, stated that agricultural education is important because "it's really built everything around you, since the farms make your food and the trees heat and build your houses."
Reception of the Mobile Ag Ed Science Lab and HHS'AgProgramhasbeen quite positive.
Representing the office of Senator Lisa Baker (R-20), Andrew Seder stated that "Wayne County was really founded on agriculture and farming and has always had that tradition of the family farms throughout."
Mentioning the recent decline in the industry's presence in the area, Seder continued "So when we heard that Wayne Highlands wanted to start up an agriculture curriculum, we were extremely encouraged."
"We hope that this … helps the family farms rebound and at a minimum educates the kids about where their food comes from and the importance of agriculture and farming for our economy.
WHSD Board Member Brian Weist stated "As a dairy Farmer myself, this is the greatest thing I've seen for the kinds and the community." WHSD Superintendent Greg Frigoletto stated the Ag Lab provided "a great segue into the elementary world." Coupled with the Ag Program, Frigoletto stated the pair would provide a career pathway for interested students.
"I love the interaction between older students and younger students and they're doing it in such a way that the learning experience goes way beyond agriculture," he said. Representatives from Forest City and Western Wayne school districts were also present that day to inquire about the program and the lab for use in their own districts.