District recognizes stellar seniors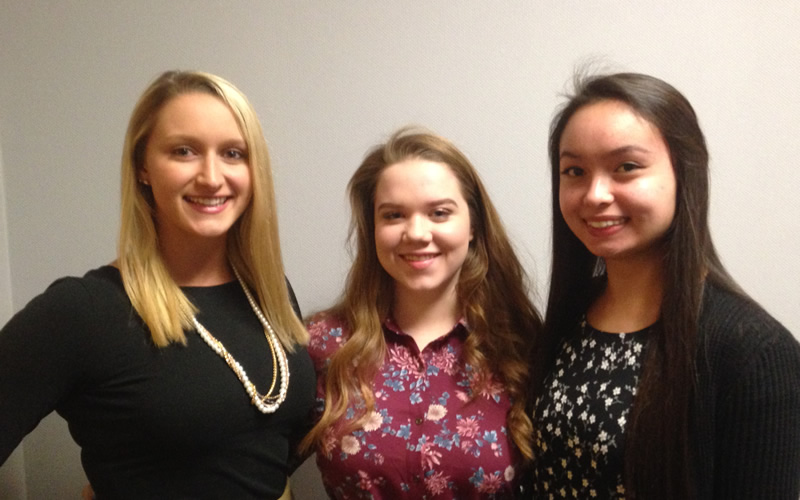 Three students received accolades from the Wayne Highlands School District (WHSD) Board of Directors
Monday night at the board's regular monthly business meeting.
Hannah Burlein, Danielle Chee and Hannah O'Dell were all lauded for numerous achievements garnered throughout their tenure as WHSD students.
Hannah Burlein is the daughter of Steven and Elise Burlein of Honesdale.
Through rigorous studies, she has achieved an academic ranking in the top ten percent of her class, as well as positions on the Honor Roll and the National Honors Society (NHS).
Studies aside, Burlein has also kept an active extracurricular schedule.
She has been a member of the Class of 2018 Club for four years and served as its secretary.
She has also been a member of the Interact Club for two years, been a Women in Science
student representative, and served as ambassador for the Chamber of the Northern Poconos Junior Leadership Class of 2017.
Athletically, Burlein has soared as a member of the junior high track team, the varsity track and field team, and the swim team.
As a swimmer, Burlein lettered twice, is a sevent ime Pennsylvania Interscholastic Athletic Association (PIAA) High School District II swimming medalist and an eight-time Lackawanna League Les Richards High School swimming finalist and medalist.
Additionally, Burlein was the 2017 PIAA Ambassador at the National Student Leadership Summit in Indianapolis, Indiana.
Driven to aid others, Burlein plans to attend Lafayette College to earn her pre-medical degree.
She also accepted a National Army ROTC Scholarship to train as an officer/physician in the military.
While furthering her studies as such, Burlein also plans to continue her swim career participating in the Patriot League Division I swim program at Lafayette.
Equally driven to care for others, Danielle Chee plans to further her education with studies in nursing at Misericordia University.
The daughter of Edward and Felicity Chee of Bethany, the prospective nurse ranks among the top 15 percent of her class.
Her academic excellence has awarded her a seat on the Honor Roll as well as the NHS.
Chee is a member of both the Hornets junior varsity and varsity softball teams.
Third recognized Monday night, Hannah O'Dell is the daughter of Dale and Christa O'Dell of Prompton.
An astute academic, O'Dell also ranks among the top 15 percent of her class.
She, too, has been lauded on the Honor Roll as well as awarded a seat on the NHS.
As an NHS member, O'Dell was also Chairperson of the Blood Drive Committee.
O'Dell has served her fellow pupils as a Memberat- large on Student Council.
Not a stranger to the sports realm, O'Dell has also played tennis at the varsity level.
An accomplished artist, O'Dell has also achieved merit from the Scholastic Art Contest.
Seeking to take her artistic endeavors yet further, O'Dell plans to to attend Marywood University to achieve a Masters Degree in Art Therapy.
Article by The Wayne Independent Writers