Board of Director's Honor Seniors at February Meeting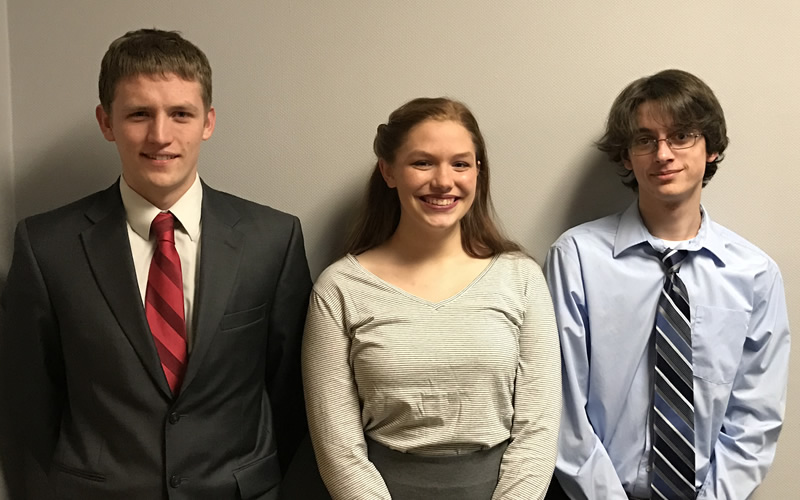 Honesdale High School's Parker Propst, Emily DeCrotie, and John Walczyk were honored at our February board of director's meeting for having outstanding academic achievements both in and outside of the classroom.

Parker Propst, son of Harry and Hayley Propst, is in his top 10% of his class. He is involved in Varsity Soccer – Letter, American Mathematics Contest, Marywood Math Contest, Math Madness Online Competition, King's College Math Contest, Science Olympiad - Medalist, Envirothon / Envirothon States, NEPA Bridge Building, USMC Online Bridge Building, American Chemical Society – Test B, Science Club / Envirothon Club, Student Council – Member-at-large, Honesdale Performing Arts Center Stage Club, Honor Roll, National Honor Society – Blood Drive Committee Chair, and Tung Soo Do Karate. In the future Parker plans to attend a four-year college or university, majoring in electrical engineering.
Emily DeCrotie, daughter of Jerome and Mary DeCrotie is in her top 10% of her class. She is involved in Science Olympiad, Chorus – President, Chamber Choir – District Chorus ~ Placed 3rd for Soprano I section at Pre-auditions, Region Chorus – Dessert Theater, National Anthem Singer, Band – Marching and Concert Band / Alto Sax section leader - Wayne/Pike County Band, Wind Ensemble – Marywood Jr. Wind Band Celebration / Sr. Wind Band Celebration, HHS Performing Arts – 2014-2017 Musicals, WVIA Artist of the Week, HOBY Ambassador, Honor Roll, National Honor Society, Tabernacle Bible Church – Youth Group / Worship Team / Choir, and Wayne Choralaire. In the future, Emily plans to attend either Cairn University or Grove City College for a degree in music education, with a concentration in vocal music. Emily also recently auditioned for the Encounter Revival Ministry Team.If accepted, she will take a gap year to travel with the team.
John Walczyk, son of Steven and Lisa Walczyk is in this top 5% of his class. He is involved in American Mathematics Contest – 2nd Place among 9th/10th grades, Peer Tutor, Class of 2017 - President, Student Council -Homeroom Representative (2 years), TV Productions – Weekly Program, HHS Performing Arts – 2016 - 2017, The Little Mermaid, Honor Roll, and National Honor Society. In the future John plans to attend a college/university four-year program to major in political science.