HHS Student earns Eagle Scout rank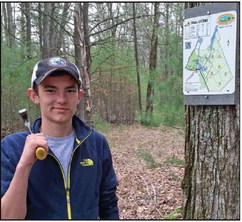 Honesdale High School senior,
Hunter Stephens, has achieved the rank of Eagle Scout. Hunter is amember of Boy Scout Troop 1 in Honesdale. For his Eagle Scout project,Hunter updated and installed new trail signs at the Dorflinger- SuydamWildlife Sanctuary in White Mills.
"I chose to replace the signs at Dorflinger because it is a place I care very much about and has been a large part of my life since a young age," said Stephens.
The project took place in the spring of 2016 and was completed under the supervision of Sanctuary general manager, Tom Dein. Several scouts and leaders from Troop 1 assisted in the project.
The Eagle Scout Service project is the culmination of a Scout's leadership training and must demonstrate leadership of others while performing the project for the benefit of his community.
The project must benefit an organization other than the Boy Scouts of America and cannot be completed for an individual or business in a commercial sense.
It is a requirement in order for a Boy Scout to reach the Eagle Scout rank.
Stephens completed the project through a combination of both donations and out-of-pocket expense. The signs are made of heavy-duty aluminum and have been attached to wooden plates to give them greater stability and longevity in the harsh Northeastern Pennsylvania weather.
The seven trails are clearly shown along with a red dot indicating each location. A QR code appears on each sign, linking to the Dorflinger website. Stephens completed both his local and regional boards of review this past fall.
Throughout his scouting career, he has been active with numerous activities.
He attended the International Jamboree at Summit Bechtel Reserve, West Virginia and most recently, took part in one of the four Scouting High-Adventure extreme experiences by traveling to the Northern Tier Base Camp in Manitoba, Canada.
From base camp, Stephens and a group of fellow Scouts and leaders traveled by float plane and spent one week canoeing and camping deep in the Canadian wilderness.
Stephens received the honor and was recognized at a Troop luncheon held last weekend. Hunter is the son of Todd and Richelle Stephens, Honesdale.
He is the grandson of Mrs. Judy Stephens, Honesdale and Mrs. Eleanor Bencak, Lancaster, PA. Following graduation he plans to attend a four-year college or university to study biology.
Dorflinger-Suydam Wildlife Sanctuary has been preserving the beauty and wildlife of Northeastern Pennsylvania since 1980. On 600 acres of land in White Mills, PA lie seven different trails that total five miles.
These include hiking and nature trails that double as cross- country skiing trails in the winter months.
The newly designed trail map is available in person at the Sanctuary as well as online at Dorflinger.org.