Honesdale wrestling captures District 2 Class AA duals championship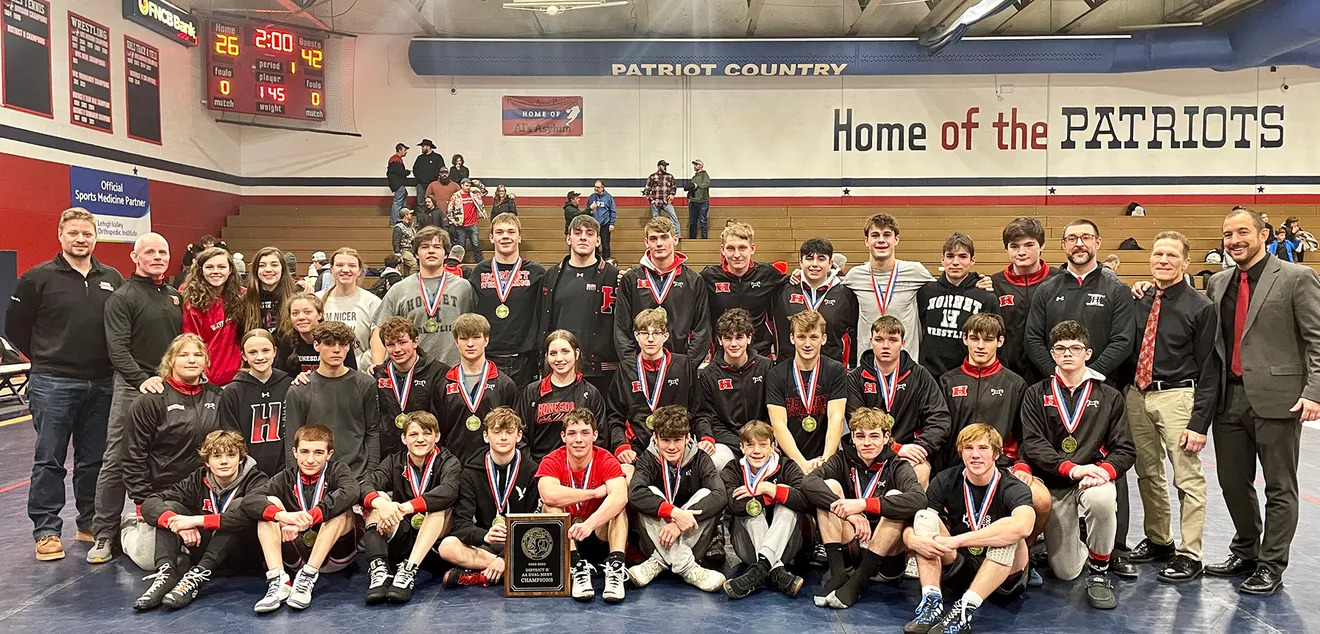 Article Courtesy of Kevin Edwards
Tri-County Independent
YATESVILLE — Two weeks ago, Honesdale's Braden McLaughlin suffered a heartbreaking loss at the hands of Lackawanna Trail's Garet Fowler during a match that ultimately decided the 2022-23 Division II title.
On Saturday afternoon before a packed house at Pittston Area, McLaughlin had a chance to redeem himself on the season's biggest stage to date.
The battle-tested senior strode to the mat with just three bouts left in this year's District 2 Class AA Duals final and took care of business.
McLaughlin powered his way to a physical 5-3 decision at 133 pounds, sealing the deal on a victory over previously-undefeated Trail and ensuring the Hornets' first championship in six years.
"I think that Braden's performance out there today is something that really needs to be celebrated," veteran Honesdale skipper Ryan Chulada said.
"Braden took one on the chin the last time those two wrestled. Honestly, we were just looking to conserve bonus points there today. But, he went out and wrestled an awesome bout that was a huge key to us winning the match."
With the 42-26 win, the Hornets upped their overall record to 17-4 and qualified for the PIAA State Duals Championships. They will open up their gold medal quest Thursday against District 7 champ Burgettstown in Hershey.

Lackawanna Trail came into this weekend's action top-ranked and unbeaten.
The Lions feature six wrestlers in the starting line-up with at least 100 career wins. In addition, they've had Honesdale's number for the past three years, racking up league and district titles while the Hornets cooled their heels in the background.
That dominant streak came crashing to a halt Saturday in the Class AA title tilt.
Mason Avery set the tone right away at 152. A two-way star who also excels on the football field, Avery pummeled Trail's Isaac Ryon into submission en route to a first period pin.
The Lions wasted no time in responding, though, reeling off three straight falls for an 18-6 lead.
However, Paul Renner stopped the skid with a brilliant performance at 215. A senior with 24 wins to his credit this season, Renner clamped Beau Ware midway through the second period and earned high marks from his mentor.
"Paul went out there and just attacked," Coach Chulada said. "That's a kid who has 30-plus wins this year and Paul just didn't let him breathe. He really took the wind out of Trail's sails in that one."
Unsung Hero
It was at this point in the action that one of the match's truly crucial bouts took place.
With Trail leading 18-12, Honesdale was forced to send out unheralded Matthew Becker at 285. A first-year senior who had just two wins on his resume, Becker was given the unenviable task of facing Jonah Houser thanks to an injury to starter Aaron Phillips.
A senior with 108 varsity victories to his credit, Houser was 29-6 and well on his way to another berth at the state tournament.
On paper, this one looked like a sure six points for Trail, but Becker certainly had other ideas.
The Hornet rookie went toe-to-toe with Houser through three grueling periods, earning a 2-2 tie at the end of regulation. And, while Houser finally prevailed 4-2 in overtime, Honesdale fans went wild when a beaming Becker walked off the mat.
"To have a first-year kid like Matt Becker take a state qualifier right to the brink of defeat … that's just unheard of," Coach Chulada said. "I can't say enough about what a phenomenal job Matt did out there."
Rolling the Dice
With the match score now 21-12, Keith Youtz was forced to take a calculated gamble.
Trail's longtime head coach needed to juggle his line-up a bit to get the match-ups he felt he had to have. However, that would entail forfeiting a pair of bouts, essentially handing the Hornets 12 free team points.
Youtz went with his gut, though, and made the call. He forfeited to Sam Eisele at 107, setting up a battle between Brayden Clarke and Honesdale's Justin Scanlon.
Just a freshman, Scanlon nevertheless brought the Red & Black faithful to their feet with a stellar showing. He went on the offensive right off the opening whistle and never let up until the final buzzer.
The result was a 7-2 decision over Trail's battle-tested veteran and a 21-21 match score.
"What a huge effort!" Coach Chulada exclaimed. "To be a freshman and be put in that spot? Wrestling a district finalist? And then just dictating the pace right from the get-go? Amazing! Justin really came of age out there today."
Undeterred, Youtz stuck to his game plan and forfeited the next bout at 121. That gave Honesdale a 27-21 lead and set the stage for a grand finale.
Josh Young took the mat at 127 and set Hornet fans into a frenzy.
The senior made short work of Trail's Carson Ware, carding a first period pin and increasing Honesdale's advantage to double digits.
McLaughlin then came through in the clutch with a performance that put the match on ice. His decision over Fowler made the score 36-21 with just two bouts remaining.
Trail's Ethan Lee dealt TJ Martin of Honesdale a 15-0 tech fall, but Joey Giannetti set off a raucous celebration by clamping Ethan Jacoby in just 54 seconds.
"I think we wrestled a better all-round match and definitely deserved to win," Coach Chulada said.
"I'm thrilled for these kids. They've worked so hard for so long. I'm very excited to see what they can do next … especially the nine seniors who came up to the varsity ranks as raw freshmen. They took their lumps along the way, but I'm incredibly happy for them."