Hornets capture Trail Duals crown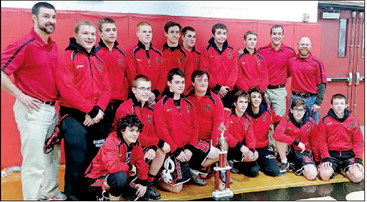 Honesdale traveled to Lackawanna Trail this past weekend to compete in the Lion Duals. There, the Hornets reeled off five consecutive wins en route to the team championship. This marks the first tournament victory for the Red & Black under the leadership of coaches Ryan Chulada and Joe Arnone. Pictured here are team members and coaches celebrating the triumph with the first place trophy.
A heavy silence hung over the Honesdale lockerroom following a disappointing loss to West Scranton on Opening Night of the Lackawanna League wrestling season. Veteran head coach Ryan Chulada let his lads know in no uncertain terms that he expected more from them. He also made it clear that if they wanted to compete for a Division II title this year, the Hornets would need to rededicate themselves.
Apparently, Coach Chulada's impassioned speech had its intended effect because, since that evening, his boys haven't suffered another loss.
Ready to Rock
This past weekend, the Hornets journeyed to Lackawanna Trail to compete in that school's annual duals tournament.
There, the local lads reeled off five consecutive wins on their way to the team championship.
Alec Dragos, Troy Russell, Dennis Putzi, John Kuhns-Miller and Joey Rutledge each posted a perfect 5-0 record to lead the Red & Black attack.
"I'm very happy with how we wrestled," Coach Chulada said. "The kids were focused and ready to roll. I'm hoping we can maintain the momentum as we get back into league action this coming week."
With these victories, Honesdale improved its overall dual meet record to 7-1 on the season.
The Hornets now enter the most challenging stretch of their schedule. Weather permitting, they must wrestle 13 duals in the next eight days.
"Well, we're certainly going to see what we're made of that's for sure," Coach Chulada said with a laugh. "I just hope we have something left in the tank at the end, because the division could very easily go right down to the wire."
Honesdale is scheduled to host Western Wayne on Wednesday, Jan. 25. The Wildcats have won the last seven divisional crowns in a row and will most likely be undefeated headed into this annual showdown.
Dominance
Honesdale wasted no time at all in asserting its dominance Saturday at the Trail Duals.
The Hornets rocketed out of the gate, hammering a tough Scranton Prep squad by a score of 57-13.
Coach Chulada's lads followed that up with a 46-34 win over Valley View and a 57-18 thrashing of Mahanoy Area.
This set the stage for a much-anticipated encounter with Abington Heights, one of the area's most improved teams. However, the Red & Black barely broke a sweat en route to a 59-9 rout.
"I have to admit I was a little bit surprised," Coach Chulada said. "I mean, on paper I think we're pretty even. But, our kids were not about to be denied. They just went out there and decimated Abington."
Article Courtesy of The Wayne Independent
By Kevin Edwards