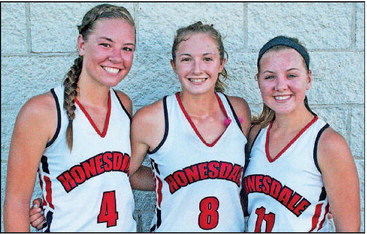 These three talented, hard-working young ladies have been selected to serve as tri-captains for this year's edition of the Honesdale varsity field hockey team. Shelby Card (#4), Clayre Smith (#8) and Ally Meyer (#11) have already led the Lady Hornets two a pair of wins over Wallenpaupack Area, 3-1, and Pittston Area, 5-1, in Wyoming Valley Conference action.
TWI SPORTS PHOTO BY KEVIN EDWARDS

HONESDALE — It wasn't all that long ago that the Lady Hornets were a force on the high school field hockey scene.
Under the direction of fiery head coach Becca Maciejewski, the Red & Black made three straight appearances in the District Two playoffs. They advanced once to the Class AAA semifinals and once to the championship game.
That proved to be the high water mark, though, as Honesdale has struggled in the last three years, posting a combined record of just 13-25 in Wyoming Valley Conference action.
Back on track
On a sun-soaked Wednesday afternoon, the local lasses began a brand new era under former Lady Hornet star Carly (Savastano) Propst.
With Coach Propst prowling the sidelines, Honesdale unleashed a high-octane offensive assault. The Red & Black broke open what had been a tight game by scoring four second half goals en route to a 5-1 win over Pittston Area.
"We were really flat," Coach Propst said. "Flat on offense, flat on defense ... flat just about every way you can think of being flat. But, we turned it around in the second half and that was the difference. The girls got fired up and played so much better."
This victory, coupled with a 3-1 win at Wallenpaupack Area on Monday, has the Lady Hornets off to a stellar 2-0-0 start.
Keeping that streak alive will be tough, though, in a loaded WVC. Honesdale is slated to play PIAA powerhouses, Wyoming Seminary, Lake Lehman and Crestwood ... each of whom was at one time a state champion.
"It's going to be a challenge," Coach Propst admitted. "With the latest realignment, we have some very tough games. But, I'm excited. If the girls play the way we did here in the second half today, we'll be fine."
Next on the agenda for Honesdale is road trip to Tunkhannock. Action gets underway at 4:15 p.m. Monday afternoon.
Leadership
Three girls in particular will be leaned on heavily this fall.
Clayre Smith, Ally Meyer and Shelby Card have been selected to serve as tri-captains. All are battle-tested veterans who've played key roles over the past four years.
Any discussion of this season's Honesdale squad must begin with Smith. Clayre is one of the most decorated players in program history and she'll be taking her skills to the NCAA level at Penn State in 2017.
"She's just a fantastic allround player," Coach Propst said. "Clayre is an excellent leader and she's relentless on the field. She is quick and explosive. Clayre has a great shot, but she passes really well too."
Meyer has been battling several nagging injuries, but appears to be on the mend ... as an electrifying effort on Wednesday demonstrated in no uncertain terms.
Ally played right wing last fall, but will see most of her time at center forward this year.
"The thing I like best about Ally is her determination," Coach Propst said. "She's a phenomenal player. She has a great shot, great stick handling skills and she never gives up."
Card is a versatile athlete who's asked to handle the duties of a center back and midfielder in Honesdale's demanding diamond formation.
"Shelby worked incredibly hard during the off-season," Coach Propst said. "She's improved dramatically since last year. Shelby's a really vocal leader and I'm very happy with how she's playing."
Big guns
Smith got Honesdale on the board first Wednesday against Pittston Area.
Clayre rattled the cage with an unassisted goal at the 17:59 mark in the first half.
To their credit, the visiting Patriots struck back quickly. Nina Cirelli tallied what wouldbeherteam'slonegoal courtesy of an assist from Ali Dunn.
"Yeah, I called timeout right then," Coach Propst said. "That just wasn't the team I'm used to seeing. We weren'thustling,ourpassing wasn't good and no one was communicating."
Whatever Honesdale's rookie head coach said in that huddle ... and a few minutes later at intermission ... well, the message got through. The Lady Hornets dominated this match the rest of the way.
Meyer unleashed a relentless offensive assault on Pittston Area's cage. Ally hammered home her first goal of the afternoon early in the second half off an assist by sophomore forward Brooke Gardas.
Meyer scored her second goal less than four minutes later, this time thanks to a Smith assist. Ally made it 4-1 at the 9:31 mark when Gardas notched another assist.
Nicole Longman closed things out with 2:53 remaining in regulation. Gardas carded her third assist of the match.
"Brooke is fearless and she has a shot like a gun," Coach Propst said. "She's so quick and fast. Brooke is all over the field and she passes the ball extremely well."
Brianna Potter authored a stellar performance in the cage.
Honesdale's junior keeper stopped all but one Pittston Area shots and turned away each of the five corners she faced.
"Brianna is tall and rangy and she isn't afraid to attack the ball," Coach Propst said. "Not much gets past Brianna. I have a lot of confidence in her."
Score by Half...
HON (2-0-0) 1 4 - 5 PITT (1-2-0) 1 0 - 1
Courtesy of:
Kevin Edwards
Group Sports Editor