Students fare well in district festival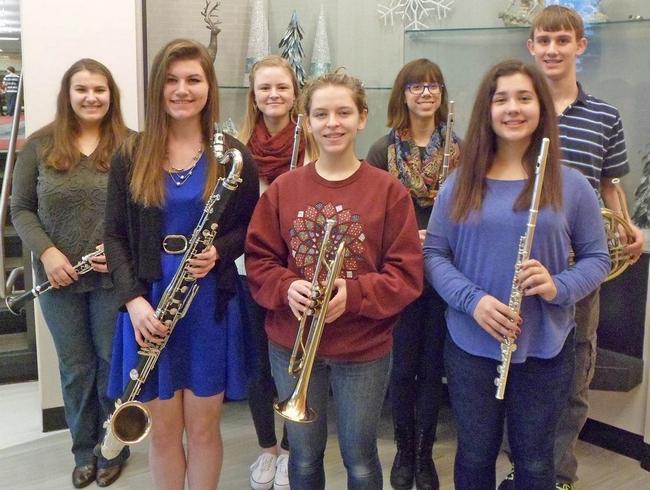 Wayne Highlands students have made their district proud once again. Seven students participated in the Pennsylvania Music Educators Association (PMEA) District 9 Band Festival, which took place Jan. 27-29 at Pittston Area High School. PMEA sponsors music festivals for band, chorus and orchestra each year, at the District, Regional and State levels.
The students included:
• Senior Tristan Protzman, French horn
• Junior Haley Cowger, bass clarinet
• Junior Angelea Francesco-trumpet
• Junior Faith Lawson, flute
• Sophomore Tessa Vendetti, clarinet
• Sophomore Stephanie Matlaga, flute
• Sophomore Madison Palmer, flute
The students are selected to participate through an audition process held in the fall and prepare their music in advance of the festival.
Once at the festival, they audition again for chair placement and advancement to the next level. For this purpose the state is divided into 12 districts and six regions.
Region IV, made up of District 8 and 9, encompasses a 14 county area stretching from Wellsboro in the West, Lewistown and Shamokin in the South, Susquehanna in the North and reaching to New York State in the East.
District 8 includes schools from Bradford, Snyder, Lycoming, Columbia, Union, Montour, Northumberland, Sullivan and Tioga counties.
District 9 includes schools from Lackawanna, Luzerne, Wayne, Wyoming and Susquehanna counties.
"It's important the students attend these festivals because what they learn there they bring back to the school band," said Betty Ann Robson, band director.
She added Andrew Yozwiak, who was the conductor, went to Wayne Highlands, so it was a "unique experience" for the students.
"He talked to the students about his experiences with the band," Robson stated.
The students also shared their experiences.
Vendetti, Matlaga, Palmer and Lawson each attended the festival for the first time.
"I was nervous, but I had a good experience," stated Vendetti. "I learned a lot."
She added she hopes to attend the festival again next year.

"I had a great time," added Palmer. "It was a very nice concert."
Matlaga said she had a great experience at the festival.
"There was a lot of great musicianship and I learned a lot," she said.
Lawson said she enjoyed being around people who are dedicated to music.
Cowger participated in her second district festival. She said she enjoyed the music and meeting new people.
"I had a lot of fun and learned a lot," stated Francesco.
This is her second time attending districts as well. She added she liked that the conductor was from Wayne County.
Protzman attended his fifth band festival when he qualified for districts.
"I'm proud I had that experience," he stated. "I loved the different types of music.
Protzman also advanced to the regional festival, which is set for March 10-12 at Marywood University. It is being hosted by Montrose Area High School.
Other members advancing to regionals are Matlaga, Vendetti and Francesco.
While participating in districts, Protzman was chosen to participate in the region orchestra festival, which is set for Feb. 24-26 at Twin Valley High School.