Students compete in Science Olympiad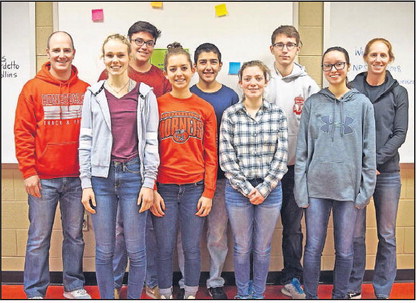 Honesdale High School was represented at North Pocono's Science Olympiad Invitational on January 27th.
The Honesdale team competed in a variety of events related to STEM (Science Technology Engineering and Mathematics) fields.
The program of Science Olympiad gives students the opportunity to explore more outside of a classroom.
The invitationals bring together students from all over into one space for a friendly and scientific competition in a variety of disciplines.
Miranda Fritz was a sophomore who competed in the Forensics event.
The interest in Forensics was actually sparked by watching shows like CSI on TV.
Fritz commented on the communal aspect of the event, bringing together students from the same and different schools.
"I just think it's cool that everyone comes together and there's so many kids
just interested in the same thing," said Miranda Fritz.
"I mean we're all here just to learn about science."
Another sophomore, Cindy Perricone, competed in astronomy for her second year in Science Olympiad.
"Everybody whose involved and the teachers are really nice," Perricone said.
Emily Chee competed for the first time as a senior, but found a lot of interest in the event Microbe Mission.
The event has students use a compound microscope to examine specimens and
label cell organelles and what classification the specimen belongs in.
Her teammate was Dominic Maglione.
"I took advanced biology and the stuff ... I learned interested me so I wanted to learn more," Chee said.
Students interests were spread among a variety of events meant to test their knowledge and engineering- minded skills, but the theme of excitement about learning was prevalent throughout the building.
Article by The Wayne Independent - Bridget LaMonica