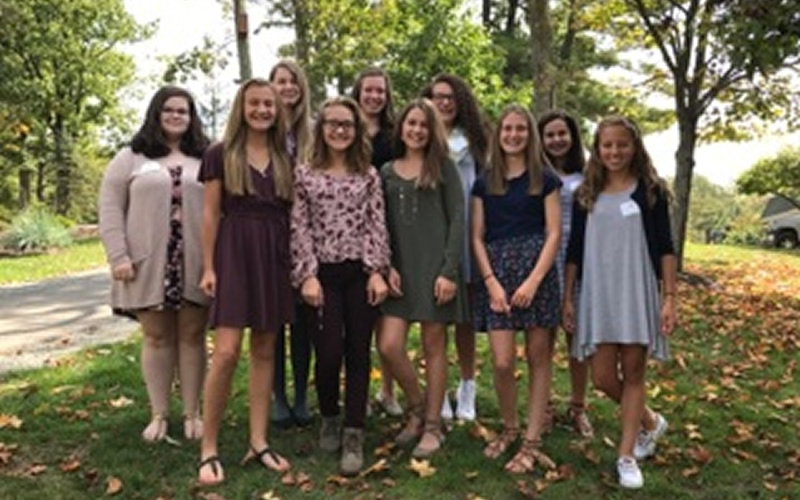 A group of eighth grade girls and Science teacher Barbara Rodda from the Wayne Highlands Middle School attended the third annual Women in Symposium held on September 19, 2017, at Woodloch resort. The forum showcased the professional and life experiences of distinguished female science and environmental leaders. The symposium encouraged the girls to pursue careers, exchange ideas, and make lasting connections through stimulating conversations with Science Technology Engineering and Math (STEM) professionals.
Eileen Cipriani, Deputy Secretary for Workforce Development at the Pennsylvania Department of Labor and Industry, was this year's keynote speaker. She shared her role in overseeing the commonwealth workforce system.
A panel of STEM professional women shared their experiences regarding career choices and opportunities. During a question-answer segment, the young ladies asked poignant questions about the individuals' careers and vocational paths. The professionals provided great insight of various courses and opportunities students should consider when exploring colleges.
Tess Meagher asked the panel, "What do you do if you have no idea what career path to choose?" The panel explained many of them still do not know what they want to be in the future; one career path may lead to another occupation.
After speaking to the panel, Rowan Murray realizes there are numerous vocations for women in the same field. "I am very interested in the agricultural field. I didn't comprehend the multiple opportunities available in this particular field. I have thought about becoming a veterinarian and owning my own farm; now I can consider other job possibilities in agriculture."
"My options in nursing are unlimited," Abby Blaine explains after interacting with the panel. "I know I want to become a nurse, but I still have to decide what specialty of nursing."
In the afternoon, the students circulated through a variety of career affiliated booths. Local colleges and businesses were available to provide information pertaining to educational and career opportunities.
Emma Hocker enjoyed this segment of the day. "The college representatives asked your interests and discussed possible career paths. They informed us about the courses they offered, the open house dates, and recommended other colleges to suit our interests," Emma explained.
Chloe Lyle focused on the theme of the day: "The panel expressed that no one should have their future planned out 100%. The women explained how we should be open to explore future opportunities that come our way to develop new interests."
The ladies agreed the forum stimulated thinking about their futures and provided valuable information regarding careers in the fields of science and math.
Article By Jim Hammil, WNEP 16 News