Camo-bots conquer competitors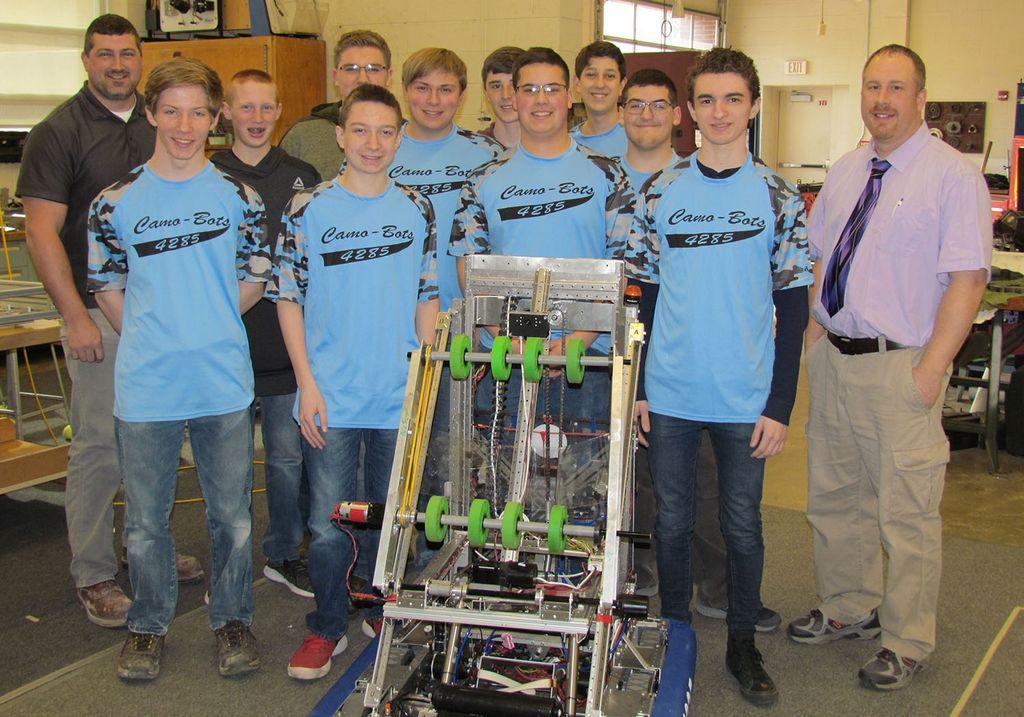 Local student roboticists claimed a first-place blue banner in the recent First Robotics Competition (FRC) District Championship held at Bridgewater-Raritan High School in Bridgewater, New Jersey on March 15-17.
FRC Team 4285, known as the Camo-bots, is comprised of middle and high school students from the Wayne Highlands and Western Wayne school districts.
Their first-place finish two weeks ago marks the third time in their eight years as a team they've taken home a blue banner, a rare feat even for teams who have been established longer with more access to resources, noted team advisor Brian Landry, a tech ed teacher at Western Wayne.
This year's challenge, "Destination Deep Space," involves attaching hull patches to a space ship and cargo vehicle, and stocking them with resources in the form of spheres 13 inches in diameter within two and a half minutes.
Robots also had to climb to either a 6-inch or 19-inch platform.
As part of the competition, the students must explain to FRC judges how their robot works and prove that it's safe to pilot and compete.
To accomplish their tasks, the Camo-bots built Maverick, a 125-pound, six-wheeled robot with a hoop to collect cargo and pneumatic pistons with attachments to hold and place hull patches, and climb the platforms.
Maverick also has cameras attached to allow it to be piloted during the first 15 seconds of competition when a simulated sandstorm blows through the field of play.
"It's a whole new build this year," explained Ryan Forelli, President/Captain of the Honesdale half of the Camo-bots team. "It's all custom. We made the drivetrain ourselves...it wasn't from a kit or anything."
Forelli explained the team 3-D modeled the entire robot on a CAD system "With this we're able to prototype different test fittings for different mechanisms...And one of our local sponsors, Boyce Products, they're able to cut out and bend the sheet metal."
This is the first year the group designed their robot entirely in CAD, much of which was done by Forelli, who also functioned as one of the team's two operators during competition.
On achieving victory at districts, Forelli said, "It feels great, especially after six-weeks working on it, to win...especially because of how radical a change we made to our development, doing it in CAD first then laser cutting."
Handling the more of the mechanical and assembly side of things, Collin Murray, Vice President/Secretary for Western Wayne's half of the team stated "The competitions were really exciting and intense. There was a lot going on and you're very time limited."
Murray noted when competing, there is a hard set schedule for when things need to be done and where contestant need to be with little to no wiggle room.
"When things break and there's not enough time to fix them, it's definitely really intense to see what you can pull off," he said.
Murray noted at one point during the competition, cracks began to form in the attachment mechanism which held the hull patches, "So we had to come up with a quick fix to make sure they didn't break further."
He further explained the group had to rework some of the support springs for their lifting mechanism to compensate for Maverick's weight.
"The tasks are so complex, it's easy to over-engineer and go more than you need to," he said.
Not quite finished with their season yet, the Camo-bots team have six hours within the next week to make adjustments and repairs before their next competition.
The team's performance and ultimate victory at districts qualified them for the Worlds competition scheduled for April 23-28 in Detroit. This is the second time they've qualified for the event, but it will be the first time they're able to go.
Before heading off to Detroit, however, the team will first compete at the Regional Level at Lehigh University next week, April 4-6.
"Our sponsors really helped us out this year," said Landry. "The schools really helped out too, we gotta throw props to Wayne Highlands and Western Wayne for helping us to get to Worlds this year."
Landry thanked sponsors: Lockheed Martin, Boyce Products, Picatinny Arsenal, Waymart Masonic Lodge #542, Martin Rollison Prompton Tool, Toyota of Scranton, Wendell Rosengrant Wood Floors, Grimm Construction, Friend Estus Masonry, Norheastern Gastroenterology Associates, Scarfolloto's Townehouse Diner, Estus Construction, Michal Batzel Barber Shop, Kay's Restaurant, Fischer Brothers Excavating, E-Z Notary Service, Century 21 Select Group in Hamlin, The Alpine, Gilson Construction and the Honesdale National Bank.
More information about the Camo-bots can be found online at https://waynecountyrobotics4285.org/about.