Hornets are young and enthusiastic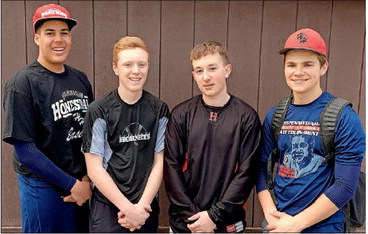 There are only two seniors and two juniors on Honesdale's varsity baseball roster for the 2017 campaign.
However, what the Red & Black lack in experience they more than make up for with enthusiasm and a blue collar work ethic.
"This is just a great group of kids," veteran head coach Mike Miller said during a break in practice Monday.
"The weather really hasn't cooperated at all, but we're not letting that get us down. We're making the best of a tough situation and having kids like this with such positive attitudes is really a plus."
The Hornets were slated to open up their official exhibition slate this week, but they've already lost games with Hancock and Mid Valley due to the late winter snowstorm.
As it stands now, Coach Miller is hoping against hope that his team will get out onto the field by early next week. The local lads are tentatively scheduled to host Western Wayne on Monday, then travel to Holy Cross Tuesday.
"We'll have to wait and see," he said with a wry smile. "You know what spring sports are like in northeastern Pennsylvania. We'll just keep working hard and hope for the best." Honesdale will open up its Lackawanna League schedule April 10 at home versus North Pocono.
First pitch is set for 4:15 p.m. at the Daniel J. O'Neill Sports Complex.
Stage Set
Honesdale is hoping to bounce back from a sub-par 2016 campaign.
The Hornets stumbled to a 5-10 record overall, going 4-8 in Division II for a fourth place finish.
Delaware Valley captured the division crown thanks to a perfect 12-0 record. The Warriors then advanced to the Class AAAA finals, but lost to Valley West.
Coach Miller's squad did qualify for the District Two tourney, but was eliminated from the Class AAA titl chase. The Red & Black received the 10th seed and suffered a 5-1 setback at the hands of Abington.
North Pocono was the surprise story of the 2016 season. The Trojans went just 6-6 in Lackawanna
SEE BASEBALL, A10
At a Glance...
■ Honesdale's varsity baseball team is deep into preparation for the start of the 2017 Lackawanna League campaign.
■ The Hornets are coming off a 4-8 season, finishing fourth in Division II behind Delaware Valley, Paupack and North Pocono.
■ Coach Mike Miller's squad will compete in the newlyreconfi gured Division II against Scranton Prep and Valley View.
■ Weather permitting, the Red & Black open up their regular season slate Monday, April 10 at home versus North Pocono.
League play, but then went on to win the AAA crown.
Coach Brian Jardine's lads defeated Valley View in an epic, 11-inning contest that ended in a 1-0 victory for the Trojans.
Meanwhile, Western Wayne opted not to take part in the district tourney after going 0-12 in the regular season.
Wallenpaupack Area amassed eight wins during the Lackawanna League campaign. The Buckhorns advanced to districts, but were bounced by West Scranton in the opening round of the Class AAAA tournament, 7-1.
Ready to Roll
This year's edition of the Honesdale varsity squad will be paced by several battle-tested veterans.
Any discussion of the 2017 Hornets must begin with Jack Rickard. A senior who's slated to start at first base, Rickard will serve as the Hornets' captain.
He could also contribute on the mound, behind the plate or in the outfield.
"Jack is a vocal leader," Coach Miller said. "He's a very good athlete and very versatile. Jack is the kind of kid every coach wants to have. He'll do anything to help the team succeed."
TJ Jackson is Honesdale's only other senior. A four-year member of the squad, Jackson could be plugged in at first base, in the outfield, or on the hill.
Nate Frigoletto returns as one of the Hornets' most seasoned pitchers. A junior southpaw, Frigoletto logged a ton of innings, laying the groundwork for what Coach Miller envisions as a solid campaign.
"I like what I've seen from Nate so far," he said. "Nate is bigger, stronger and throws harder than last year. He's really improved a great deal."
Grady Birmelin is the only other junior on the varsity roster. A multisport standout who also excels on the hardwood, Birmelin will see time in both the infield and the outfield.
Leading a talented crop of underclassmen will be Anthony Dell'Aquila. A sophomore who became Honesdale's starting catcher last spring, Dell'Aquila is poised for a breakout year.
"Anthony can play just about any position on the field, but he's a really good catcher," Coach Miller said.
"When Anthony's behind the plate, other teams are going to have a very tough time trying to run on us."
Coach Miller also praised Dell'Aquila's handling of Hornet pitchers and his burgeoning ability with the bat, saying: "No question, I'm expecting big things from Anthony."
Honesdale's starting rotation will feature Andy Carroll (Soph), Jack Dennis (Soph), Cade LaBacio (Soph) and Caleb Martin (Fr).
Another New Look
The Lackawanna League has once again reconfigured its layout this spring.
Last season, the Hornets competed in Division II against the likes of North Pocono, Delaware Valley, Wallenpaupack Area and Western Wayne.
This year, they will compete in a brand new Division III versus only Prep and Valley View.
These three teams will play one another three times in the span of a week. They will also take on six other squads from outside the division once each.
"It should be interesting," Coach Miller said. "High school baseball is all about pitching, so I'm excited to see how things pan out."
Article Courtesy of The Wayne Independent
By Kevin Edwards
Group Sports Editor