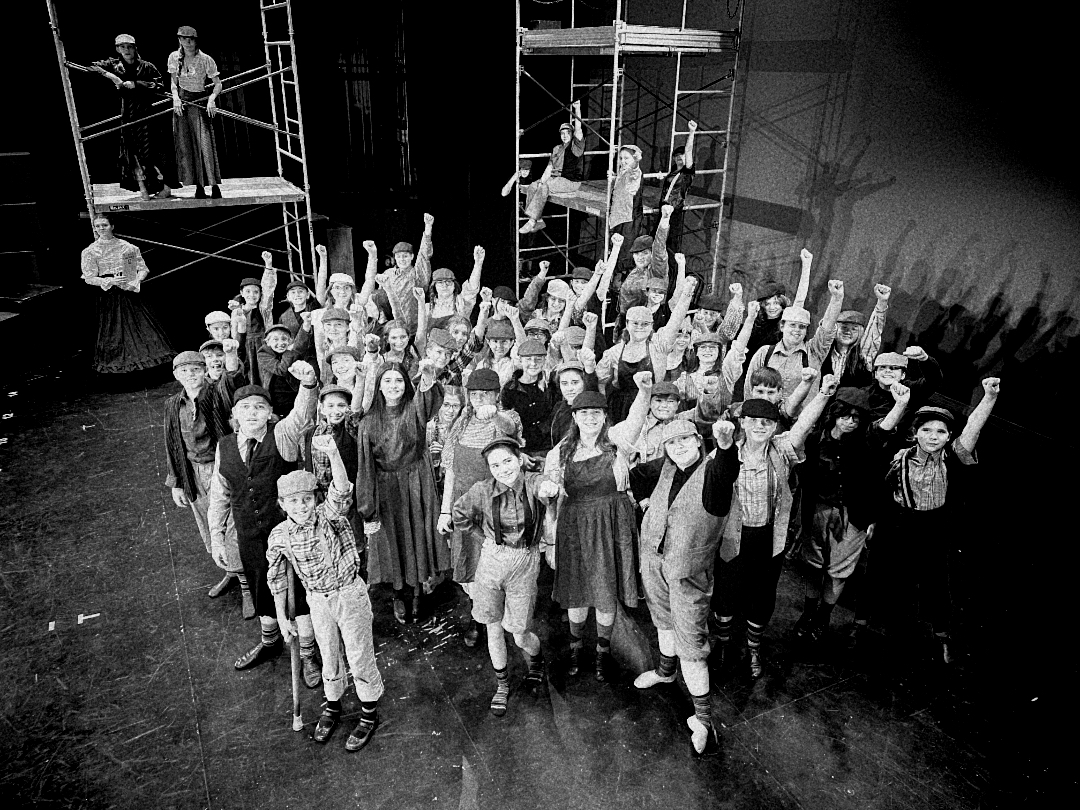 Wayne Highlands Middle School proudly presents "Disney's Newsies, Jr."
Disney's "Newsies, Jr" the Broadway musical, makes its Honesdale premiere at the Honesdale High School Performing Arts Center on Friday, November 17 and Saturday, November 18, 2023 at 7:00 p.m. nightly. The opening performance will kick off Honesdale's High School's 65th Anniversary Season!
Set in 1899 New York City, "Newsies" is the rousing tale of Jack Kelly, a charismatic newsboy and leader of a band of young "newsies." When titans of publishing raise distribution prices at the newsboys' expense, Jack rallies newsies from across the city to strike against the unfair conditions and fight for what's right.
Disney's "Newsies" opened on Broadway in 2012 to favorable reviews, often highlighting the high-energy dance numbers, with Music by Alan Menken, Lyrics by Jack Feldman, and Book by Harvey Fierstein.
Choreography for this production was created by Mason Marie Clark.
"It has been a choreographer's dream to spend months workshopping with such a talented, enthusiastic and hardworking cast," Clark said. "The stage is bubbling at the seams with over 70 people, backflipping, leaping, stunting and tap dancing. It is truly a joyful experience. Come see Disney's 'Newsies' — they are about to make headlines."
Scott D. Miller, director of previous Honesdale productions such as "Chicago," "Beauty and the Beast," "Frozen," "Lion King," and "Grease," is excited for "Newsies" to be his next big production.
"I love a good story about an underdog, and the fact that it's rooted in history makes it even better," Miller said. "Being a school administrator and director, I am proud to share that the arts are alive at Honesdale with over 70 students (actors) in the show performing their hearts out for our community!"
Based on the 1992 motion picture and inspired by a true story, "Newsies" features the now classic songs "Carrying the Banner," "Seize the Day" and "Santa Fe". The Hollywood Reporter said this about the Broadway touring production: "Rousing songs by Alan Menken and Jack Feldman, high-energy dance numbers, an appealing cast and an uplifting story make this reconceived version of the Christian Bale movie one of Disney Theatrical's most entertaining new properties in years."
This is Miller's tenth year directing the musicals at Honesdale High School Performing Arts Center, and over 28 years of experience directing, acting and performing on and off broadway in his professional career.
There are 71 student actors, dozens of backstage crew leaders and members, and two student directors, Danielle Gager and Justin Schumacher, bringing the Newsies to life on stage.
Our all-star cast of leading roles include Benjamin Klisiewicz* (Jack Kelly), Alina Shanfelder* (Katherine Plumber), Sophia Bond (Crutchie/Casey), Eli Funk* (Davey), Ivan Thol* (Les), Kinley Platt* (Medda Larkin), Drew Daniels (Joseph Pulitzer), Maddie Miller* (Wiesel), Marley Reynolds (Morris / Woodside (Newsies)), Adrianna Patrisso* (Richmond (Newsies)), Mackenzie White* (Muriel), Zoey Tyler (Dorothy), Rylie Ford (Race), Summer Dunn (Policemen), Kylie Wojtowicz* (Alberta), Jenna Murray* (Darcy), Jonah Pritchard (Bill), Anthony Fortuso (Seitz), Shawn Whalen (Bunsen), Madison Mertz* (Hannah), Keith Weir (Snyder), Brynn Derrick (Governor Roosevelt), Elizabeth Canfield (Patty), Willow McDonnell (Ethel), FrannySue Menechino (Olive), Addie Nacinovich (Ada), Leonora Orellana Anton (Bowery Brigade), and Kinnley Turner* (Bowery Brigade).
Our supporting company cast of Newsies include Iris Amato*, Audrianna Arens, Evelyn Bond, Reese Brady, Abby Flederbach, Elise Foley, Gabriella Foley, Aasha Fulp*, Aubrey Gangale, Delia Goff, Lilly Hadden, Mabel Haffey, Lyla Rose Hanson, Vada Killam, Brielle Knapp, Emma Leopardi*, Charlotte Lotz, Brynn Mahon, Lumen Mauder, Twila McDonnell, Bradley Meyers, Logan Meyers, Phaedra O'Malley Caden, Addison O'Rourke*, Ellie Pasquini, Madeline Pierce, Tatum Reiss, Sara Rosas, Zoey Rupp, Riley Schmidt*, Lindsey Schneider*, Gabriella Schultz, Aria Stangler, Madison Stokoe, Brazlin Ubertini*, Bailey Van Antwerp, Ava Verrastro, Rayne Wathen, Kismet Werner*, Isabel Whalen, and Destiny Wimmers*. (* = denotes Featured Dancer)
The musical is directed by Scott D. Miller; musical direction and choreographer Mason Marie Clark; assistant musical director Stephen Faubel; Technical Director Shawn Garing; Hair, Makeup, and Costume Design by Kathryn Beisel; set design by Stacy Roerig; actor stage management by Quinn Miller and Luca Pasquini; technical supervision by Amanada Kuta, technical stage management by Daven Good and Marcus Carnegie; with Andrew Carrick as House Manager.
The production crew includes lighting designers Amit Fulp, Kaleb Flick, Tyler Kolshorn, Gabriel Marino, Mason Peterson, Owen Schell; sound by Hayden Brink, Tyler Kominski, and Evan Funk; with assistant hair and makeup artists Minka Beisel, Eva Beisel, Rylee McGhie, Lindsey Murray, Kianna Hanson, Kaelani-Rae Olver, Leila Duda, Makayla Reining, Tawni Long, Maryanna Brdar, Brooklyn Sutton, Aubrey Wise, Andrea Seminario, Brielle Seminario, Cailin Maxwell, Ava Sibal, Olivia Jonas, and Julieanna O'Brian; on the stage crew Jacob Babel, Andrew Carrick, Amit Fulp, Amanda Kuta, Hailey Tyler, Blaine Bolella, Hayden Brink, Julian Ciarrocchi, Evan Funk, Daven Good, Tyler Kominski, Joshua Bivins, Marcus Carnegie, Sam Eisele, Kaleb Flick, Jack Goodwin, Tyler Kolshorn, Logan Lester, Gabriel Marino, Mason Peterson, Owen Schell, and Mia Wolfe.
Reserved seating tickets are on sale now, Regular $10, Senior (+62) $9, Student $8, Children (3-5) $5, Red/Black Pass (Complimentary) for all tickets and may be purchased online at www.honesdalepac.com or by calling the Honesdale Performing Arts Box Office at 570-251-9831. Performances are recommended for a general audience. As an advisory to adults who might bring children, this production is recommended for ages 5 and up. All guests entering the theatre, regardless of age, must have a ticket.
The production length of the musical is 1 hour and 15 minutes, with a 15-minute intermission and will take the stage on Friday, November 17 and Saturday, November 18 at 7:00 p.m., nightly, at the Honesdale High School Performing Arts Center, 459 Terrace Street, Honesdale PA 18431.
Disney's Newsies, Jr. Is presented through special arrangement with Music Theatre International (MTI). All authorized performance materials are also supplied by MTI. www.mtishows.com
Disney's Newsies
Wayne Highlands Middle School proudly presents "Disney's Newsies, Jr."
Date
FRIDAY, NOVEMBER 17, 2023 AT 7:00 P.M.
SATURDAY, NOVEMBER 18, 2023 AT 7:00 P.M.
Venue
Honesdale High School Performing Arts Center
459 Terrace Street
Honesdale, PA 18431
Ticket Price
Regular $10, Senior (+62) $9, Student $8, Children (3-5) $5, Red/Black Pass (Complimentary)