Scarfalloto Celebrates Milestone Moment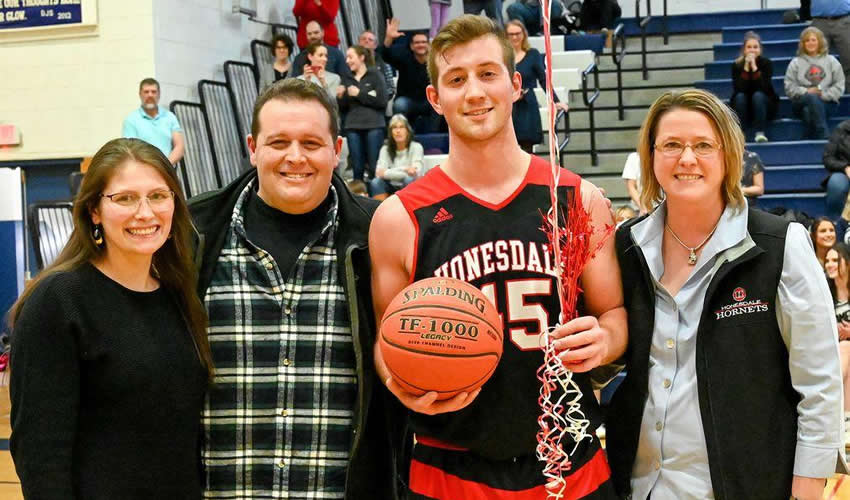 Honesdale's Joey Scarfalloto celebrated a varsity hoops milestone Wednesday night at Clarks Summit. The senior power forward tallied the 1,000th point of his varsity career during the fourth quarter of a 46-34 loss to Abington Heights. He finished up the night with 14 points and now has 1,005 overall. Pictured here are (from leff): Aly Scarfalloto, Sal Scarfalloto, Joey, Diane Scarfalloto.

Honesdale hoops star becomes just the seventh 1,000-point scorer in Hornet history
It's been a tough season from a team standpoint for Honesdale's boys varsity basketball squad.
The Hornets play hard night-in and night-out, but wins have been tough to come by ... especially in the past few weeks.
After a solid start to the 2019-20 campaign, the Red & Black hit a rough patch that extended through the meat of their Lackawanna League schedule.
The local lads dropped five straight games before rallying to post a nice win over North Pocono. What followed were two more losses (Scranton, Abington) and one more win (West).
So, the team sits at 7-11 overall and 3-6 in Division II competition.
On Wednesday evening, Honesdale journeyed to Clarks Summit for a cross- over battle with Abington.
And, while the Comets emerged victorious in this one, Hornet fans celebrated a rare milestone moment...
Looking Back
Joey Scarfalloto cracked the varsity line-up as a frosh, scoring 272 points and helping the Hornets to a solid 10-12 record.
On the strength of that impressive performance, Joey was selected to serve as a captain during his sophomore. He finished third on the team in scoring with 232 points as the Red & Black finished 11-11.
Scarfalloto was once again chosen as a captain for his junior season and just kept on getting better. This time, he closed out the year with 289 points and the local lads went 12-11.
Joey's senior season dawned with the news that longtime head coach Tim Wood was stepping down. He was replaced by former HHS star Nick Joyal who promptly approved of Scarfalloto's third year of captaincy.
"I can't say enough good things about Joey, both as a person and as a basketball player," the rookie skipper said at the midpoint of the 2019-20 campaign.
"He works so hard every single day. Joey is always looking for different ways to improve his game. He sets a great example for our younger players. Having Joey out there is like having a coach on the court."
To this point in his senior season, Scarfalloto is tied for fifth among all Division II scorers with a 14.3 ppg average. All told, he's tallied 256 points this year, first on the team.
Exclusive Club
Scarfalloto's big moment came late in the fourth quarter of Wednesday night's game at Abington.
Joey pierced the Comet defense, powered his way to the bucket, and was fouled.
Honesdale fans rose to their feet as the senior captain stepped to the free throw line. Moments later, players and cheerleaders alike stormed the floor as Joey swished his shot to become just the seventh boy in school history to reach 1,000 points.
"Our whole family is so proud of him!" exclaimed Joey's mom, Diane, who is the current HHS Athletic Director and also a member of the 1,000-Point Club.
"Joey has put his heart and soul into basketball for many years. He's spent countless hours practicing and playing. Joey scoring his 1,000 th point is just icing on the cake for this long journey."
Scarfalloto will now see his name added to a banner that hangs on the Red Palace wall. He joins Jim Tuman, Mike O'Neill, John Kretschmer, Joey Murray, Kevin Miller and Ian Langendoerfer in this ultra-exclusive club.
"To see our children succeed warms our hearts beyond expression," added his dad, Sal. "Joey works incredibly hard on everything he peruses and never takes the easy way out. And, he has the bumps and bruises to prove it!
"Congratulations on another accomplishment Joey. We love you more than words can say."
Coach Joyal was quick to add his congratulations.
"Joey is a class act," he said. "His incredible work ethic and love for this game have lifted him up to a level only six other Honesdale players have reached in the history of the program. It will be an honor to see his name added to that banner."
Joey has committed to attend East Stroudsburg University in the fall. He will enter the school's nursing program and be a member of the men's track & field team.
On the Court
Wednesday night's game was a defensive struggle in the early going.
Honesdale managed just one bucket in the first period and headed back to the bench trailing 7-2.
The Hornets ratcheted things up in the second quarter, though, outscoring Abington by a margin of 8-3. The two teams repaired to the locker rooms deadlocked at 10 apiece.
Sadly for a hardy band of Hornet fans who made the trek to Clarks Summit, the Comets took control of this game once and for all in the third period.
Thanks in large part to the potent 1-2 punch of Phil Johnson and Mike Malone, Abington outscored the visitors 18-5 heading into the final stanza.
Johnson tickled the twine for a team-best 13 points on the strength of three field goals, two treys and a 1-for-2 stint at the stripe. Malone also cracked double digits, finishing with 11.
Coach Joyal's lads did stage a frantic comeback bid in the fourth quarter, rattling the rims for 19 points. Unfortunately, it proved to be too little too late as Abington closed out a 46-34 victory.
Scarfalloto led all scorers with 14 on the night. He was aided and abetted by Chris Cespedes who tallied nine. Ben Williams, Karter Kromko and Jack Firmstone chipped in with three each, while Robbie Campen added two.
Article Courtesy of:
Kevin Edwards
The Tri-County Independent